I always worry when I see a wine with what could be perceived as a gimmicky name.
Is the name or the label solely to push perhaps a sub-standard wine? I think there are examples we all know to prove this point.
When I first came upon Thin Blue Wine Cellars, the thought did I cross my mind that it was happening here, naming a wine that supports police offices to sell bottles.
Then I talked to Dave Harrington, who co-owns Thin Blue Wine Cellars with wife Michele, and I immediately got the passion the two bring to both the support of first responders, as well as their wine, and I knew I had to give the wine a try.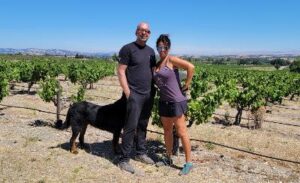 After I tasted two bottles over one weekend, I was sold and became a member of this up-and-coming winery.
Dave is a retired Sheriff's Sergent (29 years) in Orange County and Michele is a veteran of the United States Marine Corps, with an affinity for wine part of their makeup.
Their idea for the winery started back in 2019.
"Laguna Beach had changed the stickers on the side of their police cars to an American flag and some people started complaining it was being too aggressive," said Dave Harrington. "Michele got upset at the bullshit and wanted to do something to show our support for the country."
At first the couple sold some t-shirts supporting vets, but that didn't quinch her thirst to make good for the United States and our first responders.
"(Michele) started talking about wine and how we should do our own label," explained Harrington. "I said, that's interesting. Then she said it should be "Thin Blue Wine," and I said now you're talking my language."
The themes for TBWC bottles are proudly pro-American, unapologetically pro-law enforcement, absolutely pro-first responder and unashamedly pro-military.
The couple got their grapes from Paso Robles – they have recently purchased a 26-acre property in the Paso area – and boom, their first vintage of Thin Blue Wine Cabernet Sauvignon (200 cases) and Red Wine and Blue Red Blend (100 cases) was born.
The couple sold out of that production and knew they needed to expand.
"Someone asked for a Chardonnay, and we came up with "Shiners", which is now known as Got Your Six Chardonnay," said Harrington.
The two started marketing their wine on Facebook but ran into roadblocks.
"Facebook throttled us," said Harrington. "Back the Blue was considered triggering by Facebook."
The Harrington's then went about building a contact list where they could market their product.
"We have a huge e-mail list," said Harrington. "And when we send it out, it works well."
Since going live in August of 2019, they have increased production to 500 cases a year. The latest offerings, available on their website are:
Thin Blue Wine Cabernet Sauvignon
Red Wine and Blue Red Blend: A blend of Mourvedre, Syrah and Grenache.
5150 Red Blend: A blend of five grapes. Alicante Bouschet, Mourvedre, Syrah, Grenache and Petite Verdot.
The Oath, Reserve Syrah: Limited production, available to members only.
Necessary Force Red Blend: A blend of Cabernet Sauvignon, Petite Sarah, Tempranillo, and Grenache.
Hose Dragger Grenache Blend
Got Your Six Chardonnay
A portion of all sales are donated to charities supporting families of fallen officers and Marines.
Count on different wines coming from the Harrington's as they continue to move forward.
"There is no target number for us," said Harrington. "We will go as far as we can, as long as we can. We have a lot of different labels we want to do."
Each bottle is a different story. The name on the bottles is etched as opposed to a paper label, and the inscription on the back differs from bottle to bottle.
"The backs are all unapologetic pro USA," said Harrington.
The two are spending 3-4 days a week in Paso Robles right now commuting from Southern California and will eventually make the move. There is no formal winery, nor a tasting room as the two operate out of their house. That will change in the future.
"If everything works perfectly, we'll be in Paso full time in five years," said Harrington.
For more information or to order some wine, go to www.thinbluewinecellars.com.
By Dennis Miller