Nick O'Hern from Australia played on the PGA Tour from 2005-2013. Before then, he was a member of the PGA Tour of Australasia Tour, as well as the European Tour. His highest world golf ranking was No. 16 and he was a member of the 2005 and 2007 International team in the Presidents Cup. He was also a representative of Australia in the Golf World Cup in 2004 and 2007.
He is the only professional golfer to twice defeat Tiger Woods in the WGC Match Play Championships, beating Woods 3 and 1 in 2005 at La Costa, and on the 20th hole in 2007 at Dove Mountain.
Since he retired from playing full-time professionally in 2014, he keeps active by playing on the Australian Tour at the end of each year. He also spends time teaching golfers.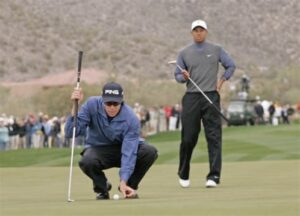 Recently he became a Board Member with DollarDollarDollar, Inc., who has recently released an app for skill wagering on the golf course. The App was recently profiled here in ACES.
Given his match play ability, it has been a natural match for the emerging D3 and O'Hern.
ACES Editor Dennis Miller had a chance to catch up with O'Hern and talk to him about wagering on the course, the D3 app, being great at match play, and even red wine, a personal favorite of both O'Hern and Miller.
The following is the interview:
How did you get involved with DollarDollarDollar?
I was introduced to D3 through a friend I'd done some work with for a mobile technology payment company after I stopped playing on the PGA Tour. Now, I'm certainly no expert in that field but when I first spoke with the D3 CEO Tom Naramore and he explained the concept I thought, 'This is a no-brainer!' It's golf and wagering, something I'd always done on a golf course when playing with mates, all in a mobile app. It's the best of everything! Tom's vision for the app, the team he was assembling, and his passion for bringing it to market were incredible. I wanted to be involved straight away.
*What are the best features of the app?
I love the remote play! And that's where the idea for the app came about with Tom and his co-founder Craig Gallagher. Now that I'm back living in Australia, I can't wait to play against my mates in the US again when we go out for our typical weekend rounds of golf. They'll play their rounds, I'll play mine, and we can see who wins the bets on a fair and level playing field even though we're on opposite sides of the world. That and also how the app will be able to calculate challenges for when you have a larger group of golfers, say 30 or 40 guys who have a club of some sort going. There are all these multiple bets going on between different players and the app will track all of that. It just makes things so much simpler. Plus, golfers won't have to worry about their bets not getting paid on the day… which happens sometimes 😉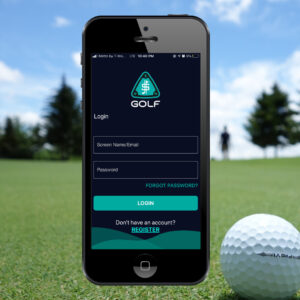 *What can you see in the future for D3?
We're only in version 1.0 with golf so I'm really looking forward to when we implement the side bets/challenges into the app. For example, on a par 3 two golfers might say 'I'll bet you for the nearest the pin', or 'longest drive on this par 5' and so on. There are so many on-the-spot side bets that are going to be a lot of fun. And then the possibilities for the app with other sports is very exciting too, but that's further along in the roadmap. Selfishly, I'm just glad we're starting with golf!
*Talk about how wagering during a round of golf adds to the experience.
There's nothing like having a shot during a round or a putt on the last hole that means something. 'This is to win, or this is to halve the hole'. It doesn't matter what the skill level of the golfer is. Adding that incentive gets the competitive juices flowing which I think as golfers is what the game's all about. We're competing. And competing for something a little extra has always driven me to focus more because I hate losing. I hate losing almost more than I love winning!
*What is your favorite game on the course?
I've always loved match play. I grew up playing match play in what we call Pennants down here in Australia. For 2-3 months of the year golfers represent their clubs in a team of usually about seven players and play other clubs in one-day matches. Those experiences and the combative nature of a one-on-one match against someone has always been something I thrived on. Skins is fun too, because you're never really out of it even if you're not playing that well. One hole can change everything when the pot builds up by other players halving holes. Then you make a birdie out of nowhere, swoop in, and take the skins. How good is it when that happens!
*How much are side games during practice rounds regularly played on the Tour?
Funnily enough on Tour, I never played many side games because I treated practice rounds as reconnaissance for the upcoming event, but every once in a while, if I knew the golf course well, I'd play a match against someone. One common problem on Tour was practice rounds were really slow, so typically I'd play later in the day when no one else was around. But, for sure there are plenty of side games going on out there. There's nothing like getting a group of highly skilled competitive golfers together and watching them compete in a highly spirited way.
*Do you have some memorable practice rounds from the Tour?
Not betting-wise, but I remember a practice round I had at Augusta National at the Masters one year with Ben Crenshaw. Walking around with him talking about the greens and listening to his reverence about the entire property and how he would play certain holes and read greens was something I'll never forget. And then I played the first two rounds with him in 2008. I've never seen a more artistic putting display in my life. It was magical to watch him roll putts in from everywhere.
* You beat Tiger twice in match play tournaments- that is a nice feather to have in your cap! What goes into being a great match play golfer? Do the qualities translate into money matches on the course?
As mentioned, I love match play. Some payers thrive at it and some don't. Being the only person to beat Tiger twice in match play is certainly pretty cool and something to tell the grandkids one day. There's a number of factors to doing it well but for me match play is such a mental game. You only have to beat one person so figuring out a strategy and not getting overawed or intimidated by your opponent are a couple of key elements. It doesn't seem like much but having good body language is vital. Even if you don't feel great or you're behind in the match, walk tall, smile and give the impression that your opponent is in for a long day if they want to beat you. I loved seeing my opponents head down or if they were dragging their feet a little. I knew I had them at that point, so I just kept my foot down until the finish. On the strategy side, one of my so-called weaknesses of being a short hitter, was actually a strength for me in match play. It meant I would hit approach shots into holes first because my opponents typically drove the ball further off the tee, so I could apply pressure by hitting it close. They would either force the issue or perhaps get frustrated that I didn't make many mistakes. As I said in match play all you have to do is beat one person, rather than an entire field in a regular event, so being smart in your decision making can go a long way to winning plenty of matches. You can adjust your game during different stages depending on what your opponent is doing. This translates really well into money matches because it's about being one up on your opponent at the end of the day.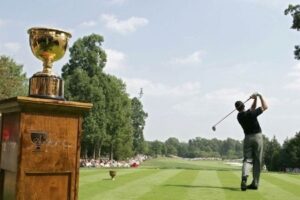 *Tiger was such intimidating player – how did you handle that?
I never been down to him – that helped. On the opening tee one time he just unloads his tee shot and I looked at my caddy, who had his mouth wide open. The rest of the match, I just looked the other way every time he hit a tee shot.
*What is some basic advice you would give someone relating to a money match?
Firstly, don't wager more than you can afford. That's when betting can get out of hand so make the amount mean something so you're a little uncomfortable but it's not going to hurt you either if you happen to lose. Because that will happen from time to time. We all lose a match at some stage. Secondly, as simple as this sounds, get the lead early. When you get the lead you have the tee, meaning you're hitting off first. In a way you control the match and can apply pressure by hitting quality shots. So be ready from the get-go. Don't ease your way into a match, try and win the first hole! Or at the very least halve it, then try and win the second hole and so on. Simple I know but if you get the lead your opponent is the one chasing, and it's much more fun leading than chasing, especially with a little something on the side!
*Do you miss being on the Tour
Yes and no. I miss the competition but not the travel, hotels, airports, all the practice required to be able to play at that level. I still play a couple of events down here in Australia from time to time but it's tough to compete when you're not playing tournament golf week in week out. I stopped playing because I wanted to be home more and watch my kids grow up. Tour wives are amazing women because they are single mothers quite a lot of the time. We're on the road so much and for me it got to the stage where I wasn't enjoying it anymore. The way the tour is now it's getting harder and harder for shorter hitters like me to compete so I'm glad I stepped away when I did to do other things and be home more.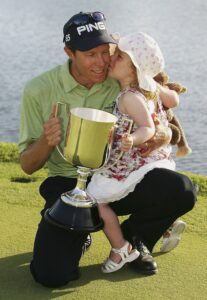 *What have you been up to since retiring from full time playing?
Apart from driving my kids to school every day, I'm helping golfers mostly. One of my main strengths as a golfer was the mental side. A few years ago, I wrote a book called, Tour Mentality – Inside the Mind of a Tour Pro. It was never my intention to write a book but it just kind of happened after a friend thought it might be a good idea after I helped him on the golf course one day during a social round. Now, there are plenty of books out there on the mental side of golf but none that I know of written from a tour pro's perspective, so it's been fun sharing the things I learned from my years on tour. As a result of the book I'm now mentoring up and coming amateurs and young pro's, as well as helping everyday club golfers off 18 handicaps. That's the beauty of golf. What applies to the pros is the same for regular golfers. I actually started out as a teaching pro in my early twenties. I wasn't good enough to play for a living at that stage, so I did an apprenticeship to become a teaching pro. Then I figured out my game, went out on Tour for 20 years or so and, in a way, have come full circle because I'm back to teaching again which I love. My family and I moved back to Australia at the beginning of 2019. With two teenage daughters who grew up in the US, it's been an interesting move to say the least! But we're all settled now and enjoying life back here. We're living in Melbourne where there are some of the best courses in the world, so I'm like a kid in a candy store again at the moment J
*I understand you are a red wine man! We write about wine and I am curious what some of your favorite bottles have been?
I love all styles of wine, but we mostly drink reds as my wife prefers them over whites. I'm biased but Aussie reds are typically our favorites and mostly what we drink. There are so many great wines down here from a variety of regions but if I had to pick one, my favorite is a Rockford Basket Press Shiraz from the Barossa Valley wine region in South Australia. Rockford is a boutique winery not far from some classics such as Penfolds, Yalumba, Elderton and Peter Lehman to name a few. It's hard to get a bad wine from anywhere around there! While living in the US we did a tour of the Napa Valley about 10 years ago and visited some amazing wineries. The Cabernet's are obviously what the region is most well-known for with Caymus, Opus One, Screaming Eagle, Hundred Acre all being amazing versions that through friends I've been lucky enough to sample. But a couple of memorable ones for me were aged Cab's from Pahlmeyer and Chimney Rock. I could write another few pages on my favorite wines 😉