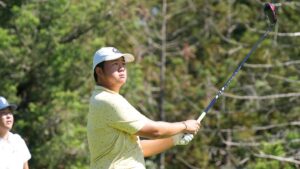 California's men's golf season concluded Wednesday with a sixth-place finish in the NCAA Morgan Hill Regional at The Institute Golf Club. The Golden Bears made a push for the top five with a 1-over par 289 in the third round but finished the 54-hole regional just three shots behind the cutline at 14-over.
The top five teams – Mississippi State (-1), BYU (+4), Florida State (+7), Baylor (+9) and Pepperdine (+11) – advanced through to the NCAA Championships, played on May 26-31 in Scottsdale, Arizona. After entering the third round in sixth place and five shots outside of the top five, Cal (878, +14) made things interesting with an impressive front-nine effort. Three of five Bears shot under par over the final nine holes as they closed the gap on Pepperdine and pulled within three strokes with three holes to play, before ultimately coming up short in the rally.
Sampson Zheng led the charge Wednesday with a 1-under 71, his second under-par round of the regional. The junior finished in a tie for seventh place individually – his sixth top-10 finish of the season – with an even-par 216 over 54 holes. Zheng climbed as high as fourth place when he notched a pair of birdies on holes 5 and 7 before a bogey on 8 brought him back to seventh.
Aaron Du, who tied for 24th at 5-over par (221), impressed with a clean front nine that included two birdies of his own on holes 3 and 5 during the third round. Simon Kwon (+12) and Nathan Wang both tied for 50th individually but finished strong; Kwon shot an even-par 72 in the final round while Wang's 1-over 73 was fueled by three birdies in an eight-hole span between 14 and 3.
Cal, which made its 24th all-time NCAA Regional appearance, finished the 2022-23 season with 12 top-10 finishes.