Like many Danville restaurants, Santorini is located in a shopping center—Town and Country right off Hartz Avenue. It is ideal for a family meal with a broad menu of Mediterranean dishes.
The entrees are reasonably priced (nothing over $25) and portions were quite large. Taking advantage of a Groupon deal, we split an appetizer and a dessert, enjoyed our own entrees and split a bottle of house wine. At full price, it totaled $96—quite reasonable for sit-down service in Danville.
In keeping with its theme, the restaurant décor features a mural of a scene in the Greek Isles.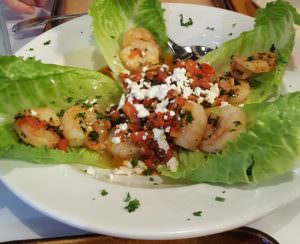 We started with the garlic prawns appetizer and you would have thought you were in a steak house given the number of shrimp (12) that were perfectly cooked and served with tomatoes and feta cheese over Romaine lettuce leaves. I was happy we were splitting the dish because there were enough shrimp for an entrée.
The other appetizer choices included traditional dishes such as hummus, Tabbuleh, Babaghanoosh and Koubideh Kebob rolls.
We both opted for lamb entrees—roasted rack of lamb for my bride, while I ordered the lamb kebob. Her chops were topped with a demi-glace sauce that added a nice flourish and served over garlic mashed potatoes with broccoli and carrots.
My traditional lamb kebob was seasoned appropriately and cooked well—again ample portion—served over saffron basmati rice with garden vegetables. It also included a roasted tomato—normally a favorite for me—but this one was not cooked enough.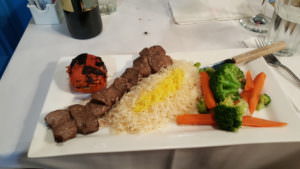 The broad menu offers chicken, lamb, koubideh (ground beef) and beef kebobs as well as moussaka, pomegranate chicken, lamb shank; three fish choices, six pasta dishes and a selection of pizzas. There are also sandwiches and salads for lunch.
It would be easy to visit regularly and enjoy a different entrée each time.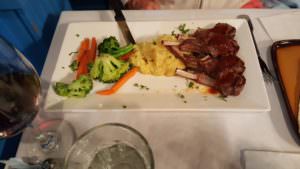 We finished with a delightful expresso ice cream ball stuffed with a rich chocolate center.
/http://www.santorinidanville.com