Redmond has a flourishing restaurant scene in its scenic downtown area in Central Oregon.
One of the pioneers there is Diego's Spirited Kitchen. When I had searched for restaurants in the Redmond area—we were staying a few miles away—Diego's popped up and the menu was interesting from the get-go. For me, during my growing up years, Mexican food meant tacos or enchiladas filled with ground beef. As I got older, chicken or pork entered into the filling mix. As I have traveled to Mexico on a couple of occasions, I came to realize that, with coasts bordering both the Caribbean Sea and Pacific Ocean, seafood options abound. Shrimp and warm-water lobster are readily available.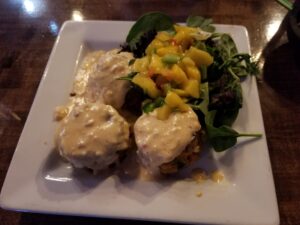 When I saw Maine lobster dishes plus the shrimp on Diego's menu, I was ready to try it. We left well-satisfied and ready to go back.
The owner of Diego's takes "spirited" seriously. It boasts a full bar with plenty of top-shelf liquor. That includes a selection of eight Scottish single malts as well as bourbons and a range of tequilas. The Margarita offerings include the standard mix plus your choice of tequila from the list of 9. I sampled my bride's and would have ordered it if I was in the mood for it. Instead, I stayed with one of the 16 whiskeys offered.
Tortilla chips and salsa start any meal. As one would expect, there's a bit of zip to the salsa.
From my prior review of the menu, I knew we'd start with the lobster cakes made with Maine lobster, sweet peppers and topped with a lobster sauce. The three good-sized cakes came with a mango-based salsa over mixed greens. Very tasty and an excellent way to start our meal.
There were a variety of other interesting appetizers—forest mushroom quesadilla, shrimp, nachos, taquitos, and warm Boursin cheese and wild mushrooms to name a few.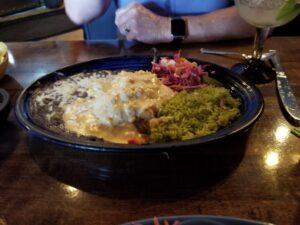 When it comes to the entrees, you can understand the unusual philosophy of the owners. It's unabashedly a Mexican restaurant, but you can order burgers and sandwiches, entrée salads, a variety of pastas with proteins, plus fresh grilled salmon or halibut, steaks and seared scallops. As the website notes, the menu is designed for a party with diverse tastes so everyone can find something they like.
Continuing with our seafood/Mexican theme, my bride ordered the Seafood Chile Relleno, a  Poblano Chile stuffed with lobster, Gulf shrimp and Dungeness crab topped with creamy seafood sauce. It was accompanied, as you'd expect by rice, refried black beans and cole slaw. She would order it again.
I selected the Enchiladas del Mar, 2 corn tortillas that were stuffed with shrimp, crab and lobster topped with tomatillo sauce, sour cream and avocado. Another home run.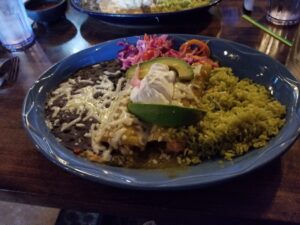 We took home plenty of the beans and rice along with the chips after managing to finish our excellent entrees. Five desserts are offered, including fried ice cream and blueberry cheesecake, but none tempted us given how filling the entrees were.
In keeping with the general approach the Mexican menu offers whatever you desire. The menu is so diverse that it resembles that of the famous Cheesecake Factory.
By Tim Hunt