Cindy and Roger Grossman were searching for a retirement home 20 years ago in Central Oregon. They were debating on whether 20 acres or 40 acres were the right size when a broker showed them a 312-acre parcel outside of Terrebonne. Roger saw the look in his wife's eyes and knew they were going to own 312 acres.
It's a beautiful parcel, bounded by ridges on both sides, with an underground water table that flows from the nearby Cascades and plenty of flat land to grow crops. They grew field crops and then decided to branch out into grapes. It's a challenging environment for grapes with heavy frosts in both the spring and the fall so it's a short growing season that demands frost protection for the wines and the fruit.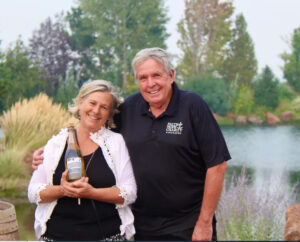 They decided on hardy varietals, developed by Cornell and their home-state University of Minnesota. They've got 15 acres in vineyards with plans to more than double that by selling vineyard estates (1 acre home site with four acres of grapes) plus doubling their own plantings, all with the hardy grapes. The grapes can survive temperatures of minus 35 Fahrenheit with the help of water sprayed on them as the temperatures drop below freezing.
Roger learned about this the hard way by not starting earlier enough during one frosty night. He said they'd had a 34-degree morning just two weeks before our early July visit. During the growing season, they typically see a 30-to-40-degree temperature swing that is ideal for the grapes.
The Grossmans named their winery Faith Hope and Charity Vineyard, melding that with the U.S. Navy charity image in their logo. Faith. Hope and Charity were the original names for the Cascade peaks, the Three Sisters located just west of their land and readily visible on clear days, of which there are many in Central Oregon.  The politically correct state changed the names when someone challenged it on separation of church and state. Terrebonne is located near Redmond that is about 10 miles north of Bend.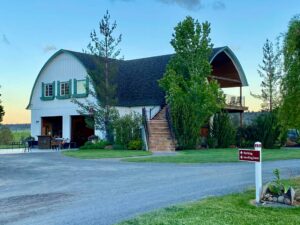 Roger sat down with us for about 30 minutes while Lydia poured s a wide selection of their wines. He joked that he's learned in the last 20 years that he's not very good at retirement. After talking with us, Lydia asked for his help to change out a C02 tank that was powering kegs of beer. Yes, kegs of beer. The Grossmans are customer—focused so there's beer and non-alcoholic beverages for those who don't prefer wine.
They have a small kitchen, including a wood-burning outdoor pizza oven that Roger insists requires stringy Mozzarella like his native Chicago. He's more flexible on the other food items—cheese and meat trays, salads and soups. In busy times, he can be found cooking pizza.
The customer-friendly approach extends to free concerts they offer on Thursday through Saturday evenings on their large lawn plus there's a Sunday morning gathering with Christian praise music. They're kid and dog friendly as long as patrons clean up after their pooch. One of Roger's favorite stories is taking popsicles out to children on the lawn. One dad joked that it was the most expensive "free" popsicle because the kids demand they returned.
The winery event center, in addition to the lawn area and a patio covered with a tent, also has a nice patio area for tasting as well as a small indoor tasting room.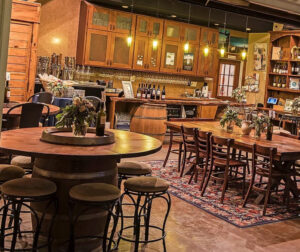 That customer-first also extends to the wine that includes a white blend that is easy drinking and low alcohol. There's also Sangria available as well as the traditional wines. They plan to build a production facility, including caves into one ridge so they can use gravity to move the fermenting wine. Currently their grapes are trucked south to near Roseburg where one of their winemakers is based—they had three people partnering with them to make wine.
They tap into vineyards on the Washington side of the Columbia River for Zinfandel, Syrah and Merlot, while Pinot Noir for its varietal bottling and a rose both come from the Willamette Valley, which is renown as Pinot country. The bigger reds are drinkable and enjoyable.
The estate varietals—La Crosse (white, five medals), Frontenac Gris (white,) and Marechal Foch (red, five medals) have started to receive recognition in wine contests. They also grow Marquette, La Crescent, and Leon Millot on their estate and these varietals also have received medals. They are producing about 2,500 cases per year.
In addition to the concerts, they also offer their venue for corporate events and weddings, which Roger described as stressful given the importance of that day to brides, grooms and their families. The corporate events are more laid back.
The production facility is the next expansion step that also includes more vineyards, cottages an amphitheater and potential an air strip. Cindy is nothing but ambitious about further developing their parcel.
We enjoyed the various wines we tasted. All the estate-grown hardy varietals are made as that varietal with no blending. That may come if they reach the point of an on-site winemaker.
Our favorite was a red Marechal Foch that we bought a couple of bottles to share with our family back home. A 2017 vintage, it is nearly five years old so is drinking well.
The winery welcomes visitors, particularly for its free concerts with food and wine available. Tastings require appointments Monday through Friday.
By Tim Hunt