Photo credits: Bryan Ngo (La Brea Bakery)/Coni Miller
There are times in life when you have plans to attend an event and the closer you get, the expectations become so high that's it's impossible for the event to come close to the expectations.
But once in a great while the event not only meets the expectations but exceeds them.
Such was the case with (m)Eat Carnival.
My wife and I had the chance to attend the latest (m)Eat Carnival, which took place at a ranch several miles into the countryside of Livermore.
Billed as an event as "It's everything you wouldn't do in a restaurant," it's all that and more.
It is part workshop, part feast, part entertainment, but ultimately, it's an unforgettable experience.
They occur monthly from March through October at pop-up locations, with the locations not released until a week before each event.
The organizers also say, "Beware, (m)Eat Carnival isn't for everyone, so if getting your fingers dirty with exotic flavors and eating al fresco is your idea of fine dining, then this should be on your culinary bucket list."
(m)Eat Carnival was created in 2016 by two friends in Israel. It is now based in the San Francisco Bay Area.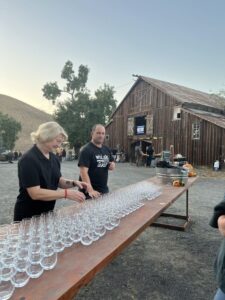 Chef Itamar Abramovitch and chef Ohad Kvity are the duo who have unleased this wonderful event on the world.
Abramovitch was born and raised in rural Israel, growing up as a grandchild of Holocaust survivors in a kibbutz, he embraced the value of offering plentiful dishes with genuine and hospitable warmth.
His passion for cooking and hosting was sparked during his teenage years, when he spent time exploring the desert with Bedouins, seeking refuge and sharing meals with strangers.
This unique experience left an indelible mark on Abramovitch, shaping his desire to create memorable experiences and connect with people through food.
After fulfilling his duty to the Israeli government, Itamar embarked on a divergent path that led him to Washington D.C. and later San Francisco.
His professional cooking journey began at a Michelin-starred restaurant in San Francisco under the mentorship of Chef Roland Passot, while he awaited the start of his studies at the Culinary Institute of America (CIA) in Napa Valley.
During this time, he honed his skills in flavor, technique, and presentation, gaining a deep understanding of fine dining and hospitality in the United States.
To supplement his income, Itamar and a fellow CIA alumnus started catering private in-home events, which soon grew into the successful and reputable company known as Blossom Catering Company in Napa Valley.
Today, Chef Itamar Abramovitch has built his foundation in Napa Valley, where he enjoys raising his two children with his wife.
Kvity is a culinary virtuoso driven by a deep passion for bringing joy to people through the art of food. From a young age, Ohad discovered his love for cooking while spending countless afternoons in the kitchen, lending a helping hand to his beloved grandmother.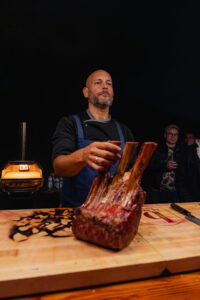 During his military service, Ohad's dedication to making others happy led him straight into the kitchen, where he sought solace and found an opportunity to lift spirits through delicious meals. It was here that he began exploring new and inventive ways to utilize ingredients, continuously striving to create dishes that would bring delight to those who enjoyed them.
After completing his service, Ohad embarked on a culinary journey that led him to one of Israel's most esteemed restaurants in 2006, Mulyam.
Shortly after, he and a fellow blogger engaged in brainstorming sessions that sparked the idea of combining this love for cooking with the power to bring joy to others through food – (m)Eat Carnival.
Itamar and Ohad hire a group of culinary all-stars for each event, with the lineup changing at each event.
Each adds to the event by bringing their special culinary skills to add to the diversity of dishes prepared.
There are up to 20 chefs at the event, preparing a multitude of meat-based dishes, all of which are eaten with your fingers – there are no utensils –
The events sell out quickly, with a limited number of people allowed at each event making sure to enhance the experience. In fact, the next event scheduled in March of 2024 is already close to selling out.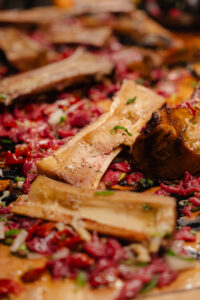 There are limited tickets available for each stop helping to guarantee a feeling of comfort and not confinement.
Not a lot of events intimidate me, especially if involves food, and specifically meat. This time I will admit, there were some nerves about what we were facing.
I mean think about it – 20 chefs preparing a variety of meat dishes, complimented by an open wine bar. The unease was increased as the location was in the middle of nowhere, down narrow roads well into the countryside.
Once we parked and got out the car, any trepidation was quickly alleviated when we were greeted by Chef Itamar. We were given towels to carry with us – remember you are eating with your fingers – as well as our wine glass.
Rules we were given were simple: There are no lines – get in and get your food – and wash your hands regularly at one of the many handwashing stations.
There were several chef stations set up around the perimeter of the area, with handwashing stations and wine stations filling the area filling the areas between the stations.
Right in the middle there was a big meat smoker that was in use the entire time, providing a constantly amazing aroma.
What makes (m)Eat Carnival so unique is not just the quality of the offerings, but the ability to be up close with the chefs as they prepare each dish.
You are right there – just like being in the kitchen of a restaurant – while the chefs cut the meat, add the seasonings, then lay the food out for service, all the while talking with the people around the station as to what they are doing.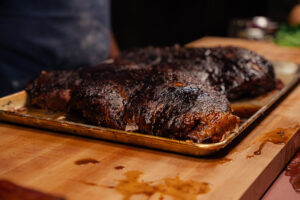 Several times throughout the evening they pulled people out of the crowd to help with the preparation. Then, bam, they step back and let the crowd surge to dig in. At no time was everyone around the station left wanting.
There was always food available at each stop – not once did I see a person left wanting.
It did take a couple stops for us to get used to the "no line" system because people just seem to be cutting in front of each other, but rather than fight it, embrace it.
Embrace it and the event flows nicely. You're not making angry because getting in and getting your meat is what the night is out.
When a chef at another location is about to prepare their dish, they bang on a pan to let people know something special is about to happen.
Throughout the night we feasted up meats such as tomahawk rib-eyes, ribs, variations of pulled pork, bone marrow, and multiple other types of meat prepared different ways.
There are no recipes as the chefs just put the ingredients on the table and "let them do their thing."
Just when you thought you had the best dish of the night, off you went to the next station and had the same feeling.
There was also one station where there was freshly made pita bread offered with several dipping sauces for a change of pace.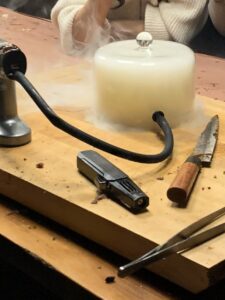 One interesting thing that was done with halibut Chef Ohad put the entire fish on his table and showed the entire preparation process from the beginning, trimming the fish, to preparation to cooking, and finally serving.
La Brea Bakery was a big player in the event with their focaccia being the bread used in an incredible breakfast sandwich that used roasted eggplant, hard-boiled egg, pickled jalapenos, bread and butter pickles, sliced heirloom tomato, amba sauce, garlic tahini sauce, and La Brea Bakery focaccia.
The big moment came towards the end of the night when Chef Itamar gathered everyone around on the stations.
He broke out some wagyu beef, sliced it into pieces, then put it on a grill. The group then shaved up some chocolate and white truffles.
Finally, they added smoke infused caviar to the mix. When the meat was done, the truffles and caviar were combined with various spices to create the piece de resistance.
It got to a point where I was questioning if I would make it back to the car!
And if that wasn't enough, there were large Otis Spunkmeyer cookies set out to take home.
Simply, it was an amazing night. So much so that when I woke up the next morning, I looked over at my wife and asked, "did that really happen."
It is a bucket list item for sure. Go to the website. Find out how to buy tickets. Then, buy them!
You won't regret it.
For more information go to www.meat-carnival.com.