Unwilling to wait 35 or more minutes on Sunday morning to enjoy a Red Hut breakfast at its newest South Lake Tahoe location, we walked across the parking lot and dined at Shedcat, a distillery and kitchen that just opened in May 2023.
They're both at the corner of Ski Run and Highway 50 (Lake Tahoe Boulevard).
As you would expect, a distillery offers a full bar and Shedcat has an impressive—putting it mildly—selection of top shelf liquor. It has a separate cocktail menu (mock and with spirits) and our helpful bartender offered that the mocks could be spiced up if one caught our fancy. The cocktail offerings are a full page and then there's the separate wine list plus the spirits list. Spirits range from single malt Scottish whisky to plenty of bourbons, gins, tequila, rums and vodka. Finding something you like would be easy.
The dining area is 8 tables plus a conversation area and seating for 10 at the bar. One wing facing the parking lot is reserved for the stills.  Shedcat distilled its first spirits three weeks ago and anticipates the vodka and a young bourbon will be available next month.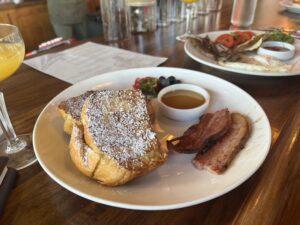 Shedcat opens for brunch daily at 8 a.m., offers daily happy hour from 3-5 p.m., dinner from 5-10 p.m.  and late night until closing at 2 a.m. There are different food menus for happy hour and late night. That's one long day—rivaling the 24-7 operations of the casinos at Stateline less than a mile up the street.
The brunch offerings are interesting and limited—same goes for dinner. Five savory options and five sweet options that include French toast, sourdough pancakes and egg, beignets, Jasmine rice cooked in milk with spices and a fresh fruit cocktail. Adding a tasty pork belly complemented the French toast that my daughter enjoyed.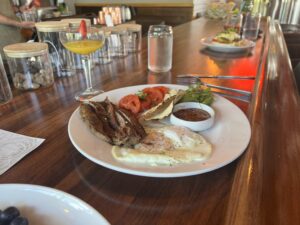 My wife selected the skirt steak and eggs with house-made corn tortillas. Shedcat makes its salsas and sauces daily—the original one was so spicy hot that it went home for our Pakistani son-in-law  who has a taste for the pepper heat. The second one, apricot-based, my bride loved. The steak and eggs were both prepared perfectly.
I selected the California benedict with grilled tomato, avocado, poached eggs and a tomatillo hollandaise sauce over large English muffins. I added the pork belly and it was the highlight.
The other options were Chilaquiles (corn tortillas) with eggs or Jalapeno Hush Puppies with eggs.
When it comes to drinks, Shedcat has an expresso maker, drip coffee, juices as well as its cocktails. The ladies enjoyed mimosas that had plenty of sparkling wine with a splash of orange juice. I went with the Bloody Mary with a house-made sauce that had plenty of zip. Our bartender/server warned me and gave me a sample to try before I moved ahead. It was on the edge for me, but was an enjoyable drink to sip.
The menu and website point out that the kitchen is based on fresh ingredients that they can source locally. Thus, rainbow trout from Lake Tahoe, a pork chop from a Grass Valley rancher and hand-made pasta nightly. The emphasis on creating their own sauces fresh daily stands out.
We will return on another visit. www.shedcat.com
By Tim Hunt