While tuned into the recent U.S. Open, there's a good chance you saw cool colors on players' feet.  We're not talking about their shoes, per se, but their shoelaces adding subtle pop at ground level.
Well, there's the folks at Whiskers to thank for relief from boring footwear, primarily of the all- white variety.
The Florida-based company designs, manufactures and sells premium, bespoke and on-trend shoelaces a la carte.  On any given tournament week, more than 75 PGA and LPGA Tour players – including major winners, Ryder Cup players and superstars of all ages – spice up their shoes with more than 70 colors in the Whiskers range.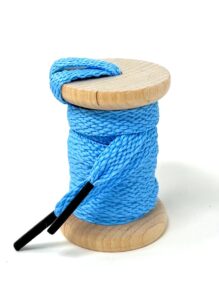 Recreational golfers across the land are following suit, many buying scores of colors to add to their personal Whiskers collection.
Last week, Whiskers unveiled a dozen new men's and women's golf-specific shoelaces in tropical solid and pattern colors and designs leading into summer months.
Heading the class are apple red and navy ticked, Carolina blue, lavender, pink and light blue ticked, peach and fuchsia ticked, tangerine and volt yellow. All new colors are available in All-Pro fabrications constructed for even greater durability.  Laces come in single pairs ($15), mix-and-match three packs ($40) and "fivers" ($60).
"Whiskers' tropical colors go hand-in-hand with the vibe of summer on the links," says Kyle Groth, CEO of Whiskers.  "Golf is meant to be fun, and subtle pops of color and personalized styling in the form of shoelaces squarely fit this bill."
Stylistically coordinated with on-trend footwear, apparel and accessory brands, laces are crafted with ultra-durable poly-nylon tech weave and high-grade aglets, and come in multiple shapes and lengths.
Golfers capturing their inner fashionistas match Whiskers' hues to their shirts, hats, belts and shoes, and re-lacing typically takes less than three minutes.  The Made-in-the-U.S.A. laces are fit for classic shoes like FootJoy and athletic styles from adidas, ECCO, Nike, Puma and other brands.
What's better yet, Whiskers makes shoelaces specifically for men's and women's sneakers, casual and dress shoes and boots.
It seems everyone is disrupting the status quo of ordinary shoelaces.