Garberville and California's giant redwood country in Mendocino County will not make a Top 10 list of best California golf destinations.
In fact, it won't make any list including golf, but for an historic inn, walks through the magnificent redwood forest with a casual round of golf, it can meet the test.
We headed north on Highway 101 from Marin County to Garberville—a ride of about 235 miles from Pleasanton—on an abnormally cool September Sunday afternoon. Given the miles of two-lane road interspersed with divided highway on 101, it took four-plus hours before we arrived at the Benbow Historic Inn. The inn, opened in 1926, is built along a bend (there are many) on the South Fork of the Eel River.
The Benbow family built the Tudor-style inn with the goal of developing a resort on its 1,290 acres of land in the valley a couple of miles south of Garberville. In its golden era, it drew Hollywood notables such as Clark Gable, Spencer Tracy, Joan Fontaine and Basil Rathbone as well as Eleanor Roosevelt, President Herbert Hoover and the King of Jordan. The Redwood Highway had just been completed so it was an ideal place to stay when visiting the giant trees. More recently, guests have included Danny Glover, Matt LaBlanc and David Arquette.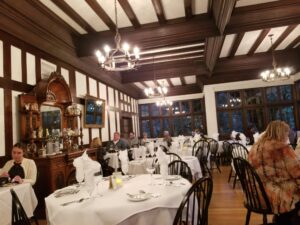 As you'd expect the rooms are furnished appropriately for the historic inn status as are the sitting rooms, bar and dining room. They are upgraded with fire sprinklers, smoke and radon detectors and central heating/air conditioning with controls in each room. There's more public space than you would expect. The eastern wing was added more recently and solved one of the vexing problems—accessibility for disabled people—by adding a large elevator that serves all five floors.
The family ownership added the adjacent KOA campground and its nine-hole golf course in 2004. The campground features children's playgrounds, a water park, swimming pool and spa so it's a fine complement to the inn.
Three golf holes play around the campground before the course moves up onto the hillside for the next six holes. The greens are small, were in good shape but slow, when we played after some overnight rain in late September.
For the most part, it's wide-open, although the downhill 150-yard eighth hole presents a huge visual challenge with a hill covered with berry vines to the right, junk to the left and a narrow tunnel toward the hole, bordered by the cart path  (my ball found it and caromed out of play).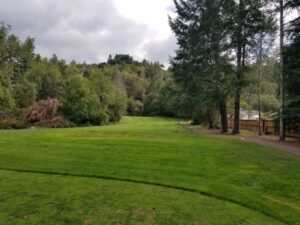 This isn't a golf course you'd make a special trip to play, but it was an enjoyable 90 minutes on the afternoon we were staying at the hotel. We took advantage of a cart, but it is walkable if you don't mind climbing some hills.
There are special attractions just up the freeway is the start of the Avenue of the Giants, a 31-mile ride among the huge redwoods. The magnificent trees simply take your breath away.
The other special attraction is the Benbow restaurant room with its seasonal menu and excellent wine list. Reservations are recommended for dinner because it draws both inn guests and people from the community. The inn has been honored by Wine Spectator 15 years in a row and perusing the wine list you can see why. It has the expected local wines, but goes well beyond with excellent selections from California, the West Coast and elsewhere in the world. We opted for a Schug Pinot Noir from Sonoma County that complemented both the salmon and the Petrale sole stuffed with crab.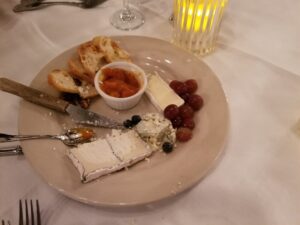 My bride started with the cheese plate that highlighted her Roederer sparkling wine. I selected the lobster bisque—served in a little cast-iron bowl—that was delightful. My wife's salmon filet was perfectly cooked and complemented by leaks and fingerling potatoes.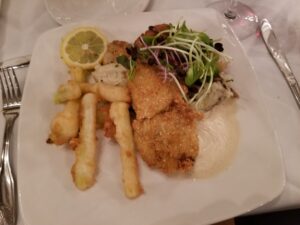 My stuffed sole was fried and accompanied by a lemon and mushroom risotto and wonderful tempura-fried zucchini. The bonus was three barely cooked divers scallops that were significantly larger than the 13-15 count scallops we had enjoyed at home two nights earlier. The risotto needed a bit more time in the oven or microwave, but otherwise it was a fine dish and an ample portion. It would have been enough without the scallops, but they were a tasty bonus.
We passed on the dessert—they didn't have the butterscotch bread pudding that was listed on the menu outside the inn—our server informed us that, given it was 90 degrees earlier in the week (it was in the low 50s and raining Sunday) that the bread pudding hadn't returned to the menu yet.
After a leisurely morning, we headed for the redwoods. We stopped for a large breakfast in Redway, four miles up Highway 101 at Deb's Great American Hamburger Company. Deb had just celebrated her 20th anniversary and serves three meals a day. She's a pioneer at fast casual because you order at the counter off a huge menu board. That includes plenty of hamburger choices, but also a variety of breakfasts (design your own omlette including how many eggs), French toast, breakfast burrito to name a few. There's also beer and wine plus tubs of ice cream and baked goods—she obviously aims to please with whatever food you desire.
The portions were large and the prices were fair. We didn't eat again until after 5 pm (we were hungry about 3:30 but focused on getting down the road). Our plan was wine tasting and we ended up at Jaxon Keys a couple of miles north of Hopland. The 1,200 acres of vineyards planted on both sides of the freeway. In addition to the estate grown grapes, they make Merlot from Dry Creek Valley grapes cultivated by their sister winery, Mazzocco. Both are part of the Ken and Diane Wilson family of wineries.
Arriving about 30 minutes before the 5 p.m. closing, our hostess Emily took good care of us. We tasted seven different wines—a few were not on the published list.  We took home a Zinfandel blended from four different vintages—it was delightful. We also enjoyed a Zin that was aged in brandy barrels—Jaxon Keys also has a distillery for brandy.
The tasting room is in an 1880-vintage farmhouse with a covered porch on two sides and a nice patio on the third. Ignore the highway and focus on the vineyards beyond and it's a nice spot to enjoy a glass of wine.
By Tim Hunt