Great dining choices abound in the broader Coachella Valley from Palm Springs in the north to La Quinta and Palm Desert in the south.
Tucked south of Palm Springs is Cathedral City where we discovered another spot we'd return to: Trilussa Ristorante. It's located in the redeveloped area on the eastside of Highway 111 near a small performing arts theater and a multi-screen movie theater. The setting includes a huge patio that likely is well utilized in appropriate weather—we were there on a windy and cool evening so inside seating was much preferred. For a Wednesday night at the start of the shoulder season, it was pretty busy.
We had made a reservation so were seated quickly. Seven different salads are offered: the Caesar you'd expect along with an equally expected caprese salad, but it also offers a chopped salad, a citrus salad as well as a Mediterranean salad that might be marketed as "Greek" in another environment.
I ordered a drink and the server brought sliced crunchy French bread with an olive tapenade. It hit the spot to take the edge off as we perused the menu.
Starters ranged from shrimp scampi to calamari, bruschetta, antipasto and clams and mussels. We decided on the calamari and took our time working through a portion that would easily have served three. The lightly breaded squid was matched with a tomato sauce.
Turning our attention to the menu, it's hard to imagine any fan of Italian food not finding an entrée that would excite them.
One interesting feature was build your own pasta. Pick your noodles– Penne, capellini, spaghetti, linguine, fettuccine, zoodles and then match a protein and a sauce to it. There were 12 options ranging from Alfredo to Primavera to sausage and peppers and mussels and clams to name just a few.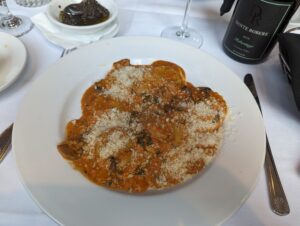 There's as much flexibility with the chicken offerings (eight), and beef and veal to say nothing of the house specialties such as gnocchi, lasagna and eggplant parmesan. Seven different pizzas also  are offered. The entrees were quite reasonably priced
My bride selected a house specialty, ravioli stuffed with wild mushrooms in a tomato sauce. We had taken a red blend from a Livermore Valley winery, Dante Robere, and it complemented the dish perfectly.
I could not pass on the veal and opted for the marsala topped with plenty of mushrooms and accompanied by perfectly prepared green beans. Four thinly sliced, tender and perfectly cooked veal pieces made for a filling entrée.
The entrees were very fairly priced with only the filet mignon topping $30 at $31.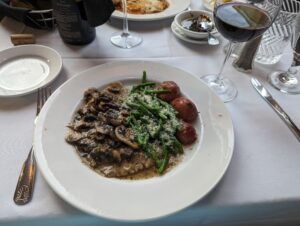 The wine list isn't extensive, but there were plenty of good choices and again at reasonable prices.
We had our takeout dessert left from lunch at Sherman's the day before so we passed on the dessert.
The restaurant offered complimentary glasses of amaretto or sambuca to finish your experience. The sambuca had a couple of coffee beans tossed in that made for a nice spin.
We left pleasantly full and ready to return when we're back in the desert. It was quality dining at a value price—something that's not easy to find in some of the more upscale communities.
By Tim Hunt