You know you are in for a special and unique dining experience the moment you enter the Pinoli Cucina Rustica.
After climbing the stairs to the main entrance, one thing immediately hits you – there are no hostess or front-of-the house staff to greet you. Instead the wait staff is comprised of the chefs for the restaurant.
That's right – the chefs discuss the menu with you, take your order and ultimately serve you. There's no waiter going back to the kitchen to ask questions of the cook staff – ask and get your answer immediately.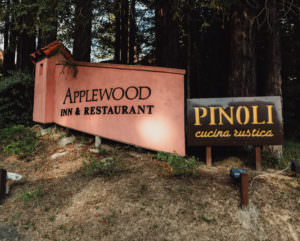 Located as part of the Applewood Inn (see separate story ) the Pinoli Cucina Rustica has been opened since  is the perfect complement to the resort. Designed to look like a barn from the outside, the interior matches the exterior and provides instant comfort and relaxation.
It's a special experience and one my wife and I enjoyed immensely. The chefs we were around – Sandy for dinner (she also doubles as one of the concierges for the hotel), Tommy for breakfast and chef/owner Christian Darcoli – gave a vibe you usually don't get from a restaurant.
Since they prepare the food, they have a sense of pride in everything served as compared to a waiter that is just punching the clock, working for tips. The genuine feeling comes across from your initial greeting until the time you leave. It's infectious and guarantees a great time.
Christian Darcoli, chef/owner of Pinoli Cucina Rustica, an Italian Restaurant in Sonoma County, was born in San Remo, Italy.  At the age of 16, Darcoli headed to London to learn English and worked at Marine Ices, one of the oldest and infamous ice cream factories in the world.
​From there, he arrived in the United States as part of a cultural exchange program for chefs at Epcot Center/Disneyworld.  His career took him to New York, back to London working in a Michelin Star restaurant and then finally back in the United States to The White Barn Inn in a training program for Relais Chateaux.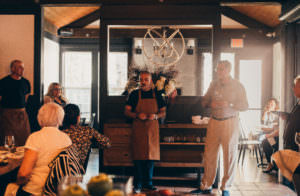 Chef Darcoli opened Pinoli Ristorante in San Juan, Puerto Rico before arriving in the wine country to open Pinoli Cucina Rustica.
We had the absolute pleasure to enjoy dinner Friday night and pair of breakfast offerings.
Our dinner started off with Grilled Grape Leaves filled with Fontina Cheese and Vincotto (cooked wine). It's a specialty of Chef Darcoli and was so good I contemplated getting a couple more orders and forgoing the dinner menu!
It didn't take long for me not to regret ordering dinner.
I opted for the Skirt Akaushi Steak with seasonal vegetables, while my wife had the Duck Breast with Farro, Seasonal berries and late harvest wine. Both were sensational, filling and an enjoyment.
There is a main menu that is complemented by daily Chef Specials. But unlike a lot of restaurants that might offer 1-2 specials, Pinoli offered seven different special options.
My dish came from that list, with other specials such as Wild Boar sausage and a Green Apple relish; Pancheri with San Marzano tomato and Buffalo Mozzarella; and San Daniele with fresh figs and Goat Cheese on the menu.
For desert, my wife had the Frittole-Italian Fritters with dried fruits and grappa. She is still talking about it!
The couple next to us had the Chocolate and Caramel Semifreddo and were very pleased.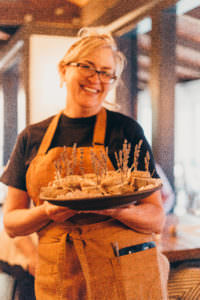 When we went up the stairs for breakfast the next morning, we were greeted by a do-it-yourself coffee and tea bar, a tremendous way to start the day.
Our first breakfast featured an Apple German Pancake and seasonal fresh fruit with Greek yogurt. That was followed by scrambled eggs served over thin slices of smoked salmon.
Incredible.
But Chef heard during dinner the night before that my wife loves Grand Marnier French Toast and out came a special order, complete with thick slices of Applewood bacon.
The next day, we started with a Blueberry and Yogurt Swirl Parfait that was followed by Blueberry Pancakes with more of the Applewood bacon.
Both days gave us a tremendous base for the day and were every bit as good as our delicious dinner.
Pinoli is an obvious choice for guests of the Applewood Inn, but the night we had dinner, there was a group of diners from nearby Santa Rosa, as well as a group of from Healdsburg area. It's already earning the appeal to the locals.
It's a can't miss restaurant for the entire Sonoma county area!
By Dennis Miller