Quail Lodge and Golf Club in the Carmel Valley has been a fixture on the Monterey Peninsula since avid golfer and businessman Edgar Haber opened it in 1964. He bought an old dairy and converted it into a resort property that earned Mobile 5-Star awards 20 years in a row.
Haber, for whom Edgar's restaurant in the clubhouse is named, was a resident of the Carmel Valley when he saw the dairy land and envisioned it as a golf course. The Carmel River ran right through the 850-acre property. He was a skilled amateur golfer and had played all the famous Monterey Peninsula courses including Cypress Point and Pebble Beach.
In Gary M. Koeppel's book, "The Legend of Quail Lodge," he quotes Haber saying, "All I could see was a golf course. Fairways and greens. Doglegs and straightaways. Three, four and five par holes. And lots of lakes carved into the flats and natural furrows. A golf course, not a dairy farm."
It was 10 years later when the owners decided to offer it for sale, he put together the down payment with help of investors. Building it involved a team that included his wife, Terry Haber, a former elementary school teacher, who brought her touch for aesthetics and design throughout the property. They owned and operated the golf course and lodge until 1997 when they sold it to Peninsula Hotels, the famed Hong Kong hospitality company. The golf club is an unusual holding for the firm, which owns luxury hotels in big cities, but it has run this property for 20 years.
The lodge closed from 2009 to 2013 for a $28 million renovation. It sparkles today with the mixture of the updated design that mixed elements of historic California ranch and Spanish colonial to complement what was done more than 50 years ago
The course was originally designed by Robert Muir Graves in 1964 and was refined two years ago by Todd Eckenrode. A key part of the redesign was removing lakes on several holes and giving the remaining lakes a facelift with rock walls. Given the challenging water situation, about 25 percent of the rough and nearby areas that were irrigated were removed. They were replaced with woodchips and native plants.
Eckenrode added many irregularly shaped fairway bunkers as well as some greenside bunkers and eliminated some doglegs. The fairway bunkers now are rimmed with a wispy fescue that can easily swallow a ball that misses its target—sand is your friend in this case. It plays 6,464 from the tips wtih a slope of 128. There's only elevation change on two holes so it is very walkable.
We teed off at 8 a.m. in the October morning chill on a golf course that had been well watered in anticipation of warm days. As Rhonda Mohr, captain of the women's club and one of our playing partners observed, it's time to layer up in the best weather of the year.
The course was in excellent shape and the greens got quicker throughout the round as conditions dried out and clothing layers came off. On both nines, the course runs among homes built on lots that Haber sold after developing the golf course. The clubhouse is located about a half-mile from the lodge and guests are offered shuttle service.
Both Rhonda and Dave Mosely attributed the excellent conditions to Superintendent Denis Kerr who has been there for 27 years. The course has been singled out for the best conditions—quite an honor considering the quality public courses (Pebble Beach, Spyglass, Poppy Ridge and Bayonet Black Horse to name just a few) plus the exceptional private courses in the area.
The front nine plays to the west and includes the two holes with significant elevation changes: the No. 1 handicap 402-yard No. 4 and the downhill 196-yard par 3 No. 5 that includes a water hazard to the right. Fairway bunkers come into play off the tee on many holes.
The front nine is characterized by huge greens so you can see some very long putts. On the back, the greens are notably smaller. After making the turn, No. 10 features an oak tree in the middle of the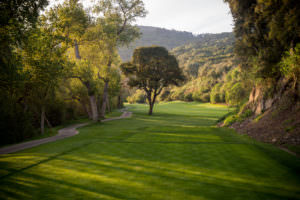 fairway about 100 yards off the tee. The Carmel River runs down the left side.
The river comes back into play from the tips on No. 12 which requires a tee shot over the river on a long par 3 (219 yards). All of the par 3s have some teeth to them because of the length and the bunkers that guard them.
The course is open for public play daily with some prime tee times reserved for members. Green fees are $185 during prime time.
THE LODGE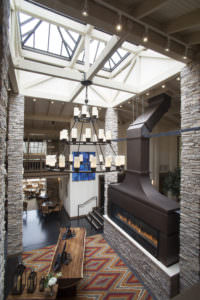 The lodge offers a variety of accommodations ranging from 2,000-square-foot fairway suites (three rooms, 1 king, 2 queens) to king and queen rooms and king and queen suites. The suites include gas fireplaces and all have coffee makers, mini-fridges and wide-screen LCD HDTVs with cable and premium channels.  Our king room had natural stone flooring in the entry and bathroom paired with rustic hardwood plank floors. The bathroom featured a separate shower and tub.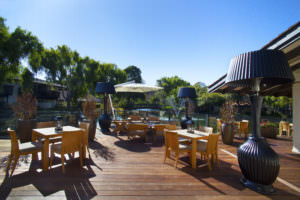 Throughout the resort, there are teak Adirondack chairs, while Covey's patio offers the option of couches around the firepit or teak chairs at tables. It overlooks a quiet pond.
The main lodge is home to Covey's, which includes a full bar, seating inside and outside on the patio overlooking the pond, as well as breakfast, lunch and bar food during the day.
The lodge also features a 9-hole putting course that is free to guests. In addition to the golf course, there also are tennis courts. For those looking for something different, try the Land Rover Experience, the only off-road driving school operated by Land Rover west of the Mississippi. There are 12 miles of trails located off the parking lot across the street from the golf club.
EDGAR'S
The fine dining restaurant is an ideal place to enjoy a post-round beverage and lunch on the patio or come inside for a fine dinner. There are heaters on the patio so dining outside in the evening is also an option.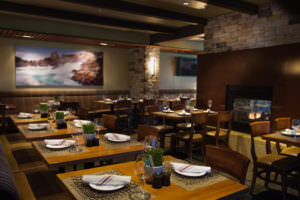 The room is highlighted by a floor-to-ceiling gas fireplace that is complemented by natural wood counters and natural stone pillars. It makes for a cozy dining space that was plenty busy on a Sunday evening. It's a favorite night for members because there's no corkage fee.
We said hello to former PGA Tour player and CBS broadcaster Bobby Clampett who was dining with his wife and his mother.  His mother, Jacqueline, is the longest standing member at the club, while Bobby's history there dates to when he went to work for Edgar Haber when he was 10 years old. He took lessons from pro Lee Martin and worked there until he left for college at 17. He joked that there's probably nobody who had hit more balls on the Quail range than he has. He worked full-time in exchange for playing privileges. He and his wife have a home in Carmel.
He noted he was a candidate for the redesign job so any comments must be viewed from that perspective. He liked the bunkering and the removal of many lakes.
"It's always been a special deal for me to come home. Such familiar land—Quail has gone through a metamorphosis and the struggles that most private clubs have, but it's still Quail," Clampett said.
Bobby played a lot of golf with Ed Haber and, when he was an amateur, represented Quail on the amateur circuit. Haber also was a business mentor for him.
As we sat down to dinner, we invited our server, Jessica, to work with the kitchen team to showcase the best of Edgar's. Executive Chef Brian Kearns sources ingredients from local organic sources as much as possible.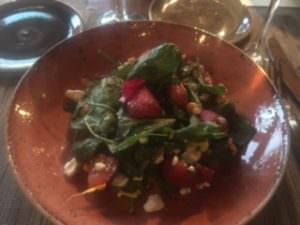 We started with two salads. The strawberry salad with baby spinach, feta, mint and Marcona almonds was refreshing and delightful.
We also enjoyed the heirloom tomato and burrata cheese salad dressed with sea salt and 25-year-old Balsamic vinegar. With tomatoes still in prime season, it was a wonderful way to start a meal.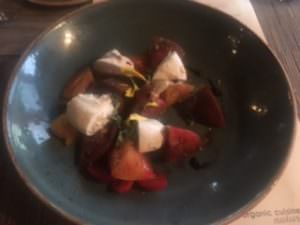 We sipped a Bernardus Chardonnay with the wild mushroom ravioli that was topped with roasted red peppers, broccolini, and Parmesan Reggiano with a Madeira wine sauce that had an Asian spin to it. Bernardus is located a few miles up the road in the Carmel Valley.
Our final appetizer was the Fritto Misto with local calamari, shrimp and zucchini that was lightly breaded and fried. The sauce was a delightful surprise—Sun Gold tomatoes seeded and pureed into the dipping sauce.
We sampled three entrees from the sea:
Northwest Halibut with seasonal fall vegetables served with an herbed Gnocchi and dressed with a fruit relish. It was the special for the evening with a substantial portion of the fish.
Grilled sustainable King Salmon from the Northwest that was served with Saffron Risotto, carrots, snap peas with a lime-ginger-soy glaze. My bride, the salmon fan in our family, loved it.
Monterey Bay Sand Dabs dressed with a Caper Beurre Blanc and served with fresh vegetables over a potato puree.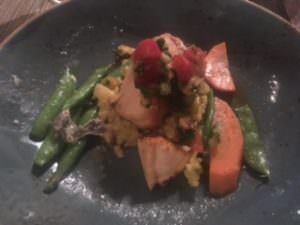 The menu also included two pasta dishes, roasted chicken, beef short rib and a grilled pork tenderloin. The specials for the evening were either a filet mignon or a ribeye steak.
Turning to dessert, my bride enjoyed a subtle lavender flan complemented by a poached yellow peach with whipped Crème Fraiche and a Honey Tulie.
I opted for the seasonal organic Crème Brulee that was appropriately pumpkin flavored and a fine way to finish the dinner.
In an area loaded with fine dining options, Edgar's is an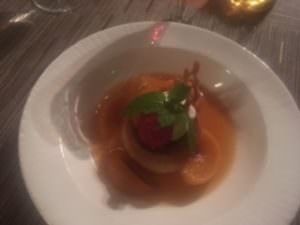 excellent choice, particularly for guests staying on the property who can take the shuttle and not worry about driving.
By Tim Hunt