Last issue I wrote about the Mediocre Golf Association and how it related to having fun on the golf course. If you are going to embrace fun while playing, why not add some fun golf gear to go along with the game!
Tattoo Golf started in 1999 and was the brain-child of Bill Anderson, an avid golfer, who was tired of traditional golf clothing.
"Bill loves golf and tattoos and there was nothing in the market that was cool," said business partner Greg Shaw, who signed on with the company in 2006. "Skulls are a tattoo icon and it went from there."
What Anderson came up with is a complete line of golf clothing and accessories. From shirts to hats to pants, Tattoo Golf has got it all with the "skull" featured. As can be imagined, Anderson and Shaw face an uphill battle, cracking through the barriers traditionalist have thrown up.
"There is a resistance," confirmed Shaw. "(The product) is not for everyone as plenty feel skulls and golf don't go together. But we are not mean spirited and it's all about the fun. Fun is the common denominator."
On the company web site the saying "Violating the Rules of Golf Fashion since '99" splashes across the front page. That alone intrigued me.
About five years ago I moved from being somewhat a traditionalist to someone seeking more fun when playing the game. Whether it was listening to music on the course to rarely keeping score, I begun to focus more on enjoyment when I stepped onto the first tee.
Time is precious thing and when you can string together 4-5 hours for a round, shouldn't it be fun?
Many of my golf writer buddies are fun loving and tremendous to spend five hours on the course with on our trips. Actually the vast majority fall into that group, but there are some – precious few fortunately – that are vastly out of touch with what works in this world and are prudes bent on holding the game back.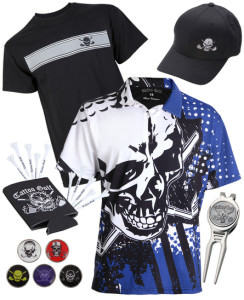 When I first heard about Tattoo Golf, I was interested and by the time my shipment of shirts came in, I was excited to wear one out on the course. When the day came that I wore one out to play, I must admit it was somewhat liberating, making me feel almost like a rebel.
It also drew a lot of comments – all positive – as pretty much everyone I ran into asked about the shirt and where I got it. I had the feeling some of them were going to buy some clothing from the company.
Anderson had all of $5,000 in sales the first year, but sales have increased every year since and as more golfers wear Tattoo Golf gear, count on the company to continue to grow. That golf has seen a youth movement in the last 10 years has certainly helped.
"Different brands have gotten more edgy as more kids have gotten into the game," said Shaw. "We have looked at analytics and our core group of customers are is in their late 30's and early 40's."
The biggest challenge facing Tattoo is getting into golf retailers. One issue is whether the store or pro shop is willing to go against the traditional golf merchandise, but a bigger problem, especially with golf and sporting goods stores, is that much of their clothing is tied into the clubs they sell.
In other words, you want to be able to sell certain clubs, then you have to stock the clothing as well.
"If we do get a reason, that is usually it," said Shaw. "We realize if it comes down to a choice like that, we are usually on the short end."
For now. With a continued grass roots movement, Tattoo Golf is making progress.
More retailers are trying the line, then selling it all and re-ordering. I expect to see the list of stores carrying the product to grow. In the meantime the Internet sales have been good, with customers coming back regularly to get more product.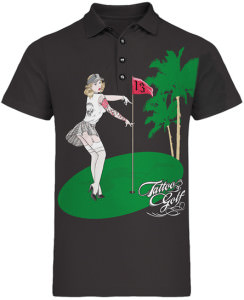 Former NHL star Brett Hull regularly wears their shirts, as does professional poker player/fanatical golfer Daniel Negreanu. Ryan Winter, the 2012 Re/Max Long Drive champion wears the product and last November, Jeff Crittenden wore a Tattoo Golf shirt in the finals of the Long Drive competition.
"That was great to see Jeff wearing the shirt in the finals," said Shaw.
Count me as a fan and now a Tattoo Golf customer. Take a look at their web site and give something a spin yourself – you'll be thanking me later!
For more information go to www.tattoogolf.com
By Dennis Miller