Former San Francisco 49ers Tight End Brent Jones was raised in the Bay Area, playing first for Leland High School and then at Santa Clara University. He was drafted by the Pittsburgh Steelers in 1986, then played for the San Francisco 49ers from 1987 to 1997.
Jones won three Super Bowl rings with the 49ers, was All-Pro three times and was a four-time Pro Bowl selection. He finished his 11-year NFL career with 417 receptions for 5,195 yards and 33 touchdowns.
Jones has been inducted into The College Football Hall of Fame. He is married to Dana and they have two grown daughters, Rachel and Courtney. Their daughters were talented soccer players at Monte Vista High in Danville and both had successful careers in college, as well.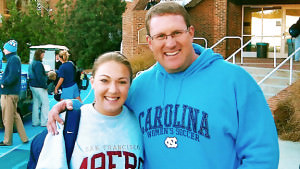 Rachel played Division I soccer at Cal Poly San Luis Obispo, while Courtney starred at the University of North Carolina, winning a pair of NCAA National Championships. Courtney is playing professionally for the Boston Breakers.
How long have you been playing golf and where/how did you get started?
I have been playing since I was 4 or 5. My dad was a teacher and a coach and he looked forward to summer even more than the kids did so he could play golf. He played golf every single day of the summer–I mean every single day. My grandparents were members at Almaden Country Club and Grandma would take me out on the course all the time with the cart. I am not sure if it was the golf or the milkshakes she would get me that had me the most excited. But my dad–he would not just play 18, but 36 or even 54 holes in a day. He was golf-obsessed before it was cool to play golf.
How often do you get to play?
 One of the toughest things is that when the kids started playing competitive soccer that changed the whole dynamic of things. And after I retired from football, business came into play. I play maybe 6-8 times a year right now. I used to play a lot more when I was playing football. I didn't have a job in the off-season.
Who would make up your dream foursome?
You know, that has changed some over the years. Right now I would say Dad, Jack (Nicklaus) and Arnie (Palmer). That would be awesome and the ultimate group to play with. You could make a case for others–if you wanted to add some fun to the group, you could throw in (Lee) Trevino. For just the classic way to approach the game, Tom Watson would be great. Then there is always Bobby Jones and Ben Hogan. The way all those guys handled themselves was just amazing.
Course that you want to play that you have not yet?I have been fortunate over the years to use my Niners' free pass to get out on some pretty nice courses. I have not played Augusta and that would have to be the tops. I think if I really worked it, I might be able to get out on the course. Once when Courtney was playing soccer in that area, we took a detour and went to Augusta. We took a ride around the property and tried to sneak peeks wherever we could.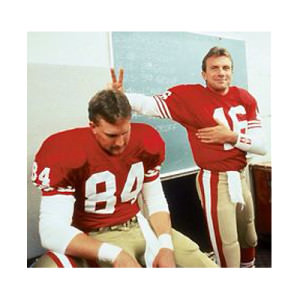 Favorite part of playing golf?
I think it's the personal challenge. Basically you are against the ultimate character–yourself. The opportunities are endless; there is always something to work on. You are playing for the chance to 'one-up' yourself.
Best Golf Memory?
That's a really good question. It would have to be with my dad at the course at Squaw Valley (Squaw Creek) when it first opened. There was a 385-yard par 4 that I drove to about eight feet and then made the putt for eagle. I love playing golf in the altitude. Then all the times with my dad and grandparents at Almaden.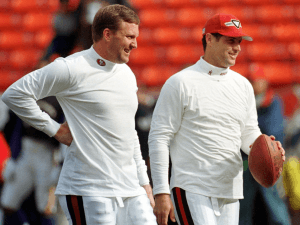 Favorite person to beat on the course? Why?
That's easy–Steve Young. He thinks he is better than I am. He is always talking about how far he hits the ball, but it never lands in the fairway. Right now, even with as little as I have been playing, I know I could beat him. I saw him playing in Tahoe at the American Century & he was just above Charles Barkley! That has to be the 'Mendoza Line' for golf.
By Dennis Miller