OnCore Golf, the Buffalo, New York-based golf ball company, recently announced the signing of professional golfer and trick shot artist Tania Tare. OnCore Golf, known for their focus on bringing excitement and performance to the game of golf with innovative products, approaches, and partnerships, saw great synergy in the relationship with Tania. "We've been following Tania for about two years now. Not only is she an incredible trick shot pioneer, but she is a serious athlete focused on earning her place in professional golf and pursuing a spot on the LPGA," states Keith Blakely, CEO OnCore Golf. "We're excited to be working with her to help her fulfill that dream and confident that her efforts will encourage other golfers to follow theirs as well." Tare, who has an extensive social media following (she has over 92,000 followers in Instagram) and has been featured in many sports media channels including Golf Channel, ESPN, Golf Digest and Bleacher Report ultimately decided to partner with OnCore Golf based on the performance of the ELIXR, which was introduced in March of this year.
Tare spends a lot of time in Southern California, but still calls Auckland, New Zealand home.
ACES Editor Dennis Miller had a chance to take with Tania recently about her career and her trick shot making prowess.
How did you come to get into trick shots?
Basically, making a long story short, I saw a Tiger Woods video of trick shots and I wanted to be able to do that. I started messing around and I was able to juggle before I ever hit a golf shot.
But golf became a viable sport for you?
I went with my older brother to the driving range and there was a coach there that liked what he saw. He offered to coach me free of charge.
I used to be heavy into tennis – I started hitting tennis balls when I was 18 months old – and was obsessed with tennis. By the time I was 9-10, all I did was play tennis. I practiced before and after school, and played tournaments on the weekends. By the time I was 13, I went through a burnout – it was a weird experience.
Was it just golf at that point?
Once I stopped playing tennis, it opened a lot of time. At my club there were two girls that were playing a lot of golf. One was a 12-13 handicap and the other was a 2. I wanted to beat these girls and after 8 months, I shot a 78. That took care of the first girl and then I wanted to beat the one with a 2 handicap.
Eight months and a 78? Please tell me how you got that good, that fast!
I honestly credit it to that second range session. I was able to work with a coach that was very technical, and I liked that. The fact I worked with a coach straight away stopped me from getting into bad habits. I learned the right way from the beginning.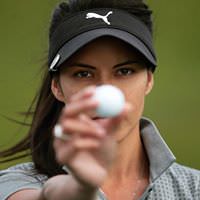 Your coach is in New Zealand – how did that affect you when you came to the United States?
I worked with my coach for 8-9 years and once I got to college, I was resistant to work with another coach because I didn't want another coach getting into my swing.
How did you come about leaving New Zealand and come to the United States?
My coaches' idea was for me to get a scholarship and play in the States because we didn't have college golf. I didn't want to do it at first, but it seemed like such a good opportunity. I had been to Australia and some other island countries, but that was it.
What was your college decision process? How was adjusting to a new country?
I wanted to go to Florida International. They had a scholarship open late and it was offered to me. The door was opened for me – I wasn't ready, but it must have been meant to be with all that happened. I got there three weeks late in September and it was 100 degrees and 100 percent humidity. – nothing like home. It was a massive shock to my system. I didn't enjoy my first six months, but I knew I just needed to get over it.
What was your plan after college?
Once I finished college, I wanted to turn pro. I graduated in August of 2013 and turned pro, but since then, I have gone through three wrist surgeries. I took 2016 off completely and didn't play for about 10 months. I have spent this year building up, so I could have a full year next year. I was naïve about what being injured means – had to take some time and had to be patient about getting healthy.
You have had the trick shots to keep you busy?
I started doing some tricks and social media started to pick up on it. Toward the end of 2015 people started tagging me and I went from 600 Instagram followers to 3,000 in short time (she is now over 92,000 followers). I thought, what is happening, it was crazy to me to have that many followers. People were really enjoying golf trick shots. I didn't think it would be such a big thing. It was an eye-opener, but it gave me a chance to bring a good, positive vibe to women's golf. It opened some doors and put my name out there. At the end of the day, I still want to get out on the Tour, but the trick shot stuff is interesting to me.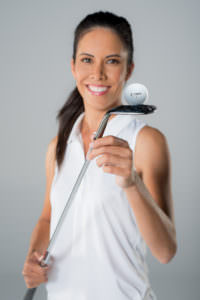 Tell me about your partnership with OnCore.
It is really exciting. I am part of the Cobra/Puma team and there is no ball. In college I played with a Titleist because that is what we got, but after college I tried other brands and struggled. My agent wanted me to try the OnCore ball and at first, I didn't want to. But I did, and it has turned out to be one of the best balls I have played with. Everyone I have given it to try likes it as well. The ball does everything I need it to. I had been looking all year for a ball that gave me the distance I needed, along with a soft feel around the greens and I fortunately managed to find the perfect combination with the ELIXR. For me, the way the ball reacts when chipping is important and with the ELIXR, I can get run or check when I need it with consistency. Alongside my professional golf events, I also love the ball when it comes to my trick shots because the soft feel makes juggling and stalling smoother. I am very excited to be a part of Team OnCore and what they represent – innovative, high performance products, a customer centric business approach, and a focus on making golf more enjoyable and more inclusive for golfers of all ages and skill levels.
So, what will next year hold for you?
In 2018 I will be starting on the Australian Tour from January to March, then I will come back to the States and do what I can do.
I played in an LPGA event in New Zealand and was worried that I would feel out of place. But all the girls I talked with were really nice. After the tournament I felt like I was ready to be out there.
For more information on Tania got to www.taniatare.com or check out her Instagram site at taniatare63.