When Ashley (Gomes) Kettman was on the Big Break back in 2006 and 2007, she was known as a sassy, quick-witted talented golfer than could give as much as she could take.
She advanced to the final two of the Big Break: Reunion at Reunion show and developed a legion of fans for her quick wit and spirited interviews. She never backed away from a challenge and had the skills to back up her bravado.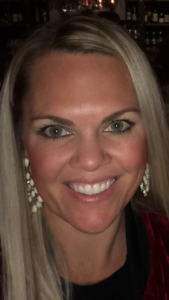 Having covered and written about Gomes when she was in high school at Foothill and then when she played at San Jose State, it was enjoyable and entertaining – and certainly not surprising – to see her swagger on the Big Break episodes.
But now that she's married and a mother of four, Kettman has mellowed, right?
"Believe me, (Big Break Ashley) is still there," said Kettman recently at the Pleasanton Golf Center. "I love to get on a course and beat men down – and you can bet I am going to talk some trash."
You spend some time sitting down and talking with Kettman, it's obvious she's right. In addition to still having the chops to give and take with the best of them off the course, her skills on the course are in fine form.
She gives lessons at the Pleasanton Golf Center, as well as private lessons at country clubs. Her client base continues to expand, and she counts Golden State Warrior and avid golfer Andre Iguodala as a regular client.
How she met Iguodala is classic Kettman.
Her brother Barrett Gomes owns Sauced in Livermore and was doing the food for the Web.com Tour Pro-Am event at TPC Stonebrae in the Hayward hills. Kettman was there hanging out with her brother and they were watching the players warm up on the range.
She had no idea who Iguodala was but noticed that a lot of people were asking for an autograph or to take a selfie with him. More importantly, she also noticed some deficiencies in his swing.
Her brother told her to go down and tell Iguodala what she saw. Kettman declined until her brother dared her with an offer of $100 to go talk with Iguodala.
That was all it took.
"I went down there and told him I didn't want an autograph or a selfie, but I saw some things in his stance that could be better," said Kettman.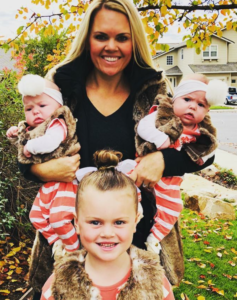 Iguodala very much appreciated the advice and Kettman has been working with him for a year and a half.
When not giving lessons, Kettman has her hands full raising the four kids with her husband Jeff. Kettman makes sure to get Hadley (age 5) and Clark (4) out to the range regularly, and her 6-month-old twins Dolly and Presley are already no strangers to practice facilities.
On the weekends Jeff makes sure Ashley gets her time on the course or at the range. It's a great feeling for Kettman to be back in the industry.
"Right now, I am mostly giving lessons," said Kettman. "I was out of golf for a while, but I was happy to come back to it. I need to get out sometimes and play. Jeff is great on the weekends, he stays home with the kids and tells me to go out and play."
Now that she's back in golf, Kettman is taking things further than just giving lessons. She has started her own company called Queen of the Green – make sure to follow her on Instagram – and she has embraced getting more women into the game.
"I have friends that asked, why aren't you doing more," explained Kettman. "They encouraged me to put my name out there, so I did and within two weeks, I had five clients."
Kettman is all about working and getting ladies out on the course, especially if they have young kids.
"I think that Moms of young kids can lose themselves," said Kettman. "You have to take time to do something for yourself. It can be exhausting. My older two love golf and at times I will bring all four with me to the range. I love seeing women out playing golf. It's a game you can play forever."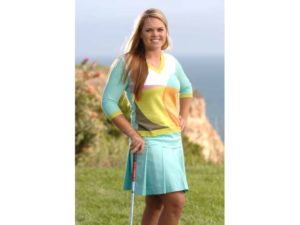 One other aspect of the game of golf that Kettman has become passionate about is how she feels about how some women are portraying themselves on the course.
Her motto on her Instagram page is straightforward and pure Kettman – Golf is about class, not ass.
"It drives me crazy to see these women out there hitting golf shots in bikinis," said Kettman. "I just want to keep golf classy."
For more information or to contact Kettman regarding lessons, use her Instagram account – queenofthegreen- and leave her a message.
By Dennis Miller