We have lost count on how many weeks we've spent enjoying the seven cities and attractions of the Coachella Valley. Somehow, we'd never tried one of its iconic establishments, Sherman's Deli & Bakery in downtown Palm Springs. There's a second location in Palm Desert.
My bride has been spending a fair bit of time watching Guy Fieri on the Food Channel and he had recommended this place so we went for a late lunch on a Tuesday. We probably lucked out because seats were available at 1 p.m. in a place that a local couple said it routinely packed during prime season.
Sherman Harris, a World War II Army veteran who fought in five major battles including the Battle of the Bulge, grew up in Wisconsin and moved to Palm Springs after his discharge. He started in the restaurant business with a friend and they developed "early bird dinners," a feature that is particularly popular in this area with lots of retired year-round residents who like to eat early. In one of our earliest experiences in this area, we could not get into a fine dining Italian restaurant (Alberto's that has since closed) until 7 p.m. and it was virtually empty an hour later.
After his apprenticeship as a cook, he established his own niche and eventually owned 5 deli/restaurants in the area including the original in downtown Palm Springs. The two restaurants now are run by his children, Sam Harris and Janet Harris. During Palm Springs' heyday as the Hollywood folks escaped during the winter, actors and other celebrities frequented the place—you can see their photos on the wall.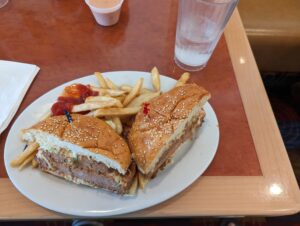 You walk in and immediately see the enticing—to put it mildly—bakery display case that has a variety of cakes and cheesecakes, pies and other desserts. When you're given a menu, a separate dessert menu accompanies it.
Sherman's is known for its quality and huge portions. The local folks seated next to us took home half of their portions as did we. I had the meatloaf sandwich that fit two ample meatloaf slices between a soft bun with a cole slaw topping and barbecue sauce. I barely worked my way through one half and ate with a knife and fork—there was no way I could fit my mouth around it. The same went for our neighbor's turkey sandwich that must have had more than 2 inches of meat between the bread.
My wife opted for a different take on the traditional Reuben —it subbed a grilled and split knockwurst on toasted rye bread with sauerkraut. Both sandwiches were accompanied by French fries or cole slaw.
The meal started with three thick slices of dill pickle as an appetizer.
The menu is huge and diverse. Several entrée salads are offered and they would serve 3-4 people. It's a place for huge portions of quality food.
The huge portions also go for the baked goods. Plan on taking them home unless you're only going for coffee and dessert. Harris continues with the early bird specials that are a real value at $18.45 including entrée, soup or salad, vegetable and starch. We spent about that much for each lunch entrée and received good value.
It's open daily from 8 a.m.  to 9 p.m.
By Tim Hunt