When veteran restauranteurs Bilarddi Carteli and his brother and partner, Michael Angelo Carteli, first visited downtown Pleasanton it was on a rainy, cold winter day back in the mid-1990s.
Their observation was simple: there's no foot traffic and it was no place for their restaurant.
Move it ahead about 20 years and they've moved their showpiece restaurant from its home of more than 30 years in San Mateo to a busy location on Main Street in downtown Pleasanton. They've been here 4 ½ years and have built a loyal following. It's notable that two other long-time downtown Italian restaurants—Fontina (which closed recently) and Pasta's are located just a stone's throw away.
The abundant menu, which is similar at lunch and dinner (portions are larger and prices slightly higher at dinner), features plenty of choices. They range from house-made pastas to the fresh fish special of the day. When we dined at lunch time, the fish choice was Alaskan ling cod—for dinner, it was going to be Chilean sea bass. That's common practice.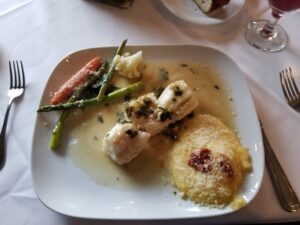 In addition to the fresh fish of the day, the menu also offers salmon, calamari steak, shrimp, and clams and mussels. There's a range of chicken, veal, pork and beef so the challenge is making the right choice from many good options.
Chef Carteli who trained in Italy and has cooked professionally there as well as in California. He has crafted the broad menu. He and Michael Angelo grew up in Sicily.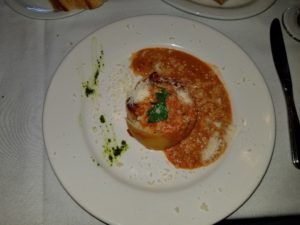 We started, at Michael Angelo's recommendation, with a classic Italian comfort food that is not on the menu. Rollini is a flat pasta that is rolled up with prosciutto and four cheeses. Think a pasta version of a skirt steak pinwheel. It's available virtually every day so ask for it.
It's baked and simply delightful surrounded by a creamy tomato sauce. We split a luncheon portion of two rolls (it's three at dinner—I cannot imagine finishing that). Michael Angelo paired it with the house chianti, a wine he was quite pleased with. So were we—it complemented the Rollini perfectly.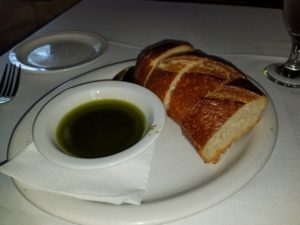 While we were waiting for the Rollini to bake, we enjoyed thick fresh French sourdough bread slices with a wonderful herbed olive oil dipping sauce. To set the stage for the Rollini and add some balance to the meal, we had the Chianti version of a Greek salad with olives, cucumbers and tomatoes mixed with greens in a light vinaigrette, topped with feta.
We could have departed, satisfied after the Rollini, but we soldiered on to other entrees. My bride selected the special pasta of the day, a lobster ravioli dressed in a pesto sauce with asparagus. Michael Angelo paired it with a house merlot that enhanced both the pesto sauce and the wine.
I opted for the veal with brown sauce with four types of mushrooms. Another excellent choice—tender perfectly cooked veal. It was served with seasonal vegetables and polenta topped with the house marinara sauce—another good combination.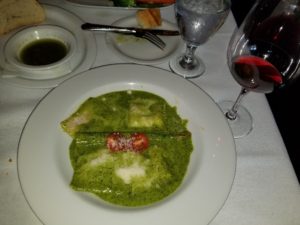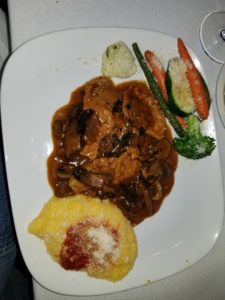 The desserts that followed were again sensational—tiramisu that had my bride raving (that's not her dessert of choice) and a Limoncello Mascarpone Cake that also hit the spot.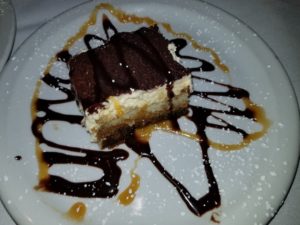 We dined on a sunny Friday, arriving deliberately around 1 p.m. and had the inside to ourselves after about 20 minutes. There was one couple relaxing for a leisurely lunch on the sunny patio. Michael Angelo noted that lunch can be a bit slow, but dinner is jammed so take advantage of the lunch time if your schedule permits.
On another lunch visit, I enjoyed the Caesar's salad, topped with anchovy filets in the traditional style. It's a large salad with dressed with the classic tasty dressing and topped with Parmesan cheese.
For an entrée, I tried another Italian comfort food—beef cannelloni. This was dressed in Billardi's wonderful creamy tomato sauce and topped with a mixture of two melted cheeses. The homemade pasta was light and wrapped the beef stuffing perfectly. This is a dish that invites you to dig into the French bread and use it to enjoy more of the sauce.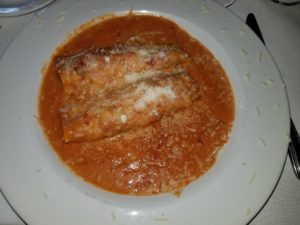 Like the Rollini, this is a delightful and filling dish well suited for a cold winter day.
When we returned to celebrate my bride's birthday, I could not resist the cannelloni with beef, while my bride opted for the excellent  scaloppini al funghi. I started with minestrone that is made in the Toscana style with no beans or pasta, just vegetables and broth. It was a perfect starter on a cool day.
Having enjoyed the ling cod topped with lemon and capers on another visit, I can heartily recommend Chianti Reserve.
by Tim Hunt