The next time you are in Morro Bay and are looking for a place to grab breakfast, lunch or dinner, stop in at Dorn's Breakers Café for some quality food at a historic restaurant.
Dorn's was opened in 1942 as Breakers Café, with ownership changing six years later when Harry Amsel bought the business and made it a great, fresh seafood restaurant.
In 1996, Dan Dorn, a Cal Poly student who was working as a host in the restaurant, met and fell in love with Amsel's daughter Nancy and the two were eventually married.
The couple purchased the restaurant and Dorn's Breakers Café was born.
In 1998, Dan and Nancy turned the business over to their son Chris who assumed the managerial duties. Through the years the one constant has been great seafood.
We had lunch at Dorn's and walked – could have rolled – away stuffed after enjoying plentiful and wonderful food.
Another Morro Bay restaurant with great views of the water, Dorn's is the type of lunch place where sharing your orders may be the wisest move.
I started with a bowl of clam chowder and once it was brought to the table my first thought was – should have gotten a cup, not a bowl. A generous serving that was so good, there was no chance I wasn't going to finish it.
From there, we had to go with salads for lunch and those were every bit as generous as the soup.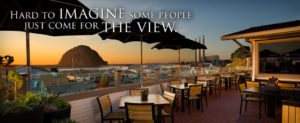 My wife ordered Nancy's Other Salad which was comprised of Hearts of iceberg lettuce with bleu cheese dressing, shrimp, avocado and crumbled blue cheese.
I went with the crab and shrimp salad, a meal that is mixed with mayonnaise, egg and celery and stuffed in a whole tomato.
Both orders were huge and filling, forcing us to get a box and take it back to the hotel.
There are also seafood and sandwiches available for lunch, but after the soup, then the salad, there was no room for anything else.
The dinner menu has the seafood and sandwiches, but pasta, as well as steak and chicken are included. The options are many and all look wonderful.
Breakfast – my favorite meal of the day – has equally impressive offerings, including the seafood omelette featuring shrimp and crab. If it's anything like the lunch salad, clear your day to recover!
For more information on Dorn's or Morro Bay, check out www.dornscafe.com or www.morrobay.org.
By Dennis Miller