Owning a restaurant is a competitive business and being such, there are a variety of variables used to get people in the door.
Location is always a key and the name of an establishment is also vital. Get the catchy name and people will be intrigued. But getting them in the door is only half the battle.
You want them to come back, you better produce on the food level. Glitz is nice but make them happy with their meals and you have customers.
Windows on the Water in Morro Bay succeeds on all accounts.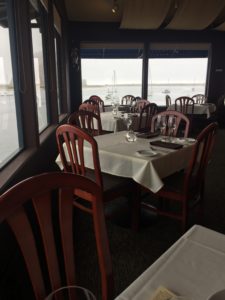 Located right on the water, Windows on the Water lives up to its name, with picture windows lining the views on to the water, giving the diner the full, seaside dining experience.
And the food – awesome!
One often overlooked, but equally important factor is service. Our server was Elizabeth and she was as good as it gets. Great personality, solid knowledge of all the restaurant has to offer and informative on Morro Bay and the surrounding areas, Elizabeth was the icing on the cake.
We started with the Gingered Dungeness Crab Cakes, a dish my wife was very excited to enjoy.
Served with a micro Asian salad, as well as wasabi aioli, pickled ginger and a lemon vinaigrette it was a great way to start the meal.
For the main course my wife went with the Pork Chop while I opted for the Sand Dabs.
The pork chop was prepared with duck fat braised cauliflower, brussels sprouts and sweet potato, market greens, caramelized apple and brandy gastrique. It was a dish she greatly enjoyed.
Since first having Sand Dabs a year ago, it has become my go to dish when in a seaside restaurant. The Windows on the Water kitchen teams prepares them slightly breaded and serves them on a crispy potato cake, with wilted spinach and lemon garlic-caper butter.
Delicious.
On Elizabeth's recommendation we went for the Blackberry Cheesecake for desert.
The no-bake dish was comprised of blackberry compote, fresh berries, candied lemon zest with a graham cracker crust. A perfect topper to the meal.
The ambiance of Windows is exactly what you want in a seaside dining establishment and is complemented with a very good menu.
On thing that struck us was for a nice restaurant in a seaside vacation spot, Windows is very reasonably priced, from the food through the impressive wine list. Oher coastal towns we have visited have been markedly higher priced.
If you ever get to Morro Bay – and you should plan on it – make to give Windows on the Water a spin. You won't be disappointed.
For more information on Windows on the Water or Morro Bay in general, please visit www.windowsmb.com or www.morrobay.org.
By Dennis Miller