Thanks to the famous "Miracle on Ice" game, Mike Eruzione is one of the most recognizable names in both Olympic and hockey history…The dynamic captain of the gold medal-winning 1980 United States Hockey Team, Eruzione scored the winning goal in the semi-final game against the powerful Soviet Union team…The U.S. Olympic team went on to beat Finland in the gold medal game…Eruzione's winning goal is one of the most played highlights in American sports, and was voted the greatest highlight all-time by ESPN viewers in 2010…The Olympic victory was named Sports Illustrated's Greatest Sports Moment of the Century and was featured in the hit Disney movie, "Miracle" starring Kurt Russell as Coach Herb Brooks…Eruzione is a member of the Boston University Athletic Hall of Fame, Olympic Hall of Fame, and U.S. Hockey Hall of Fame …While at Boston University, Eruzione captained the hockey team his senior year where his team won four Eastern Collegiate Championships… Eruzione, who currently serves as Director of Special Outreach for BU Athletics and as a motivational speaker, is one of only four players to have played in all 27 Celebrity Championships at Edgewood Tahoe. ACES editor Dennis Miller recently had a chance to chat with Eruzione over the phone before he heads to Tahoe. The American Century tournament runs July 19-24 at Edgewood.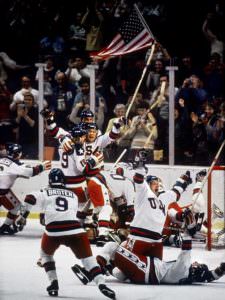 Wow, 27 years of the American Century…
Amazing – apparently I have no life (laughs). I remember the first year because that was my best year. Who knew the tournament would end up having the legs that it has?
How has the event changed?
The gallery is by far greater, the golfers are better and the depth is a lot deeper. The names are bigger. Justin Timberlake is a huge draw for the tournament as are guys like Aaron Rodgers. I could never put myself in a category like those guys. It is so hard to get into the event now. For some of these guys it is about wanting to challenge their game. The (prize) money is irrelevant to a lot of them. For me I just want to have some fun and make some money to cover my airfare!
It's a long time from 1980. Have you seen as the gallery gets younger maybe there are people who are not familiar with the Miracle on Ice?
It is interesting. I do motivational speaking and it seems like half of the audience was not even born by 1980! I have a video I show them before I talk so they can understand. True sports fans know and remember. Our 1980 team is still recognized for one of the greatest moments in sports (Sports Illustrated recently ranked the Miracle on Ice as the greatest sports moment in history over moments like Jesse Owens and Jackie Robinson) and that always keeps us in peoples' minds. The movie Miracle (starring Kurt Russell) was such a good movie. What happens now is people come up to me with their kids and introduce me to them. They say, 'You know that movie Miracle that you like so much? This is Rizzo. They take a look at me and say, that's not him.' Then the parents have to explain I'm the real guy and the other was an actor.
How did you get into golf?
Right after the Olympics in 1980. My hometown gave me a set of clubs and a membership. I had never played the game because we didn't have the type of money to be playing golf. I knew the game because I had caddied a lot, but had never played. I picked it up pretty quickly and really got in to it.
I'm guessing your game is pretty solid?
It used to be (laughing). Everything has fallen apart in the last eight years. I have been as low as a 3, but now I am a 9-10. I have some good days and some bad ones, but I still enjoy playing the game. My body (knee, shoulder) have started falling apart, but I still play three days a week when I am home at Tedesco (Tedesco Country Club in Marblehead, Mass.) or at Trump National in Jupiter, Florida during the winter months.
Is there one course that you have not played that you would like to?
I have had my run of great courses that I have gotten to play. I've been fortunate enough to play Augusta – which was incredible – and I have played Oakmont (site of the 2016 U.S. Open). I have not gotten to play the Olympic Club, but I have a chance to when I get out there. I think it would be great to play some of those courses in Scotland as well. The thing is, I would want to play those courses when my game is in better shape.
Who would make up your dream foursome?
I'm not too fancy a guy so I am perfectly happy playing with Mario Lemieux and Pierre Larouche. But if I was to pick three to play with I would say Arnold Palmer would have to be fun. I also want to play with Tiger and finally Babe Didrickson Zaharias. That way I have all the eras covered.
What is the best part of playing in the American Century?
It's everything to be honest. At first it was the golf, but as the years have gone on, it's all about the people. You've got the people that show up every year – I think I have seen some people almost every year. I've also really enjoyed all the friendships I have made with the other players. Guys like Dan Marino and John Elway – I have gotten to be good friends over the last 20 years.
Are the athletes more star-struck with the celebrities or is it the other way around?
I think it goes hand in hand. I love guys like Ray Romano and Larry the Cable Guy. I watched them and now I play golf with them. I think we are impressed with them and they enjoy seeing us.
But you have carved a nice piece of history for yourself and your teammates. I mean you were the captain, game winning goal scorer and the team beat the big bad, Russians. People will always remember that.
I think that is what has separated us from everyone else over the years. I live in New England and when the Patriots win the Super Bowl we are happy, but no one else in the country is happy. Green Bay beats Chicago and the people in Wisconsin are happy, but not Illinois. With us people felt a part of it because of the jersey that says USA. That is what the guys going to play Olympic golf this year will get a chance to feel. It is different when you put on that jersey that says USA and know your country is behind you.