In a time when the sport of horse racing needs as much positive publicity as it can get, people like former jockey and current trainer C C Perkinson can give the sport that boost.
Trainers have been under the microscope for medications their horses are given and every time that happens, groups like PETA attack, trying to end the sport.
Perkinson has jumped back into the training ranks after giving it a brief shot back in 2001-2002. She saddled her first horse in 19 years when she sent out Crookhaven Lass at Los Alamitos on March 5.
According to the most recent statistics from Los Alamitos, Perkinson has saddled eight horses, posting two wins, two seconds, and two thirds, adding up to an incredible 75 percent of her horses hitting the board.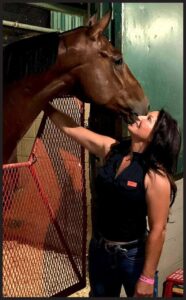 As a hands-on trainer, Perkinson is content with a smaller barn where she has quality control over all her horses, which is rare in a day where many barns focus of getting as many horses as possible in their stables.
During her career as a jockey Perkinson won 46 Thoroughbred races, 33 Arabian races, and five Quarter Horse races.
Outside of horse racing, Perkinson dabbled in the entertainment industry, at one point hosting her own CC Variety TV where she interviewed celebrities such as Tom Cruise and Stephen Spielberg.
Perkinson recently took time from her busy training schedule to chat with ACES editor Dennis Miller, talking about what brought her back in to the sport, her training philosophy, and where the sport may be headed.
Dennis: You have been close to/involved in the industry for a long time so why decide to get involved with the direction it has been going, especially in California?
CC: Passion is just that, passion. I love the business but mostly I love the horses and the chance to compete. I have always had a competitive spirit, sometimes to a default.
Dennis: Have you been thinking about becoming a trainer for some time now?
CC: You may be surprised to know I actually trained briefly in the early 2000's. I retired from being a jockey, briefly and tried my hand at training. Back then, it didn't work for me as it is now. I wanted to race ride them as well. It was hard to put in all the training and to hand them off to a jockey and hope for the best. Which is odd sounding, coming from an actual jockey like myself back in the day.
Dennis: It seems that it is more than just a business for you – you really appear to care for the horses. Is that a fair statement?
CC: It's a very accurate statement I would say. I have a boutique barn for a reason. Is it awesome to say – Hey, I have 25 horses in my barn or 40 – You bet it is. However, as a trainer of that many, means you have grooms, stall cleaners, hotwalkers, etc. There is a very rare chance that the trainer knows that horse like I would, in a smaller barn, as I have. I do ALL the work, stalls, grooming, tacking, galloping, ponying, bathing, and feeding. Do you think for one minute I wouldn't know when something seemed 'off' about my horse? No way. I am so in tune with all of my horse's moods, needs, and likes. It's an absolute complete circle for me, with my horses.
What's been the toughest thing thus far?
CC: Honestly, I am very much the attitude of it should have been done yesterday! So, I hit the ground running hard to get my barn set up, designed, fully functional, and turn-key! I didn't stop, still don't, but it flows nicely now and looks fantastic!
Make a case for a prospective owner? Why go with Perkinson Racing?
CC: Great question! Initially, I will say the years in the business and the hats I have worn, in this business. Not only as a Jockey, but gallop person, an out-rider, an owner, and again, a trainer. I also worked on, TVG horseracing network, providing color for the show, as a person who has worn all these hats, it demonstrates years and years of honed knowledge for horse racing.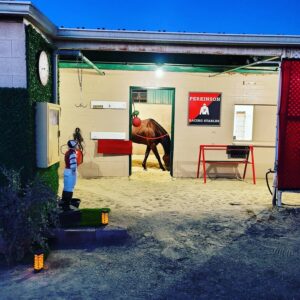 How has the support been thus far?
CC: At first, was a tough one. It looked like I blew in here like a storm and just said – Hey, I think I want to be a trainer! – that actually makes me chuckle as I say that. But that is my style. Once I set my mind to something, clearly, there is no stopping me.
What do you think the state of horse racing is right now?
CC: With any sport, you are going to have the 'black eyes' so to speak. Right now, with PETA, that's exactly what they have given us! However, in racing, the community is really just another word for 'family'. We all support each other, the business of surviving, and the welfare of our horses! This isn't a job that a person who doesn't care about animals, says 'Hey, I think it would be really cool to work 14 hour days 7 days a week AND be on-call…Hell yeah!! Woohoo, where do I sign?? Lol…
Can racing be saved and is there something the fans can do?
CC: Racing, God willing, will make it through this controversy. Just as any other sport can and will do! Monetarily, racing generates approximately $102 billion dollars for the U.S. economy. From the racing segment, $28.8, with over 460,000 of those jobs created from the direct spending within the industry. I don't see this slowing down anytime soon!
Would you consider leaving California as others have?
CC: Racing for the most part is seasonal and often changes from track to track. So, we move as we need to. However, in California, we are blessed with year around racing, great purses, and beautiful tracks. I plan on staying in California racing as long as I possibly can.
What goals do have set? 1 year? 5 years?
CC: I am very pleased where my barn is at in it's current success state. In moving forward, I would like to claim or purchase at higher levels so as to compete competitively, at all the So. Cal tracks