Mike Callahan, owner of Rubino and Ruby Hill wineries in the Livermore Valley,  had a simple, yet lofty goal when he decided to get into the wine business.
"At the end of the day, we want to be the top dog, but keep the prices better than reasonable," said Callahan.
Thus far, Callahan is certainly headed in the right direction as is Ruby Hill and Rubino wineries in the Livermore Valley are producing high quality, yet reasonably priced wines.
In just one year, Rubino (which means "Ruby" in Italian) has come out strong, making several top-flight wines utilizing traditional Italian grapes.
"We have the Cabernet, Merlot and Chardonnay, but after that we wanted to make wines after the big hitters in Italy," said Callahan. "We thought, 'let's do something unique'."
Wines like Barbera, Dolcetto, Sangiovese and Pinot Grigio already dot the Rubino roster with more Italian varietals to follow.
It was necessary for Rubino to be unique because it is located a short distance from Ruby Hill.
"We knew that if someone was going to visit another winery that close, then you have to be different," explained Callahan.
Callahan got started in the wine business in a partnership of sorts with Mitchell Katz. After buying property out in Ruby Hill, Callahan had to restore the historic Ruby Hill Winery as part of the purchase agreement.
He did just that, but knowing very little about the wine business, he partnered with Katz in the early 2000's. As the years went on and he learned more about the business, Callahan decided to open his own winery, Ruby Hill Winery — at least a new version of the old winery.
The decision gave Callahan the chance to do things his way and that started by bringing in winemaker Chris Graves. Graves had been working for the Wente family on their Tamas brand, but after Callahan talked with the Wente's, he knew he had a winemaker.
"They said they hated to let him go, but that he was a great kid," said Callahan.
With Graves aboard, Ruby Hill Winery came to life. Callahan built the beautiful Casa Real Events Center and business took off.
"We went with the Mediterranean style," said Callahan. "The theme fit in well with Casa Real."
But while the prices are low, make no mistake that these are solid wines, equally as good as, or better than, many of the other wines in the Livermore Valley.
As Ruby Hill continued to excel, the lease with Mitchell Katz was expiring and Callahan chose to part ways with Katz and open Rubino, his vision of traditional Italian wines.
And visiting the winery is as close as you will get to an authentic Italian wine tasting experience in the Livermore Valley.
The tasting room is 8,000 square feet, with the floor covered by Italian marble and bricks from the original Ruby Hill Winery that date to 1887, forming decorative columns throughout the area.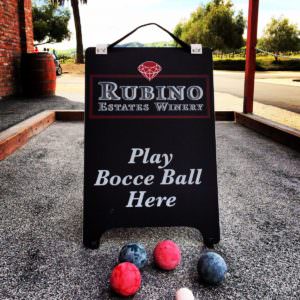 In addition, an Italian deli lines one side of the building and there are Italian-themed gifts for sale. Outside there is a bocce ball court and two picnic areas for guests to enjoy. In addition, members have their own tasting room and a gong is struck every time a new member joins.
The Palm Event Center has flourished on- site, as well. Between the Palm and Casa Real, there are more than 300 weddings a year.
As for the wine, Graves has crafted exactly what Callahan wanted–everyday traditional wines, along with crazy good Italian wines.
"I have yet to taste a Barbera anywhere around here that is as good as ours," said Callahan.
As the wineries have grown, so has Callahan's desire to involve his children to make it a true family business. His oldest son Ryan was involved in the construction of the wineries and currently runs Callahan Properties, another business interest.
Lindsay (Callahan) Macy is the General Manager of Rubino and youngest son Eric is in charge of the wine clubs for both. Eventually Mike has plans for Eric to take over his spot running both places.
"I just want to drink wine," said Mike with a laugh.
All of the kids graduated from Chico State with Eric the last to do so.
He certainly enjoyed his social life while at college, but drinking wine was not one of his main libations.
"I didn't have too much wine except for box wines," said Eric, who now has earned a Certified Specialist of Wine title.
Despite their early success, do not look for any slowdown from either winery. Callahan and his staff have targeted a maximum of 60,000 cases.
"Every year we are going to keep ratcheting it up, quality-wise," said Callahan. "We will keep investing in equipment and keep our quality of farming. You can't make good wines out of bad grapes."
For more information about these wineries, please visit:
www.rubinoestateswinery.com, http://www.rubyhillwinery.net
By Dennis Miller
**This is a story that was published in a magazine version of ACES.