There's a problem – well maybe problem isn't the right word – perhaps annoyance is a better word that plagues every golfer.
You get to the course, open your trunk and get your clubs out. After that it's time to put on your golf shoes.
The annoyance? You must figure out how to get off your street shoes and get the golf shoes on without having to stand on the pavement in your socks. This is a dilemma you are faced with at the end of your round as well.
You can sit on the edge of your trunk, but often it's dirty and you run the risk of getting dirt and gunk on your pants.
So, what's the best course of action?
There's a product that was created to solve problems relating to beach sand but has become a valuable product for the golfer. I have used it and it is awesome!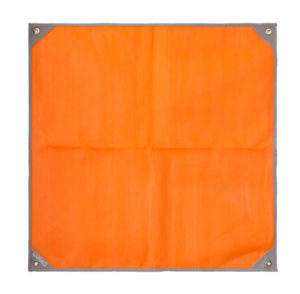 CGear Sand-Free, creator of products for a sand-free life, have created a series of mats to keep gear, vehicles, boats, people and pets free of sand and dirt during outdoor adventures. A patented specialty weave fabric used in CGear mats allows dirt and sand particles to fall through the mat, so they do not collect on the surface. The dual weave design also keeps them from working their way to the surface through the bottom of the mat.
Available in a variety of sizes and designs, the CGear mats were originally created to keep sand and dirt at bay for the military during helicopter takeoff and landing. The Original Sand-Free Mat is ideal for camping, RV travel and outdoor living. D-rings around the mat make it easy to stake it under a tent or outside an RV door to keep dirt from being tracked inside. Available in four sizes (S, M, L and XL) the Original mat ranges from 6' x 6' to 12' by 12', and color options include green/green, orange/tan and green/blue. MSRP is $59.99 to $129.99.
The CGear Comfort Sand-Free Mat has a softer finish than the Original mat making it perfectly suited for a day at the beach, picnic, or as a play mat when camping with kids. Size options range from a small 3'4" x 6'6" mat to a large 6'6" x 6'6" mat. There are six color choices: blue plaid, lime, turquoise, digital, forest and brown and prices range from $49.99 to $79.99.
The smallest CGear mat available, the Personal Sand-Free Mat was created for backpackers and individuals who just need a small space to sit out of the sand and dirt. It measures 3' x 3' and can be rolled and fastened with an included carry handle for easy portability. Reinforced eyelets at each corner make it possible to use tent spikes to secure the mat to the ground.
Finally, the CGear Drone-Mat creates a safe landing target while eliminating the kick-up of sand and dust from drone propellers. The Drone-Mat features a helicopter landing symbol in the center of the mat. It includes stakes for securing the mat to the ground and is available in a 3' x 3' for $34.99 or a 6' x 6' size for $69.99 in orange.
Visit www.cgear-sandfree.com for more information about all CGear's Sand-Free products.
About CGear Sand-Free
CGear was established in 2003 in Australia and holds a patent in 100 countries for its sand-free mats. Originally, the patented CGear fabric was invented for military use to reduce brown out during helicopter landing and takeoff. In 2010, the first consumer product was introduced to the U.S. market and it rapidly became a favorite of beach lovers, campers, and outdoor enthusiasts of all kinds.
By Dennis Miller