I have several single friends that are avid golfers. They work hard during the week and enjoy their rounds of golf on the weekends.
Throughout the years they have been in a series of relationships, but often it ends because the woman wants more time and less golf and for the avid golfer that's not going to work.
Time and time again, I tell them there must be a dating site where they could find someone that loves golf as much as they love the game. They usually say it would be nice, but they haven't been able to find such a site.
Look no more.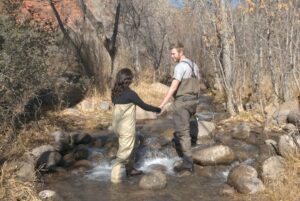 Hunting4Connections is the brainchild of Dana Sacia, a divorcee that felt there was a niche to be filled for the fans of outdoor activities. This can range from hunting, hiking, fishing, biking, camping, and of course, golf – pretty much any outdoor activity.
"I am an outdoor enthusiast that went through a long divorce," explained Sacia. "I posted a lot on social media and got some emails from guys that wanted to know how to find a woman like me."
That gave her an idea, which in turn led to research. Her kids approved of the venture and off she went.
"I started some research and wondered why there wasn't a place where you find people that prefer outdoor lifestyles," said Sacia. "I started asking on Facebook if people would use a site like this and the results were positive."
With her kids signed on, it was easy to get it going.
"It created a new beginning for all of us," said Sacia of her children. "We just want to promote healthy relationships and want to help people find their passion."
Hunting4Connections, which launched in July of 2019, offers levels of prospective connections, giving people a few options.
"You can look for friendship, dating, or a relationship," explained Sacia. "You can come in just looking for friendship, and then if there is a spark – awesome. But if not, then it's okay as well."
When you sign up for the site, you are automatically a free member. As a free member, you can create a profile and view profiles. Free member features are limited, and you will see ads on the site starting in the winter of 2020.
Paid subscribers have access to many features, including winks, unlimited messaging, access to tokens and more as you are surrounded by other people who are passionate about the outdoors.
It sounds like a great opportunity for single outdoor lovers and one that I will be pushing on my single friends!
"Anyone that signs up now, we have a lot of great giveaways going on," said Sacia.
For more information, or to become a member, please visit www.hunting4connections.com.
By Dennis Miller