Playing golf in Las Vegas can be an experience. With the glitz and glamour of the Strip, as well as all Vegas has to offer, if you are going to spend the money to play one of the courses, you might as well take it to the next level.
The Platinum Tees, part of the Las Vegas-based modeling agency, Platinum Agency, offers golfers a chance to do just that.
If you are playing Royal Links – we highly recommend it – or Desert Pines (another wonderful course), you can enjoy your round with a special caddy, one different than the caddies you see on the PGA Tour or at premium courses.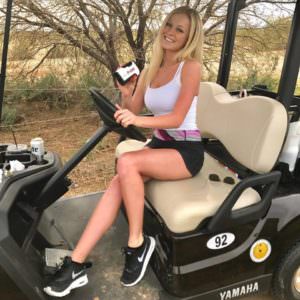 The ParMates (Royal Links) and the Birdie Mates (Desert Pines) are models employed by Platinum and are available to enhance your golfing experience.
The program is the brainchild of Laura Diane and her partner and is 10 years old.
"We had the modeling agency, but at times there was not a lot of work for the models," explained Diane. "We had a lot of hungry models and were trying to find a way for them to make some money."
Initially, the group signed a contract with Walters' Golf, which owned Royal Links and Bali Hai (Walters recently sold Royal Links to the Scottsdale Golf Group). With new contracts, the ParMates were off and running. You can hire a beautiful woman as your caddy, perfect for Las Vegas.
But make no mistake about it, these girls know their golf and add more than just beauty to your golfing experience.
"You see the beautiful girl and you think she is going to order your drinks and just hang out," said Diane. "But then they are cleaning your clubs, reading your putts, giving you shot advice throughout the round."
We had a ParMate when we played Royal Links and it was awesome. Not only was our caddy full of life, but she was a wealth of information on the course during the round. It's that initial experience that has proved successful for the company. Next time we are in Vegas, we will be sure to use the ParMates – or Birdie Mates – again.
"I think it surprises them, really takes them back," said Diane regarding the quality of the girls' caddying ability. "We have built a base of long-time customers who enjoy bringing clients out that have never seen the girls. I will tell you, by the end of the round, they are able to close some business deals."
Quality control is vital to Platinum and there is a stringent system in place. All the Platinum Tees are models first and then brought into the caddy program.
"They need to have an extensive golf resume," said Diane. "Being out on the course for 18 holes takes a lot of personality and a special girl. Once they have been approved, we send them out with a senior member. They need to be approved by one of the senior members before we send them out alone."
Diane and her staff only use 40-50 girls in the program, with replacements coming on twice year, but only 3-4 each time.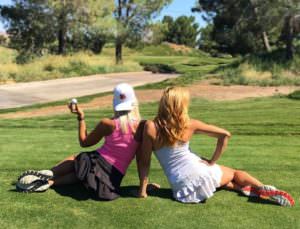 "We get probably 200 applications every time we open it up," said Diane.
In the last five years, the company has expanded twice. First to Scottsdale five years ago, then to San Diego in the last year."
Despite the success and growth of the company, there are still battles to fight.
"We are always going to fight the stereotype of what people might think," said Diane. "Our rounds go up every year, but in Scottsdale we have gotten some extreme push-back. It's really unfortunate as the game of golf can use our help."
If you are in Vegas and not playing Royal Links or Desert Pines, the opportunity to have a Platinum Tee as your caddy for the day is still there.
"We have a great synergy with several courses," said Diane. "There are multiple courses in Las Vegas we work with."
For more information on the Platinum Tees
By Dennis Miller