The horse racing audience can be a fickle group, somewhat reluctant to change, but then again, looking for something new, something to invigorate the sagging fan base.
That's the problem facing the industry, offering something exciting to bring in new fans, while all the while keeping the current fan base happy. TVG – the horse racing channel – hit on a big winner when they brought in reporter Britney Eurton to their regular lineup.
The 29-year-old Eurton has been with network for 2.5 years and is exactly what the sport needs -a younger, energetic reporter that is knowledgeable, adding excitement to the Southern California broadcasts.
It's a bold move in some respects as for years, horse racing has trotted out long time personalities or retired jockeys – the old boys club. With Eurton, fellow TVG personality Christina Blacker, as well as Gabby Gaudet and Acacia Courtney on the East Coast, horse racing appears to be going in the right direction.
"I think the industry is trying to make strides," explained Eurton. "It's about getting new fans – that is huge. When I got my friends to come to the track once, they wanted to keep coming back."
Eurton came in with instant credibility given her bloodlines. Her father Peter Eurton – a highly respected trainer in the Southern California training ranks – has been at it for 35 years, meaning Eurton spent plenty of time around the track growing up.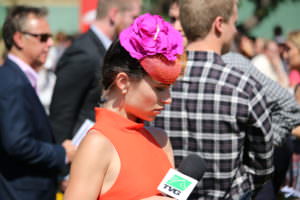 But it wasn't an industry Eurton figured to become involved.
After attending Cal Poly and the University of Southern California – she graduated from USC with a business degree – Eurton set out to follow her passion.
"I wanted to be an actress," said Eurton. "I went to an acting conservatory in Santa Monica after graduation. I did some commercials and some theatrical roles, but I got burnt out. I took six months off to relax and started going to the track more."
The next step came naturally.
"Kevin Grigsby of TVG reached out to me," said Eurton. "He said they had a role and would I be interested in auditioning. I felt really comfortable in the audition and started working for TVG. I started at Los Alamitos and Mike Joyce (a TVG personality) was my mentor. I learned so much from him."
Because of father's years as a trainer, which resulted in Britney being around the track growing up, made the transition easier.
"I think the fact I have known a lot of (trainers) makes them feel more comfortable," explained Eurton. "They know I won't throw them under the bus. I would never burn a bridge and they know that."
Still there was one trainer who may have thrown her off a bit – her father. I can vividly remember the interview in her early days with TVG where at the end she thanked him for the time.
His response?
"Thank you honey."
It wasn't your standard ending to an interview.
"He likes to mess around with me" said Eurton of when she interviews her father. "It keeps me on my toes! I have learned so much from my dad. It's so nice to have a sounding board."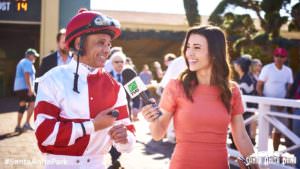 Eurton has grown into the role. Her highlight was doing interviews at the 2015 Breeders' Cup at Keeneland in Kentucky, but more importantly, she has become a staple of the Southern California circuit.
I am skeptical of many horse racing reporters, but Eurton, thanks in large part to the connections with her father, warranted a chance. She hasn't disappointed and her interviews with trainers and/or owners in the paddock are insightful and full of knowledge.
"This isn't the path I thought I would go down," said Eurton. "But I enjoy being myself rather than playing someone else. I asked a lot of questions when I was younger so it comes natural."
Eurton is also part of the movement that believes the way to draw new fans to the track is to make it an event.
"It's about getting people to understand the race track is not a just a place where you get all buttoned up and spend a lot of money," explained Eurton. "It's the type of place you can come, relax and have a lot of fun. It's about the atmosphere – having the events that get fans to the track."
Will Eurton be around the industry to see if all the pieces come together? Time will tell, but she has some big goals. When asked here she would be in 10 years, Eurton didn't hesitate to answer.
"On Good Morning America," said Eurton with a laugh. "I have lofty goals."
By Dennis Miller