Unless your idea of gourmet cuisine consists of hot dogs, burgers, and nachos, then muni golf courses don't necessarily fall under the category of epicurean hotspots. What's even rarer is when the gastronomic experience attracts patrons beyond the golfer customer base.
But that is exactly the case at Poplar Creek Golf Course in San Mateo, where the 19th hole, aptly called Par 3, has been completely renovated and upped its game by evolving into more than a post-round, story-telling hangout for binging on snacks and beverages to a full-scale restaurant with an exceptional menu, a welcoming bar serving craft cocktails and brews, and plenty of space for private events.
When the lease opportunity for the food and beverage operation became available at Poplar Creek GC, managed by the city and county of San Mateo, local restauranteur Alicia Petrakis seized the opportunity and took control April 1, 2019. It's proved a win-win with the new proprietor and executive chef bringing a passionate energy along with her 25-year career in food hospitality and the city benefitting from a more vibrant gathering spot that has shifted from serving 95 percent golfers and 5 percent non-golfers to a 50/50 split.
"It's been like taking a diamond in the rough and turning it into a whole new experience," said Petrakis, who has turned around what was a very dated, old-school looking restaurant. "My goal is always bringing people together around food and aside from being on the coast, the backdrop here may be the prettiest view in San Mateo."
The indoor/outdoor setting treats diners to a tranquil environment where they can watch golfers tee off the first hole or finish on the 18th green while observing planes fly over Coyote Point on their approach to San Francisco International Airport. Behind the scenes, under the guidance of Petrakis, Par 3 operates as a "scratch kitchen" where the food served is made with fresh ingredients, most sourced locally.
"My menu is primarily California comfort that is changed seasonally five times per year but it's the unique variety of items and the way we prepare all our plates that sets us apart from most all other golf course food," said Petrakis. "Everybody eats with their eyes first so it's important to engage from the moment the food arrives which is when someone decides if the food is going to be any good."
Par 3 offers robust breakfast, lunch, and dinner menus that will satisfy anyone's palate. Morning items include fare from a traditional breakfast to tri-tip skillet to fried chicken buttermilk waffle sandwich to a breakfast pizza. My golf partner and I kicked off a pre-round lunch with shares of pork empanadas, coastal fry calamari, salmon cakes, and some not-to-be-missed nachos. Choosing the main dish was tougher than dropping a 2-foot putt but eventually, settled on the albacore tuna melt over the N'Awlins style sandwich.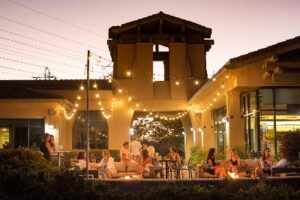 An exclusive array of plates conceived by Petrakis on the dinner menu will not disappoint with selections such as Brentwood corn risotto, honey-sesame glazed salmon, buttermilk brined boneless fried chicken, and what I'd guess is someone's secret recipe, Nana's meatloaf.
In a strategic move to keep pace with the reinvigorated 19th hole, the other 18 holes, led by Head Professional Dana Banke, have also flourished due to the tender loving care of course superintendent, Tim Powers, who has put great effort into improving the fairways and greens. Along with Petrakis' newest addition to her repertoire, the Night at the Green summer music series (through October 27), Poplar Creek GC now encompasses an inviting hospitality and entertainment package to indulge anyone's appetite – golfer or not.
By Robert Kaufman