Venture to the Homegrown Hops web site and see the motto – "It's not just a brewery, it's an experience."
Catchy? For sure, but is it true or just a ploy to lure out to the Livermore property?
Perhaps it is to entice, but Homegrown Hops is everything promised and then some.
In the day and age of wineries seemingly dotting the landscape throughout California, breweries have been carving out a niche and are making an impact.
Make no mistake, Homegrown Hops is not your stereotypical brewery, often found in a warehouse, or in the middle of downtown area.
The brainchild of Joel Dalheim, who also owns All On Electric and Solar, has a house on the property that sits at the corner of Tesla and Mines Roads, right in the middle of the Livermore Valley wine region.
Looking at his land he came to a revelation.
"I was bored and thought it would be amazing place for a brewery," said Dalheim.
Bingo.
Initially the zoning did not permit a brewery – a winery yes, but a brewery, no.
"It took us roughly a year to go through the rezoning," explained Dalheim.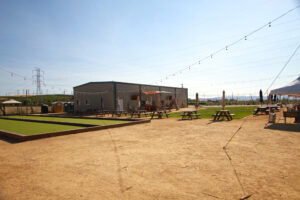 The soft opening was set for November 19 and at the time, customers had to be all inside as the permit for outside drinking was not yet in place.
Dalheim and his staff had a trolley that fit 20 and that was the initial capacity. The business was new, so the restrictions were not overwhelming.
"It wasn't crazy busy," said Dalheim. "We wanted to open it so we said what the hell."
There was only one problem with the opening day. It was Nov. 19, 2019, which meant it opened when COVID was ready to hit.
By the time COVID took full force and enjoying a beer inside was put on hold for a while, the outside permit was in place and Homegrown Hops was ready to go.
The outside area was perfect for people that wanted to get out of the confinement of their houses and do something. Cornhole sets were installed, as was bocce ball. Country music blasts through the speakers, setting the tone for a relaxing time.
Plenty of tables dot the amazing landscape, along with heaters. The initial vision was coming to fruition.
Throw in the hopvines growing around the property and you have the total package.
"It was just about what I envisioned," said Dalheim. "I was thinking about sitting in my backyard, drinking beer, and listening to music. I wanted the environment to be comfortable to everyone – natural color, natural surroundings."
It has turned into a wonderful experience.
Homegrown Hops gives it all in terms of a brewery with quality beer, and food – a rotating selection of local food trucks, but there is something that sets it apart from a traditional brewery.
The vista and atmosphere.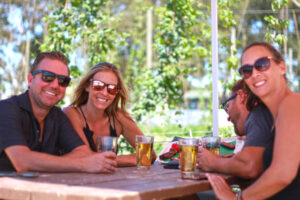 It is located on three acres in the middle of the Livermore Vallery wine region, giving visitors the aesthetics of a winery, with the vibe of a top-notch brewery.
Located at the corner of Tesla and Mines Road in Livermore, you can't miss it as you travel out of downtown Livermore towards the plethora of wineries.
It is the perfect addition to the ever growing destination point that is the Livermore Valley Wine Country. Both sell and promote adult beverages, but in entirely different settings.
"Wineries are posh – a higher-end establishment," said Dalheim. "A brewery isn't that, and that's what makes it fun – everyone is allowed. We've hosted 21st birthdays and we have had a 90-birthday party."
There always seems to be activities around Homegrown Hops. I visited on a non-descript Wednesday in the late afternoon. There had already been a private party earlier in the day and by the time I was leaving, the parking lot was filling up with people for the Wednesday bocce ball league, or families out for an early dinner.
They offer line dancing lessons on select Friday's and have live music regularly.
It is a tremendous place to visit, both with your friends, or with your family, that is if you are seeking a fun, relaxing place to have a couple of drinks and reenergize.
Recently Dalheim opened a second location, this one in downtown Livermore at 56 S. Livermore Ave. It is open until 10 p.m. instead of 8 p.m. at the initial site.
For more information, visit the website at www.homegrownhopsbeer.com.
By Dennis Miller