The Lodge at Kauri Cliffs and its world-top-100 golf course have long occupied a rarefied place on the international short list of luxury stay & play venues. With the hotly anticipated christening of its deluxe 4-bedroom Residences, this stunning property moves to the very head of the class.
Designed by Nicklaus protégé David Harmon, Kauri Cliffs GC opened in 1999. By 2003, it was ranked among the top 100 courses on Earth (Golf Digest today ranks it #26). The resort itself is set on 6,000 acres of farmland at the northern tip of New Zealand's sub-tropical North Island, with long, 180-degree views of the Pacific Ocean, Cape Brett and the Cavalli Islands. From the Lodge and its 22 free-standing cottage suites, guests are invited to play golf, hike through an ancient kauri forest, or relax on one of three private beaches. From this unique perch, guests can also avail themselves of superb island-hopping sailing in the nearby Bay of Islands region.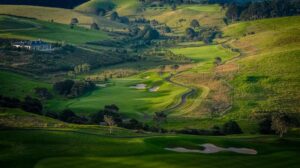 This unique property, one of three in New Zealand operated by Robertson Lodges, had long featured a single 4-bedroom Owners Cottage, where members of the Robertson family would stay when visiting the Northland. When made available to guests, this Residence invariably sold out in a matter of hours. In 2020, ownership resolved to build three comparable Residences, where a foursome or family might stay for a weekend, or a week's vacation, or maybe a month.
On account of travel restrictions associated with the COVID-19 pandemic, these elegantly appointed Residences weren't effectively available until the New Zealand summer of 2022-23. In the course one high season, the public has spoken.
"Folks are pretty blown away by the new Residences. We were booked solid from November to March," reports Ray Geffre, director of golf at Kauri Cliffs and its sister course, Cape Kidnappers GC. "As anticipated, each Residence has proved pretty darned perfect for golf buddy trips, and we welcomed plenty of those foursomes this year. But we were pleasantly surprised to see how many different sorts of guests made use of them: families spread across two Residences; long-term stays where guests effectively used Kauri as their home base for exploring the Northland of New Zealand.
"I've been most struck by just how gorgeous and versatile these properties are. We just hosted a corporate retreat where 70 people came up from Auckland, for the week. We're a boutique property through and through. But with 22 suites and the Residences, today we can comfortably handle groups of that size."
Inside the 4-bedroom accommodations, each of the three Residences exudes its own individual style, with warm décors by acclaimed New Zealand interior designer Virginia Fisher that perfectly blend with the surrounding green hills and blue seascapes of the Northland. Their spacious lounge and living areas are perfectly designed for guests to gather and relax, as is the family-sized kitchen complete with a casual dining island and a butler's pantry for exclusive chef service. Each Residence features an expansive veranda that flows to a 25-foot saltwater pool and surrounding deck.
Whether guests choose a Residence or a cottage suite, stays at Kauri Cliffs are all-inclusive, with a full daily breakfast in the main Lodge, lunch, pre-dinner drinks, canapes, dinner and a generously stocked mini bar with New Zealand wine, beer and select spirits.
Rates for The Residences at Kauri Cliffs start from $16,900 NZD (approximately $11,000 USD) per night. Each can accommodate up to eight guests.
"The Residences were created by the demand. New Zealand's reputation as a destination that people want to share with their families has only grown post-pandemic," Geffre says. "We're obviously thrilled that in such a short time, they have become the premier 'home away from home' for families, foursomes and corporate groups wishing to discover the magic of Kauri Cliffs and Northland. Because there truly is no better home base when exploring this part of the country."
The golf course at Kauri Cliffs made equally efficient use of its pandemic period, when international travel to New Zealand was effectively halted for 18 months. While the course never closed to local play, Geffre and course superintendent Andy Wood regrassed all 18 greens with Pure Distinction bentgrass. Even competing properties in New Zealand will admit that, today, the putting surfaces at Kauri Cliffs are the finest in the country.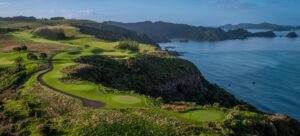 During the southern winter of 2022, Wood and his course management team also stripped, laser-leveled and replanted every tee at Kauri Cliffs with another bentgrass strain, L93XD. These tees had not been touched since the course debuted in 1999. Today, they are essentially puttable.
These upgrades were clearly taken into account when, in its June 2023 issue, GOLF Magazine (U.S.) published the very first top 100 for courses across the breadth of Australasia. Kauri Cliffs was ranked #34. Its North Island sister course, Cape Kidnappers GC in Hawkes Bay, which underwent its own pandemic-enabled renovation, came in at #11.
"It's nice to be recognized by these international ranking bodies," Geffre says. "It goes without saying that Andy and his crews, and Brad Sim and his crews down at Cape, deserve a ton of credit for those. But I've got to be honest: They've kept each property in mint playing condition, day in and day out, for years. We remain committed to continually improving. We recognize that New Zealand can be quite a trip for some guests. We're determined to make that trip worth their while. That's what the new Residences are about."
The new Kauri Residences are indeed fully accoutered homes away from home. All four guest bedrooms offer spacious beds and wardrobes, private bathrooms and direct access to verandas, laid out in the style of a well-appointed private home. From each master bedroom, guests enjoy breathtaking views of the picturesque farmland, award-winning golf course and Pacific Ocean. Residences are refreshed by housekeeping twice daily, maintaining the same sparkling presentation as when guests arrive — and allowing more time to simply relax and enjoy their surrounds.
Guests can choose to walk or take their private golf cart to the main lodge just a short drive away to enjoy the resort's activities to the fullest: tennis courts, walking trails, private beaches, spa and fitness center. Adventure-seeking guests might take part in onsite activities such as surfing on their private surf break, exploring the coastal property by ATV, or fishing with a local guide.