Spend some time with Gio Balistreri drinking wine at his Russian River Vineyards and it's easy to see why the laid back, relaxing vibe permeates through his staff and property.
Located right off Highway 116 in Forestville, Russian River Vineyards (RRV) is part of the wonderful group of smaller, family owned vineyards on the Taste Route 116.
The group of wineries go against the corporate structure so many wineries have fallen victim to in this age. Russian River Vineyards promotes "Wine – Food – Friends." You could not have a more perfect motto.
Balistreri, the owner, and winemaker at RRV, grew up in a family of farmers, learning from his father just before he went to college, the potential of the family farm for growing grapes. The duo planted four acres of Pinot Noir on their property in Freestone.
The seeds were planted for the creation of Gio the winemaker.
Gio went off to Fresno State shortly, thereafter, majoring in Agricultural Business with concentrations in Winery Management, Wine Marketing, and Wine Sales.
After college in 2008 Balistreri was part of a team led by iconic winemaker Anthony Austin to acquire RRV. A tremendous location, but the winery itself had fallen on hard times.
"It was a dive – it was in bad shape," said Balistreri. "They had a lot of debt and a bad image."
The group turned it around, but at one point early on bought in a corporate marketing/operations group. That went over like a lead balloon.
"They found themselves unemployed in about a year and a half," said Balistreri of the marketing firm.
Great wine, venue, and experience will sell themselves, which is exactly what RRV has done.
Balistreri took over as the RRV winemaker in 2012 and the result has been a run of remarkable wines. One of the rewards he has garnered include being named the Best Winemaker in the North of the Gate competition.
Balistreri also won the Best Red Wine in Sonoma County at the Sonoma County Harvest Festival. Early in 2019, North Bay Biz magazine reader's poll named RRV's estate grown Pinot as the Best Pinot Noir.
There is no doubt as to the quality of the wine, but it is the visit to the property that makes a stop at RRV a must when in the area. Set in a tree covered area, there are multiple outdoor tasting areas, accommodating many people without the feeling of being crowded.
The day we visited there was a private party of 60-plus people in one area, as well as people spread throughout the other tasting areas. All were comfortable and relaxed.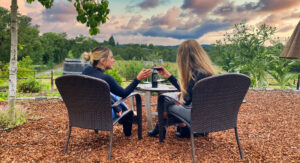 There is also a good amount of food available from the "Wine Country Kitchen," serving uncomplicated and casual fare – perfect to enjoy outside!
Each Thursday-Sunday there is live music. We were blessed to get to listen to Morris LeGrande, known as the "Wine Country Guitarist." LeGrande is a regular at RRV and it is easy to see why Balistreri keeps bringing him back.
It would be impossible to script a more perfect atmosphere to relax, enjoy great wine, food, and music.
Bringing it all together is Balistreri and his staff. Our host was Nick, and he brought his A game from the time we sat down until the time we left.
I make a point of observing how all guests are taken care of as we tend to get first-class treatment when I show up at a winery to do a story. What I noticed at RRV is that all guests get the same treatment – first class!
Balistreri works the crowd, moving from table to table to visit, talk wine, and genuinely getting to know the visitors. It something that seems so logical to do but, is seldom done in many of the bigger corporate wineries.
"We strive to give you the great, total package," said Balistreri.
They do – in spades.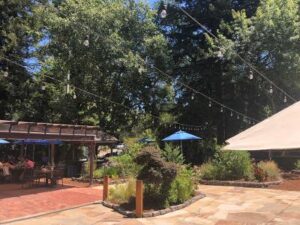 Oh, did I forget about the wine?
We had several good ones, with an intriguing one coming early.
The 2019 Bacigalupi Vineyard Chardonnay is from the same vineyard that produced the Chardonnay in the 1976 "Judgement of Paris" wine competition from Chateau Montelena which turned into the movie "Bottle Shock."
The 2017 Pinot Noir/Classic Cuvee is a blend of their best single vineyard that showcases the diversity of the flavor profiles. It was a Gold Medal winner in the 2020 San Francisco Chronicle Competition.
I am a big Pinot fan and RRV has an extensive portfolio of Pinot Noir. My favorite we tasted on our day was the 2016 Appian Way Pinot. The very aromatic wine can be opened now or be cellared for 5-7 years.
The 2016 Burke Family Vineyard is an interesting Pinot as it features high density planted grapes that see the vines fight for their nutrients. The result is very concentrated, rich flavors.
The 2017 Barbera was an extra tasting for us and was excellent as well. The wine from the Morning Sun Vineyard caught the attention of one of our team members who purchased a few bottles to take home.
The Taste Route 116 continues to impress me with not just the quality of the wines, but the quality of the experience. A rushed, corporate feel is not the ideal way to enjoy wine.
Russian River Vineyards has mastered the ability to make their visitors feel welcome and relaxed.
For more information on RRV, please go to www.russianrivervineyards.com.
By Dennis Miller