All pictures by Jak Wonderly
When I first cut my teeth on wine back in 2001, it was with the Napa Valley wines, so the bar was set pretty high.
No Boone's Farm, no Bartles and Jaymes – it was straight to the top!
After I quickly moved through chardonnays and merlots, my palate was calling for the big, bold red wines. Since Napa Valley is known for world-class cabernet sauvignon, I was in prime territory.
Previously a beer and NASCAR kind of guy, my venture tasting in the Napa Valley sent me on a mission.
Still not knowing anything in-depth about the region, I went to a search engine for "Napa Valley big red wines." A web site with a phone number of 1-800-Big-Reds popped up and I was sold.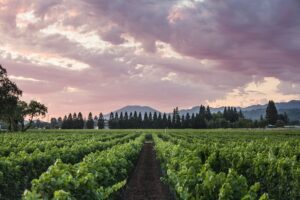 At that time, it was the number for Sullivan Rutherford Estate, and I called quickly to make an appointment. That was back in early 2003 and off my wife and I went.
Located off Highway 29 in Rutherford, you do not stumble upon Sullivan. When we got there, we pulled into a driveway that led to a beautiful residence, but we had no idea where the tasting room was located, or if this was the right place.
It was and at that point, tasting took place in a barn, and the wine did not disappoint. It was as personable of an experience as one could hope for, complete with the family dog roaming the property.
You could sit and enjoy a glass of wine with beautiful vistas; all the while tossing a tennis ball for the dog to fetch and return.
Owner Jim Sullivan, a graphic designer by trade known for his work with the Monkees and Dick Clark Productions, was pouring the wine and taking time to visit.
Sullivan had started the winery back in 1972 when friend and legendary winemaker Andre Tchelischeff talked him into planting merlot and cabernet vineyards.
Sullivan honed his craft over the years and by the start of the 2000, his wines were well known to those on the inside. Tragically, Sullivan died unexpectedly in June of 2004, leaving his children to oversee the winery.
Around the same time, we began to separate from the Napa Valley a bit, as the years went on and wine regions were growing throughout California, we spent less time in the area and more exploring exciting new wine regions.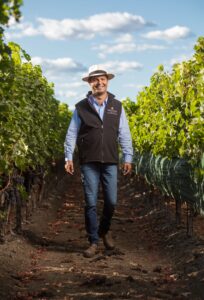 For Sullivan, the family kept the winery until 2018 when it was sold to another family group led by Juan Pablo Torres-Padilla. The group has been committed to carrying on the legacy of Sullivan and winemaker Jeff Cole, who came on in 2013, has stayed on as the winemaker.
It was within the last two months I looked up what Sullivan was up to, and when it looked like it was the same, almost private tasting experience, I thought it would make a wonderful story.
It did.
When we pulled in the same driveway in the first week of April and were greeted by Erin Callahan, the Head of Consumer Sales and Marketing, it was if we were stepping back in time.
The family residence designed by John Marsh Davis, a disciple of Frank Lloyd Wright, was still the center of the property. The beautiful lake and expansive lawn area looked the same.
The only change was the barn area where we originally tasted was transformed into a modern tasting facility but done so without comprising the feel of it being a peaceful, country property.
We were the only visitors at the time, a long-standing tradition at Sullivan.
"(Juan Pablo) wanted to continue what the Sullivan's started," explained Callahan. "We always try to have one tasting going at a time. We want each guest to feel like they are having a personally involved visit."
And that starts with the property. Before we tasted, Callahan gave us a tour around the estate, and once again, it was as if nothing had been changed since we were last there in 2005.
Immaculate conditions defined the landscape, and the vibe was everything you would want from a smaller, private-feeling winery.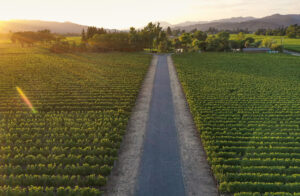 When we were led back to the tasting room, another surprise was waiting.
In addition to the Estate wines, we have always been so fond of, there is a special J.O. Sullivan Founder's Reserve.
"When Jim passed away, his kids wanted a wine that would commemorate him," explained Callahan.
Thus, the Founder's Reserve was created, and we were absolutely honored to enjoy a tasting of four of the wines.
We started with the 2014 James O'Neil Sullivan Merlot, made of 95 percent Merlot, and 5 percent Cabernet Sauvignon. The memories came flooding back. I am not traditionally a merlot drinker, but Sullivan's offering is far more than just your average merlot.
In fact, there is only one other merlot in the Napa Valley of which I am a big fan and that would be Gargiulo Vineyards down in the Oakville appellation.
After we had the 2014 Merlot, we tasted the 2018 for a comparison of the two vintages. We generally favored the 2014, but the newly released 2018 was ready to drink.
Next came a pair of Cabs – the money makers in my mind. The 2016 James O'Neil Cabernet Sauvignon, featuring 95 percent Cab with 5 percent Petit Verdot.
One word – amazing.
We concluded with the 2017 James O'Neal Cab, comprised of 90 percent Cab and 10 percent Petit Verdot. I would lay it down for a while, but it is a wine you can enjoy right away.
The four wines run from $290 to $330 a bottle and it is not often a merlot is the high-ticket item, especially from a winery which produces such big cabs, but it is one of the qualities that makes Sullivan special.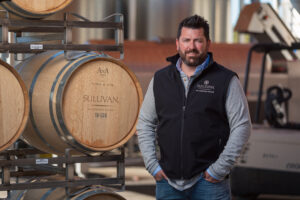 Having Cole as the winemaker is a coup for Sullivan. Before Cole came to Sullivan, he was a member of the Schramsberg and J. Davies team from 2003 to 2013.
He was instrumental in the development of the J. Davies red wine program, as well as part of the Schramsberg methode champenoise sparkling wine production that brought Schramsberg international acclaim.
We are big fans of Schramsberg and were overjoyed when they opened J. Davies
Before we left, we picked up a bottle of the 2018 Coeur de Vigne, a personal favorite of ours over the years. At $120 a bottle, the wine is a steal compared to others in the region.
Anyone can stumble on to several world-class wineries when in the Napa Valley when you travel on Highway 29 or the Silverado Trail, but the key to a successful venture comes when you find a winery off the beaten path, one like Sullivan.
Make sure you find your way to Sullivan! It will give you an experience that is better than what most of our novice drinking friends will get, as well as the inside information on one of the iconic wine producers in the area.
Please visit www.sullivanwine.com for more information or to make a reservation.
By Dennis Miller