People interested in Italian food in downtown Pleasanton have plenty of time-tested options in addition to newer choices.
One of the well-established ones is Baci, located at the corner of Main and Neal streets. It's been serving meals, inside and outside there, for more than 20 years. We celebrated a birthday there recently with a festive lunch.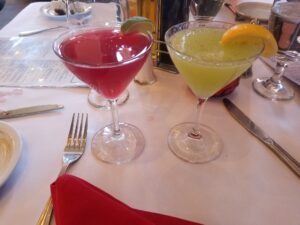 We started with cocktails and wine. My daughter and her fiancé selected designer cocktails—a pomegranate martini for her and Godfather (Monkey Shoulder scotch with Disaronno garnished with an orange twist). Both reported thumbs up as did I enjoying a Knob Creek on the rocks.
We have developed a tradition of starting with fried calamari. The Baci portion provided plenty to share among the four of us and was dredged in buttermilk before going into the fryer. We had a choice of cocktail sauce or an aioli for dipping. Nice way to start lunch.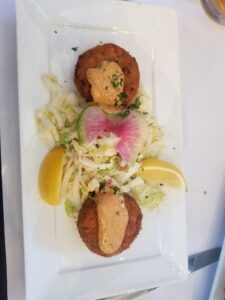 We split the two crab cakes that came with the same aioli as the calamari and a Fuji apple slaw. The presentation was particularly attractive.
When it came to entrees, my daughter selected the filet steak sandwich with Gorgonzola and French fries. We enjoyed a taste of the delightful fries.
My wife loves salmon and we don't serve it at home so it's a go-to for her when we dine out. A perfectly prepared filet was served over spaghetti dressed with a creamy dill sauce with cherry tomatoes and broccolini.
My daughter's fiancé, a native of Pakistan with the taste for spicy food that goes with that heritage, selected the one of the specials, prawns in a creamy tomato sauce complemented with cherry tomatoes. It was well done but he would have preferred more zip. That's a compromise we work on at home because he likes to sauté his hot peppers with onions and other vegetables.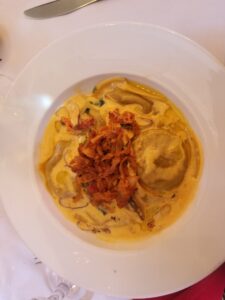 I also went for a special, large raviolis stuffed with wild mushrooms and topped with sundried tomatoes. It was rich for lunch and set me up well for an afternoon nap, particularly when I enjoyed a glass of wine with it. I was thinking a red such as a Pinot Noir, but the server recommended a chardonnay that complemented the rich dish nicely. I was the passenger going home.
Baci (kiss in Italian) joins Pasta's Trattoria, Strizzi's, Chianti Riserva and Locanda Amalfi on the list of Italian restaurants to enjoy in downtown Pleasanton. Baci serves brunch on the weekends and is open for lunch and dinner seven days a week. The sidewalk tables on Main Street are well shaded and an ideal choice on warm days. The restaurant is well appointed inside with an extensive wine list (particularly by the glass) and a full bar with plenty of top shelf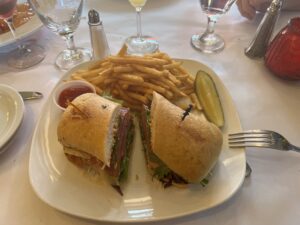 choices.
By Tim Hunt