Most businesses have been forced to improvise to get through the COVID-19 pandemic, and if they are unable to do so, many have or will shut their doors.
For Black Tie Transportation, COVID has hit the Pleasanton-based business to the tune of losing over 60 employees, with business at about 10-15 percent of what it was pre-COVID.
"We did all we could for our employees for as long as we could," said Black Tie owner Bill Wheeler. "We're just trying to stay as positive as possible."
While the pandemic has taken its toll on Black Tie, Wheeler has found somewhat of a silver lining and his staff has been pushing through the tough times.
"There is some upside to this," said Wheeler. "When we slowed the company down, it allowed us to focus on the level of service our company was founded on."
Spend some time with Wheeler and it is easy to see how his drive and personality brought Black Tie to where it is today and how the company is still afloat in this questionable economy.
It all started in 1986 when Wheeler was working as a salesman for Breuners Furniture in Concord.
"I was making more money than a 25-year-old should be making," said Wheeler with a laugh. "My friends and I were going out on the weekends, so I thought about buying a limo."
Wheeler found a 1982 Cadillac limo for $18,500, bought it, and the foundation was started for Black Tie.
"Every Friday I would drive it to work and park it in the lot," said Wheeler. "The (Breuners) family started asking whose limo that was in the parking lot. Someone told them it was mine and they started booking it for airport runs."
That turned into trips to Napa and a short time later, the company name was established.
"It always has been Black Tie," Wheeler explained. "I always wanted it to be a high-end name. I wanted it to be a brand point of thinking – when you hear the phrase Black Tie, I wanted people to think of Black Tie Transportation."
In 1994, Wheeler focused on airport service, buying smaller cars, and launching Black Tie Airport Express. He started acquiring busses and the business continued to expand.
Things were going great until 1999 when the "dot com" crash hit hard.  Black Tie hung in there, fighting the tough economic times, but again took a hit in 2001 following 9/11.
"After 9/11 we closed the bus system," said Wheeler. "We were a 100-car system, with 135 employees here and I had another company in San Diego. We had 275 employees overall."
This time, Wheeler reloaded.
"We came back and rock-and-rolled until 2008," said Wheeler. "Even when everything went bad, our corporate business kept us afloat. Corporate executives traveled even in bad times."
Black Tie continued to thrive until March of 2020 when COVID hit. Wheeler had a fleet of buses that were big with corporate business, but those turned to nothing once people started working remotely.
It's a part of the business that may not come back as there is no way of knowing what the work world will look like once we move on from the pandemic.
Undaunted, Wheeler and his staff plowed ahead.
"When COVID started we communicated with our clients and they started reaching out to us," said Wheeler. "We have 16,000 dedicated clients that we are working with."
Of course, that includes wine tasting trips, a much-needed escape, if only for a day from the confines of home . They have turned it into a one-stop business. You book the transportation and Black Tie will plan out your day.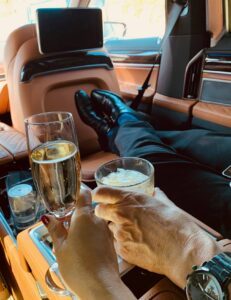 Wheeler has a concierge on staff that regularly consults with the wineries, building rapport. Napa Valley, which not so long ago frowned on limousines, now is welcoming them with open arms.
Black Tie courts the clients that have a deep understand of wine and appreciate the chance to taste and buy some world class bottles straight from the source.
"We set everything up now – it's almost mandated," said Wheeler. "We had to find solutions for our customers."
It is also the personal touch Black Tie offers its customers that keeps bringing them back. Walk around the office and you see staff that has been there for 15-20 years. There is customer service around the clock.
"We are a 24/7 service," said Wheeler. "Call us any time and you will always get a live person to talk with here and it has been that way for 35 years. Our clients trust us to provide a service."
All this with keeping COVID precautions in line.
"We use the Electrostatic spray technology to clean all the cars," said Wheeler. "All our drivers are full time and are regularly tested."
Along the way, Wheeler and Black Tie found a new revenue source, that allows them to enhance the customer experience – the private jet business.
"We started seeing more usage of jets," said Wheeler. "We were picking up more people at them. Now with us, you can make one call – flights, people at the other end."
There are variety of ways they make this work.
Need a ski weekend in Vail? Black Tie will set it up, so you get picked up at your house and taken right to your jet. Once you land in Vail, there will be car waiting for you to take you to your lodging.
Fancy a golf trip to a place like Bandon Dunes? Same deal applies – take the limo to the jet and be picked up by another car when you arrive in Oregon.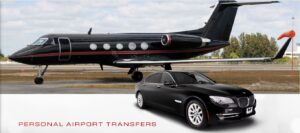 The big daddy of trips is to Hawaii, an option that Wheeler has clients booking.
You can have up to 12 people for the 10-dy trip to Hawaii in a Gulfstream for $49,950. That gets you there and back with car service at each end.
"We've been seeing people call that already have houses over there," explained Wheeler. "This allows them to go when they want."
There is no way of knowing how or when regular life will begin to return, but Wheeler and his entire Black Tie staff will keep shining a light.
"We just have to stay positive," said Wheeler. "Going back to our roots, which is our leisure clients, has been the key. We do what they want – unique experiences that give them back a sense of normalcy."
For more information on Black Tie please visit www.blacktietrans.com.
 By Dennis Miller