Two guarantees about Eddie Papa's American Hangout in Pleasanton:
If you go home hungry, it's your fault. To say portions are ample is an understatement.
If you cannot find something on the menu that appeals to you, that's also on you.
The menu is a comfort food tour of American food from hamburgers to pulled pork from Central Barbecue in Memphis to Island Poke from Hawaii, California Crab Dip and Arkansas Fried Pickles—and that's mostly off the starter menu. The menu is not quite as big as the Cheesecake Factory, but it moves in that direction.
We took advantage of Tri-Valley Restaurant Week to enjoy the $25, three-course lunch at the 4889 Hopyard Road establishment. It features both a full bar and a wine list with reasonable price points on the beverages as well as food.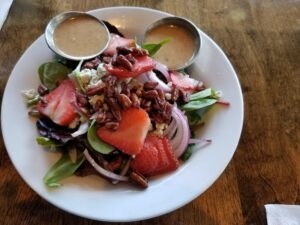 We started with a choice of the Watsonville Strawberry Salad with organic mixed greens, Pt. Reyes blue cheese, red onions and the aforementioned strawberries dressed in a balsamic agave dressing. My bride loved it to start after picking the onions out. We'd ask to skip them on the next visit.
After checking out a sample to be sure it wasn't too spicy, I truly enjoyed the Castroville Artichoke Soup that salutes the choke capitol of the world. The creamy soup was delicious.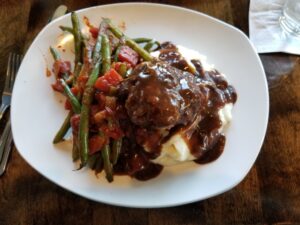 One of my reasons for selecting Eddie Papa's was the entrees that included one of my favorites, meatloaf. Mama's American Wagu Meatloaf put a big thick slice of the meat loaf dressed in a red wine gravy over a pile of mashed potatoes with a more than ample serving of Southern green beans. It was a tasty combo with a goodly amount boxed for lunch at home the next day. An Operation Dragoon Syrah blend complemented the meatloaf nicely.
My bride selected the Santa Maria Tri-Tip Dip served on an artisan roll baked by Matt Greco's Salt Craft in Pleasanton. The sliced tri-tip was topped with caramelized peppers and onions with Gouda cheese and a beef aus jus for dipping. She finished half and was well satisfied.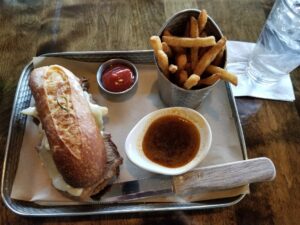 The other lunch choices were vegetarian San Diego Avocado Tacos with crispy cauliflower, avocado and slaw or Santa Barbara Chicken Club with grilled chicken, avocado, hickory smoked bacon, lettuce, tomato and onion again on the Salt Craft roll.
The dessert for two was the signature cotton candy plus New Orleans Butterscotch Beignets with the two-bite stuffed donuts capping off a filling and satisfying lunch.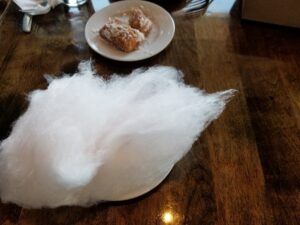 The menu is the same for lunch and dinner with reasonable price points, particularly compared with some of the restaurants downtown on Main Street. It's good food at a good value.
By Tim Hunt