It lasted only 13 days, but the 2022 Alameda County Fair horse racing meet was arguably as important of a meet as there has been in a long, long, time.
For the first time in three years, there was a race meet in conjunction with the Fair taking place and it made everything seem right again.
Crowds were back, Fair festivities were happening, and once again, right the middle of everything, was the centerpiece – horse racing.
There were numerous times during the meet that I would get the comment, "it's just so good to see everyone back out here again."
The other thing I heard repeatedly is the vibe you get from Pleasanton is amazing. It's true – there's just a cooler feeling at a Fair site than at a major track.
You get serious horse racing players mixed in with the casual fan, and finally the new-to-the-party people. You also get far more families as horse racing is part of the overall fair experience.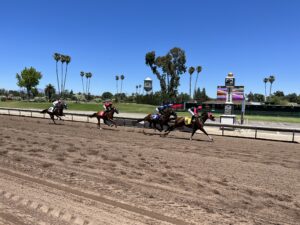 The same can be said about Santa Rosa and Ferndale. The Alameda County Fair is the biggest of three, but thankfully Pleasanton can maintain the "small-town atmosphere" for the most part.
The Sonoma County Fair in Santa Rosa has more of a traditional county fair feel, with Ferndale and the Humboldt County Fair bringing forward the old school fair.
All three are "must-see" experiences and all for different reasons. They each bring a different racing experience with all being a great time.
As someone who has been going to the Fair since the early 1970's, this year helped bring back so many great memories and thoughts of great people along the way.
It was cathartic for those of us that have been fighting for horse racing in Pleasanton for years and value it as one of the most important battles we are involved year, year after year.
None of us do it for the money – we do it because we love it. It's a labor of love for all of us and there are several other people that embrace what is there and we love to share it with the community.
Allen Aldrich – raised in Pleasanton and one of the most influential people when it comes to the Northern California Fair horse racing circuit – has always been a Pleasanton proud member.
Jeanne Wasserman, who for years was the Director of Racing in Pleasanton and is still the one that makes the meet run successfully, comes out of retirement each year for just the Pleasanton meet because it means that much to her.
There are long time horse owners like George and Clare Schmitt that have always invested in racing, and this is their chance to be front and center in their hometown.
The homegrown trainers have dwindled and are almost non-existent but seeing the iconic Jeff Bonde at the Fair for a couple days and was very cool.
Fair administration people like CEO Jerome Hoban and Angel Moore – the VP of Business Development – are always doing what it takes to get horse racing everything it needs.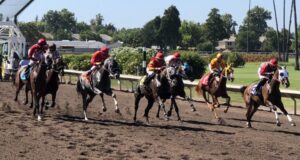 Even the California Authority of Racing Fairs (CARF) seemed so pleased to have everyone out there enjoying the races. It was a great four weekends.
And then there are the fans. This is what keeps us coming back each year. There are so many regular fans we see every day that have become as much a face of the Fair as funnel cakes, fried food, and overpriced beer.
Every year on the first day of my Daily Handicapping Seminar, there are faces I look forward to seeing and when we connect, it makes everything right.
Then comes the last day or the Fair meet where you say your goodbyes and start looking forward to the next year.
I have been attending the races in Pleasanton for over 50 years and have been involved in the Pleasanton meet for 35 years, either as a writer covering the races or working for the Fair co-hosting the seminars.
The faces and names have changed sitting beside me at handicapping seminars, but the constant of me being able to sit there in my hometown and be a central component of the races is one of my most valued moments.
That I can share horse racing, first with my kids, and now my grandchildren are moments you dream about.
The last Saturday of the meet I was able to take my 7-year-old granddaughter Aubrey into the paddock to see the horses up close. She has been in there before, but she is finally old enough to comprehend everything going on around her.
Afterwards I was able to take her and one of her friends into the winners' circle for a race and got a picture with the winning jockey, William Antongeorgi III. Billy the Kid as he is known, is one of the most personable jockeys, and when asked to pose with the kids, he didn't hesitate to say yes.
Of all the professional sports I have covered, horse racing brings the most genuine, personable people I have written about, and have become close friends with many of them.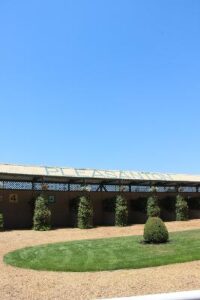 The truth is Fair racing is so important to horse racing – it brings in the new fans and families. Some of these are people that have never been to a live race and their initial experience is what brings them back the next year and so on.
It is a different group of people you see at the Fair racing. You get families where the parents enjoy watching their kids getting excited when the horses are charging around the track.
You've got people that turn the horse races into a group outing for their companies. I see so many people each year that once they see the races in person, they become a fan forever.
They may not travel to a place like Golden Gate Fields but be sure their calendars are marked for when the Fair rolls around again.
Sadly, warring factions still exists, and the rift does nothing for the sport but hurt it. If we can get to a point where everyone can co-exist, we could bring horse racing back to the glory days.
Until then let's continue to embrace the county fairs and the horse racing!
By Dennis Miller