America! Dream it and you can be it. America offers you the chance to pursue your dreams and that's exactly what Mike Murphy and his wife did when they created the "Bellaterra" brand. As a 13-year-old boy growing up in Kentucky Mike fell in love twice. Once with his childhood sweetheart, who is now his wife. Second, with wine making and cigars – now his mistress.
As a boy Mike would wonder down the street to his old Italian neighbor, Dominic, to sit, listen and learn about how they made wine in the "Old Country". Then in 2006 Mike, as a grown man, decided that his love and passion for wine and cigars would make a great second career. And hence was born "Bellaterra Ranch." For three-and-a-half years Mike toiled to craft the perfect cigar blends. He traveled to the Dominican Republic and met with the top cigar minds in the world. He once again sat and listened to the wiser, older men about how to craft a fine cigar. He selected his leafs and came home to conducted scientific blind taste tests. He put his fledgling brand alongside Macaundo, Davidoff, Romeo and Juliet and let the consumer give their input base upon twenty criteria. Then finally one day, eureka, his newborn brand was on par with the big boys. And thus was born his first blend "La Dolce Vita". Today the family of blends has grown to eight selections, each crafted to perfection.
Here's something that's important to know. Your taste pallet effects different areas of your mouth. Meaning when you smoke a Bellaterra Ranch cigar it's the middle of your tongue that can distinguish the different flavors. Wine however with its vast array of and cornucopia of flavors dances on the cheeks and roof of your mouth. So when you taste that lovely Chardonnay with its buttery bouquet of cherry and flowers -your mouth dances in delight.
What "Bellaterra Ranch" has learned is that the perfect pairings of wine and cigars goes together like a hand and a glove. Today they hand craft nine different wines. Each is crafted with kid glove care. If a specific harvest of grapes does not live up to standards for a harvest year, they do not go into a bottle of "Bellaterra Ranch." If the Napa Valley has not provided the nurturing of elements, wind, sun and rain to produce quality grapes, then it is time to get on a plane to Argentinian to find the right grape.
All of this attention to detail paid off in 2007 when their "Cowboy Cabernet Sauvignon" who the Bronze Medal at the "San Diego International Wine Competition". That's 3rd Place out of 11,000 thousand entries! Need I say more? Go to http://www.bellaterraanch.com to order your cigars & wine today.
Following are some of their top cigars.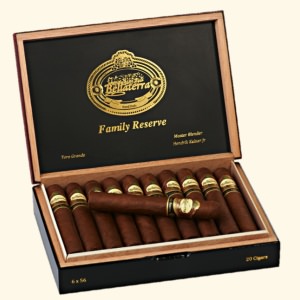 The Pig-Pigurado: Pittsburgh Cigar Festival rating of 90. Inspired by Cuban blends. Complex, smooth and balanced. Her rich Maduro favors are bold. Wrapper: Dominican Cotui. Binder: Nicaraguan. Filler: Dominican and Nicaraguan. Bellaterra Ranch has really taken the time to blend, craft and give the world the gift called Pigurado.
Family Reserve: Pittsburgh Cigar Festival rating of 89. Nice, long slow burn! There's nothing worse than paying for a stogie that burns in 15-20 mins, but this does not happen with the Family Reserve. As you enjoy the subtle and smooth flavors of honey that dances on your pallet, this mild blend seems to rest in your hand like a  Sunday morning. This is a great smoke. For a small batch crafter, the Family Reserve can compete with the big boys.
Double Deuce: Burn time is perfect. Mocha, Espresso and Wheat flavors combine for the perfect after dinner smoke. This is a fun cigar.
Black and Tan:  This is a delightful surprise! It rolls gently onto your tongue and suddenly bounces with flavor on your tongue demanding attention. Another winner by Bellaterra Ranch! A tastefully unique cigar with a two tone wrapper, double Madura wrapper at the head for a touch of sweetness on your lips, Connecticut wrapper below the band producing a complex smoke with hints of spice, coffee and cocoa. Ranked # 2 in the list of TOP 10 FAVORITE CIGARS OF THE YEAR – 2012! (StogieFresh)"
By Randy Tantlinger