Rocky Patel Premium Cigars were the main feature on the cruise. Our hosts were straight from the factory itself, Nish Patel and Nimish Desai
Here's a partial list of the Rocky Patel blends that were in our goodie bags. Hold onto your Gilligan hats little buddy!
Vintage 1990, Vinatge 1999-Conecticut, BOLD, Decade 10th Anniversary, Super Ligero Robusto, 2003 Vintage Robusto, Prohibition Broadleaf Toro, Sungrown Maduro Toro, Nimmy D, RP Royale, RP Platinum just to name a few.
As Nish Patel and I sat and talked about our love for golf and where we had played, we each enjoyed a Hamlet Paredes-Tabaquero.
Cigars and the Dominican Republic go hand in hand. Many of the world's cigars are now produced in the Dominican Republic. So what the heck our last stop was the D.R. and there is no better stop on the itinerary than a visit to The La Aurora cigar factory.
In 1903, Eduardo Jimnes was only 18-years-old when he had a vision to create and craft cigars. Today his legend lives on and is known as La Aurora.
One of the premier cigar brands in the world, La Aurora has created the ultimate day journey for a cigar lover. Here at their factory you learn all that goes into creating a premium cigar.
The majesty of La Aurora is that they craft both handmade and machine made cigars that are rare treats. Normally I stick with handmade blends as I appreciate the time, effort and care that was put into them by the master blender. La Aurora gives your taste buds reason to celebrate with their machine made blends as well. From their Caribbean-brand to their Leon Jimenes, they perfect cigars.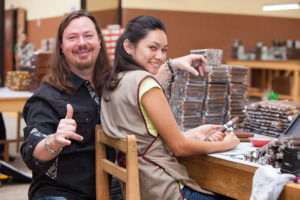 But if it is their hand rolled treats you desire, then you are not disappointed. Manuel Inoa bares the title Master Blender here at the factory, but you could also call him a genius.
Awards and ratings? Yes, they come in droves. If you know cigar-ratings, then you will appreciate that the La Aurora 107 Maduro Belicoso received a solid 92 from Cigar Aficionado.
Our tour of the factory and our first class Harvard-Cigar degree was amazing. It helps and allows a cigar lover to have a greater appreciation for how a quality blend is achieved. And as if our humidors weren't filled enough, they gave each of us a La Aurora starter kit to take home. She was filled with a cuter, lighter, and their very best blends. Along with a manual on how to savor each cigar contained within.
The Cigar Cruise is simply heaven on the open seas. Cigars, new friends, exotic ports of call all await you. The 2017 Cigar Cruise sets sail from Miami on May 20th and heads to ports in Grand Cayman, Honduras, Belize and Cozumel, Mexico. Join your new friends by logging onto http://www.thecigarcruise.com/.