Blackhawk Country Club members overwhelmingly supported a major investment in a photovoltaic solar system that will spread over several sites on the sprawling 4,800-acre property at the foot of Mt Diablo. It will be the largest such installation at any country club in the country.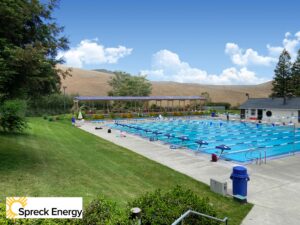 Solar panels will be mounted on roofs, on covered carports and on ground mounts at the Lakeside and Falls course clubhouses, the sports complex and the tennis villas. The swimming pool will add resort-style cabanas with solar panels and the practice areas at Lakeside will be covered with solar panels on the roof. The project at the practice area will incorporate the latest golf technology and teaching aides such as Trackman Range that is designed to create a "Top Golf" type of experience for members.
Members expect to save millions in electrical expenses over the next decade once the entire system is installed.
Spreck Energy is the general contractor and has designed and installed commercial solar projects across California. Sustainable Capital Finance put together the financing through a multiple-year agreement to purchase the power.
DV Patel, director of operations for Sustainable Capital wrote, "Sustainable Capital Finance (SCF) is excited to announce its participation as the PPA provider and financier for the mixed roof, carport and ground mount systems, built by Spreck Energy, that will provide renewable energy and covered parking to the impressive facility and grounds of Blackhawk Country Club. The array is set to become the largest solar installation powering a country club in the United States, a PPA milestone that SCF is proud to be a part of."
In recent years, Blackhawk Country Club has prioritized environmental and sustainable initiatives. The Club has converted all lighting to LED, upgraded mechanical and HVAC systems to Energy Star-rated systems, upgraded irrigation systems on the golf courses, and performed turf reduction programs that are saving approximately $300,000 annually in water expense.
 "The solar system project is the next logical step in Blackhawk's continued efforts towards a more sustainable and environmentally friendly infrastructure.", said Blackhawk Board President David Reeves
The 1,600-member club hosted an LPGA Tour stop from 2006-2010. In addition to the two golf courses, it has numerous food and beverage outlets on the grounds as well as the largest tennis complex in Northern California that includes a stadium court. Two years ago, it opened a free-standing fitness center.