Diablo Country Club members are celebrating that they're back on their historic golf course this month.
The course, which had been undergoing a complete renovation for more than a year, had a soft opening of 11 holes in February before the COVID-19 shutdown sent everyone home. Contra Costa County changed the shelter-in-place order on May 4 to allow golfers to return with special conditions.
The demand is so strong that General Manger Frank Cordeiro said the tee times filled in two minutes when the online reservation system was opened at 7 a.m. Wednesday for a recent Friday rounds.  Diablo is allowing foursomes to play, although those taking carts will ride alone. Tennis courts also re-opened and the club continues to offer curbside takeout dining for its members. About 70 percent of the club is still closed.
The club had planned for a grand celebration when the full 18 is formally open on June 13, but the virus scrapped those plans.
The golf renovation is the first phase in a four-phase $31 million program to set up the 105-year-old club for its next 100 years. It includes a new three-story fitness center with a casual restaurant, workout and spa treatment rooms, as well as childcare. That building is currently in the entitlement process with the county. It will be followed by renovating and refreshing the historic clubhouse and finally adding a small water treatment system to recycle water.
Frank, like the members, is very excited about the golf course.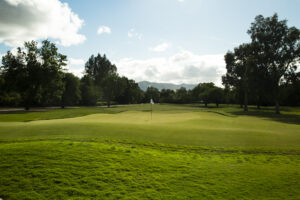 "We literally touched every square inch of dirt on the golf course," he said. "We maintained the routing, but changed the grass to use less water and provide habitat for wildlife."
Golf course renovations included new tees, greens, bunkers and replacing the grass on the greens, fairways and rough with Bermuda. Drought-resistant Fescue was planted in perimeter areas. The fairways also were widened and sand-capped to improve drainage. Closely-mown chipping areas were added around some greens and most greens were enlarged to create more pin positions.
The architect for the renovation is odd Eckenrode of Origins Golf Design.
The Diablo course is a unique treasure. The front nine was designed by Jack Neville whose next job was the Pebble Beach Golf Links in Carmel. The back nine was designed by Willie Watson who went on to design both courses at the Olympic Club in Daly City as well as neighboring TPC Harding Park.
"They are two icons. This is the only collaboration in the world between two guys who have courses that have hosted major champions," Frank said.
The course is still growing in because the grass that was seeded the earliest is nine months old, while other areas are just three months old.
By Tim Hunt