Carmel-by-the-Sea abounds with fine dining options. One of the best is Andre's Bouchee, which brings together locally sourced food prepared in a modern French Bistro style coupled with an extraordinary wine list.
It is family owned and operated. Elizabeth Lemaire owns the restaurant with her daughter, Laurel, sharing duties at the front of the house and Laurel's husband, Benoit Petel, running the kitchen. The combination along with the award-winning wine list makes for a delicious dining experience in a well-appointed cozy room. It won an Award of Excellence from Wine Spectator in 2016 as well as a TripAdvisor excellence award.
In addition to the few seats around the bar, there also are four stools at the kitchen for those who want to watch Benoit and his team as they prepare the various dishes. Each table has a unique candleholder using driftwood. Diners in the semi-private cellar room are surrounded by wine racks.
At our request, he created a tasting menu for us that our server, Rodrigo Crus, paired with wines. Crus has worked at other French restaurants and knew his way around the large wine list that ran 29 pages. It included many of Monterey County's best wines as well as signature bottlings from Napa, Sonoma, Paso Robles and the Willamette Valley in Oregon. French wines, including several very old vintages, also abound.
For starters, Benoit served the restaurant's signature Crème de Champignons (mushroom) soup with truffle oil. Paired with a 2015 Sumeire Rose, it was our favorite of the three appetizers.
Escargot (snails) were served in the traditional parsley-laced garlic butter with the nice twist of a puff pastry. The snails were large and served out of the shell. Rodrigo paired a Cote de Rhone red blend of Syrah, Grenache and Mourvedre.
The third choice was Ris de Veau, crispy veal sweetbreads in a fois gras sauce. The dish was paired with a one of the three California wines we were served, a 2013 Joullian Cabernet Sauvignon. The medium-bodied Cab, grown and made a few miles up the Carmel Valley, hit the spot. Hall of Fame golfer Tom Watson's brother, Ridge Watson, is the founding winemaker at Joullian.
We also enjoyed the traditional French Foie Gras Terrine that was served on a piece of black slate. The kitchen team served food on surfaces that ranged from traditional china to a cast-iron skillet (duck) to wood. Rodrigo paired the terrine with a 2014 Juracon, a fruity dessert wine with tropical fruits.
We then moved on to entrees. Our first was the Confit de Canard that featured Liberty Farms (Sonoma) duck leg and thigh over green lentils with bacon. It was perfectly paired it with an August West Pinot Noir from the Santa Lucia Highlands of Monterey County. That may well have been our favorite wine of the evening.
Benoit served us the restaurant's version of surf-and-turf, Andre's Mer + Terre. It featured seared tenderloins of veal and seared scallops with gnocchi, spinach and mushrooms. Rodrigo went to Spain for the pairing, selecting a 2006 Conada de Haza that was a well-balanced wine made with Tempernillo. I would not miss this entrée on a return visit.
The third entrée was a holiday special that demonstrated Benoit's touch with local ingredients. He took locally farmed abalone from Moss Landing, well-pounded, and slowly cooked sealed in a plastic bag in a water bath. He then finished it with a quick sear and served it with gnocchi, local seaweed and mushrooms on the slate platter It was another favorite, particularly when paired with our third Monterey County wine, a 2015 Morgan Sauvignon Blanc that picked up the ocean flavor that complemented the abalone and the seaweed.
Those abalone shells come in handy because that's what servers use to present the bills.
When it came time for dessert, we enjoyed the signature Beignets (chocolate, bourbon, caramel) paired with a Calvados; a wonderful apple tart paired with a Spanish Madeira by Colheita; and a delightful vanilla cream pudding paired with a classic dessert Sauterne.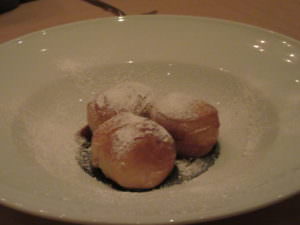 The locally sourced ingredients included the aforementioned ducks from Liberty Farm as well as Fogline and Bassian farms and the French bread that came from the Lafayette Bakery located in the first shopping center at the head of Carmel Valley. The bread was so good that we went there for breakfast the next day—add it to your list. It offered the French bread we bought to take home to grab-and-go sandwiches to several egg dishes, including a splendid and rich quiche.
Andre's Bouchee is open for lunch Friday through Sunday and for dinner daily. The menu changes seasonally. A fresh menu was posted the first week of January with a number of different items than the December menu. The February menu included the small plates and entrees that we enjoyed in late December.
The restaurant is located on in downtown Carmel-by-the-Sea on Mission St. between Ocean and 7th St.
By Tim Hunt