It can be interesting how you find a winery when you are out tasting.
Sometimes you plan ahead, sometimes it is by recommendation of friends, but I believe the best source is the recommendation from someone at another winery.
Such was the case when we were at Balletto Vineyards in Santa Rosa, and before we left, we asked for suggestions. When the first winery mentioned was Bowman Cellars, we knew we had our destination.
It was something new as we had never heard of Bowman but looking back, we were fortunate to get the recommendation.
Located in Graton – a small town that seems about four blocks long and not far off Highway 116 – Bowman's is a true boutique winery.
The winery is the child of the husband and wife team of Alex and Katie Bowman and officially launched in the spring of 2017.
Alex brought together his wine industry family in 2013 with the idea and the ball started rolling.
Alex and Katie have been married since 2014 and have known each other for 10 years but never had the chance to work together.
That changed with the winery.
When they officially launched, they were able to call upon the expertise of Lisa Crean Bowman, Alex's aunt who had recently retired after 25 years as the Director of Sales for Frogs Leap.
Next was finding a location for a tasting room and that came to fruition February 1, 2018, in Graton, a town with roughly 1,700 residents.
What they have created is a winery that produces 1,500 cases a year with the exact vibe you would expect from a town the size of Graton. Laid back and chill are the two words that came to mind immediately.
We sat on the porch of the house, with the courtyard spilling out in front of us. It screams for relaxation and that is what we got.
Coming off three tough weeks of work, my wife and I needed a relaxing time and Bowman hit that right out of the park. We went there just to taste, but after 10 minutes I knew it was story worthy and a place I needed to share with our readers.
We were lucky enough to have Katie as our hostess and she set the tone for the entire experience. For example, when we asked her what her go to wine is from their portfolio, she answered "it depends on what my vibe is."
Perfect.
We tasted four different varietals, and all were excellent, with several bottles coming home with our group.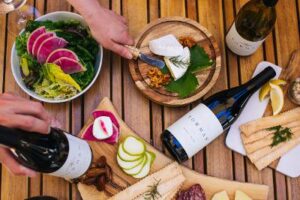 We started with the 2019 Russian River Chardonnay, a nice start to the tastings. That was followed by 2018 Russian River Pinot Noir, a solid bottle of wine.
The 2008 Zinfandel comes from their vineyards Sierra Foothills, up near Angels Camp. It was bottle that represents a region known for excellence when it comes to Zin. It now occupies space in our wine fridge.
We finished with 2018 Cabernet Sauvignon from the Alexander Valley. Bowman also offers food offerings to go with the wine.
Bowman is now on our list of places to drop by when we are in the area. It is the type of place you'll want to buy a bottle and just sit outside enjoying the day.
It is not located in a spot you will just happen upon but is one to seek out. You will not be disappointed.
Visit www.bowmancellars.com for more information.
By Dennis Miller