One of the points I try to get across regularly when writing about a winery is with so many in the respective wine regions, a visit must be about more than just the wine – it must be about the experience.
If you have 100 wineries in a region, how do you pick the 3-4 you might have time to visit on a given day? Okay, I get it if you think "well, that's 25 days of four wineries a day," but while we may dream about a run like that, it's not realistic, at least not now. Maybe in my Chico State days, but certainly not now.
So, that being said, then it comes down to having a good time when you and your friends visit.
Balletto Vineyards in Santa Rosa is set up for just such an adventure – good wine, good people, and a good time!
Located just off Occidental Road in western Santa Rosa, Balletto offers the relaxing time to taste wine that should be the game plan for all wineries.
Knowing the history of the Balletto family, it easy to see the "make you feel at home," attitude of the employees is a direct result of John and Terri Balletto and what they bring to the table. They've worked hard to get where they are and want everyone to have a good time.
John – the founder and owner – started in farming after the untimely death of his father in 1977 when John was just 17. He was a talented high school athlete – he still holds the shot put record at Analy High – but put aside athletic scholarships to help his mother run their 5-acre farm. By 1994 the Balletto family had grown the business to the largest vegetable farm in Northern California.
Seeing issues with California's continual water shortages, John and Terri were persuaded by neighbor Warren Dutton of Dutton Ranch to grow wine grapes which were less water dependent than the crops they were growing. John and Terri transitioned a small portion of their land to vineyards.
In the spring of 1998, three El Nino storms wiped out many of their vegetable plantings causing nearly $2 million in damage. Economic hardship caused by a new NAFTA (North America Free Trade Agreement) made the vegetable business increasingly difficult to navigate.
Determined to overcome the adversity John and Terri set their sights on the wine grape growing business. The family already owned 35 acres of vineyards on their home ranch in the western hills of Sebastopol. Subsequently, they converted all their vegetable farming land to estate vineyards over a three-year period-planting primarily Pinot Noir and Chardonnay-and started selling fruit to well-known wine producers in Sonoma County.
After seeing the high-quality Russian River Valley wines crafted from their fruit by other wine producers, John and Terri decided to pursue winemaking under the "Balletto Vineyards" name. They saved one-tenth of the fruit for themselves-selecting the top 10 percent of quality-and in 2001 created the first vintage of Balletto Vineyards estate wines from Russian River Valley.
The Balletto's crushed enough Russian River Valley fruit for 391 cases of Chardonnay and 689 cases of Pinot Noir that first year. Today the family still uses 10 percent of the grapes grown for their own label as they produce 20-25,000 cases per year. The rest of the grapes are sold to 25 other wineries.
The estate boasts 700 acres with 16 Estate Vineyards. They remain largely Pinot Noir and Chardonnay with only what is deemed as the top 10 percent still used for Balletto wines.
John and Terri are joined by daughters Jacqueline and Caterina to form the Balletto family.
Our day at Balletto started with the calming drive down the driveway off Occidental Rd. toward the winery. Set well back from the road, the serene atmosphere hits before you get out of the car.
When we were seated at our outdoor table on the patio by our hostess Molly, we were greeted with our tasting host Cole, as well as the five wines we would be tasting.
Cole was a wonderful ambassador, taking us through our tasting menu, as well as offering tidbits about the Balletto operations.
We started with the 2015 Sparkling Brut Rose and followed that with the 2018 Sexton Hill Chardonnay, a new release. Both were nice and refreshing.
The first red we enjoyed was the 2017 Russian River Pinot Noir, a wine that received a 92 from Wine Enthusiast.
We then closed with a pair of solid wines – the 2017 Winery Block Pinot Noir, and the 2018 Russian River Zinfandel.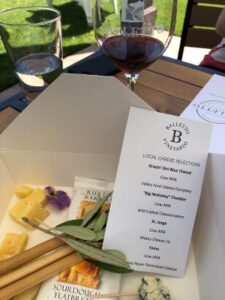 One extra wine we were lucky to taste was the 2018 Cider Ridge Pinot Noir. It was a great bottle of wine and one that I brought home.
We enjoyed a cheese box with local cheeses, with the Grazin' Girl Blue Cheese from the Valley Ford Cheese Company being the highlight.
Following our tasting we were joined by Mo McElroy, the Director of Events, for our tour of the property in Balletto's 8-seat golf cart named "Bob."
Mo was a joy from the moment we met her. Blessed with a gregarious personality and the gift of being able to tell a tale, she was the perfect representative.
Our first stop was another outdoor tasting area where Balletto offers live music every Saturday. There are plenty of tables with umbrellas, and guest are allowed to bring their own food. There is a wine bar as well. Vineyards line the area, and it sets up as the perfect place to hang out on a Saturday afternoon, drinking wine and listening to live music.
Next up was the new "Reserve Room," an awesome events center that is almost complete. A huge room and a plentiful loft are supported by a commercial kitchen and several bars.
Picture windows frame two sides of the room, offering wonderful views of the Balletto vineyards, as well as the laguna park area that surrounds the property.
There is a drop down projection television from the ceiling, setting up something like a Super Bowl party or watching parties for other major events.
Next up was a stop at the hidden gem – a diamond – on the property.
In 1997 the Balletto vineyard staff approached John about sponsoring their baseball league time. Balletto took it one step further, setting aside four acres of vineyards, then donated the materials necessary to build a baseball field.
The vineyard crew put in the labor and boom – Balletto's own field of dreams. In the spring and summer, you will see the field being used on Sunday's, that is once COVID restrictions are lifted.
The field has been profiled in several publications, as well as visited by some of the actors that were in the movie "Fields of Dreams."
Following that, we toured the seeming endless vineyards, driving along the property lines of Balletto and the laguna area.
Guest are allowed to roam the vineyards with their wine, offering an out-of-the-box experience. The paths are marked so you can find your way back to the winery!
Finally, we made it back to the winery in "Bob" and our time was complete at Balletto.
There are seemingly countless wineries to visit in Sonoma County and across the board, the wines are all good.
So, what do you want to find?
You want to find a place that is not just wine. You want to find a place to relax, when enjoying your wine. You want to find Balletto Vineyards.
Please go to www.ballettovineyards.com for more information.
By Dennis Miller