One question often facing groups out wine tasting is, where do we get something to eat during our day of drinking wine?
Building a base during your day is often a vital component for a successful day of sampling the wonderful wines of California. In the Livermore Valley finding food in the middle of the ever-growing list of wineries not easy unless you pack your own food.
Or unless you are visiting Garre Vineyard and Winery.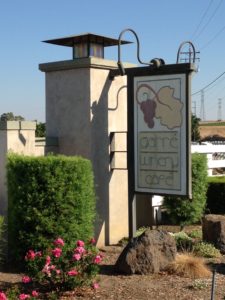 Located close to the corner of Tesla and Greenville roads, right at the intersection of several quality wineries, Garre offers the full package – wine and food – with the Garre Café.
Some wineries will bring in food trucks on the weekends and Wente does offer food options at its Vineyard tasting room, but that is located out near their golf course, not exactly in the middle of the wineries in the Livermore Valley.
The Garre Café now is more of a restaurant as compared to the Café it was when Garre first opened in 2000. At that time, the tasting room was referred to as "the chicken coop."
The Café moved into the Bella Rosa events center, a gorgeous facility that can host weddings, as well as other special events when it opened in 2014. Garre also oversees the Martinelli Event Center nearby, another site for weddings or other events.
Once the Café relocated, the tasting room moved to the original Café building, and is a quaint and comfortable tasting room, offering table seating as well as the traditional bar tasting options.
"We knew we needed to have food in wine country," said Gina Molinaro-Cardera, the vice-president of Garre and the daughter of owner Bob Molinaro.
And they did it right.
As we were doing our tasting of the Garre wines – more on those in a bit – we were highly recommended to try the Fried Castelvetrano Olives when we got to the Cafe. Fried Olives – really?
We took the recommendation and all I can say is – Wow!
The olives are crusted with semolina flour and buttermilk before being fried and are served with a Meyer lemon dipping aioli and are in one word, spectacular. How good? I would make the 25-minute drive from my house to Garre just to have the olives!
There were also chips made right at the Café that were another tremendous snacking treat.
The rest of the menu takes off right from where the tasty appetizers get you started.
On our lunch visit I had the Florentine Ravioli, my wife the Citrus-Braised Pulled Pork, my son a Roasted Wild Mushroom and Duck Confit Pizza, and my daughter-in-law the California Chicken sandwich.
There were no leftovers as we picked our plates clean. There are plentiful options for lunch ranging from burgers and sandwiches, to pizza to pasta to seafood. Once dinner rolls around, steak becomes a big player on the menu.
There is seating inside or outside at the Café and Molinaro-Cardera recommends reservations, especially for lunch on the weekends. Currently the hours for the Café are 11 a.m. to 2 p.m. Monday-Thursday, with dinner being served 5 p.m. to 8:30 p.m. on Thursday.
Friday and Saturday the Café is open straight through from 11 a.m. to 8:30 p.m. and there was a steady stream of people coming in to enjoy the delicious cuisine. It would be wise to follow the reservation recommendation. Sunday it's open 11 a.m. to 4:30 p.m. with the lunch menu being served all day.
Let's venture back to the wine's which set the table for the Garre property.
All the wines we tasted were enjoyable, but the two that stood out to me where the Profound Secret and the 2013 Nonna's Rosso. Both are blends and both strong, solid wines.
Bob (owner) and his son Kent Molinaro (trainer) were in horse racing for years and Profound Secret was the best of Kent's horses, earning over $500,000.
The wine is made exclusively from estate grown grapes and is a Bordeaux blend featuring all five varietals: Cabernet Sauvignon, Cabernet Franc, Malbec, Merlot and Petit Verdot.
The 2013 Nonna's Rosso was a blend of Cab, Cab Franc and Petite Verdot, but the blend changes with each harvest.
The big hit with the ladies was the 2018 Rosato di Sangiovese. The Rose-type wine was served chilled and was a solid wine, good enough that my wife – normally not a Rose drinker – opted to bring home a bottle.
It's been an award-winning wine in every competition it has been entered.
Garre is producing 2,500 to 3,000 cases overall right now and that's a number that pleases the family.
"We're happy with that," said Molinaro-Cardera. "Almost everything is grown on our property. We do bring in some Russian River region Pinot Noir grapes."
There are also a pair of bocce ball courts on the property, something we have availed ourselves to on past visits.
Garre has established its property as a one-stop destination, a place you can enjoy fine wine, enjoy some quality food in a winery setting and play some relaxing bocce ball.
It's also a top-flight setting or a wedding or a special event. Right now, the family does about 50 weddings a year, as well as other corporate and special events and it's easy to see why.
The wedding ceremony can be held outside in a beautiful lawn area, allowing the bride and walk down to path from the event center. The reception is held in a room lined with windows, offering great views of the surrounding vineyards.
For more information on Garre and all the property has to offer, please visit www.garrewinery.com.
By Dennis Miller