All photos by Robert Kaufman
Surrounded by a backdrop straight out of a Hollywood western, one minute you might pretend to be fictional cowboy Hopalong Cassidy trailblazing wide-open desert terrain on horseback and the next, be trading in the spurs for spikes to role-play Roy "Tin Cup" McAvoy traversing fairways in a golf cart. For guests at the family-friendly Rancho de los Caballeros Resort, that, plus so much more, is not a stretch by any imagination.
Simply envision yourself in the high-desert town of Wickenburg, Arizona, 60 miles northwest of Phoenix, where the Old West is alive and kicking and where Rancho de los Caballeros is beefing up its game plan for modern-day adventurers to discover their inner cowboy while experiencing the New West.
Since the resort's founding in 1948, by three families: Dallas Gant Sr., C.L. Maquire and Belford Howard, Rancho de los Caballeros had been continually operated by the Gant clan. That reign ended in 2021, when the baton was passed to another trio of families: Alexander Cutler, Larry Martin, and Alexander Kemper, who have been multi-generational guests and homeowners at the property for decades. They're now tasked with preserving the history and spirit of the Spanish caballeros ("gentlemen on horseback") at a ranch resort spanning 20,000 rolling acres across the High Sonoran Desert.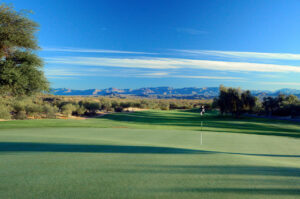 Originally constructed with 40 main guest rooms, a hand-dug swimming pool, and tennis courts (one of which has been converted to pickleball), Rancho de los Caballeros has since expanded to 79 rooms, many with private patios overlooking the stunning and ever-changing desert landscape. An airstrip that was added in 1951 for guests arriving in personal planes no longer exists but remnants of the runway are still visible between the 17th and 18th fairways of Los Caballeros Golf Club. In 2006, to validate the resort as a luxury ranch getaway, a full-service spa was added and where a massage therapist gives a whole other meaning to "ranch hands."
At its core, the diversity of experiences and activities at the ranch are what the owners hope will create an inviting environment for couples and families to discard electronic devices in favor of personal engagement. With a variety of options that include horseback riding, skeet shooting, archery, e-biking, nature hikes, spa treatments, yoga, jeeps and ATVs, Kids' Club, and cookouts, it shouldn't be that difficult. Of course, right at the top of the list for the golfing buckaroo is Los Caballeros Golf Club, making Rancho de los Caballeros one of the rare dude ranches in the U.S. with its own golf amenity.
During the late 1970s, the owners were starting to get demands for golf but the best they could offer was directing them to nearby Wickenberg CC (now public). However, after the denial of the ranch owner's request for a couple seats on the country club's board of directors, that relationship soured and Rancho de los Caballeros brought in architect Greg Nash to design its own 18-hole championship course with the front nine opening in 1979 and the back nine in 1981.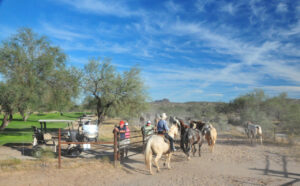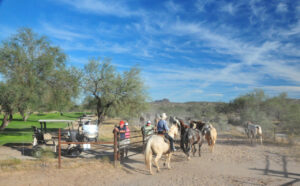 "It was a very forward-thinking design at the time and that's why our course is such a gem," says T.J. Orban, the Director of Golf at Los Caballeros GC since August 2021. "It's got a lot of modern design elements and fits into the lay of the land with some spectacular vistas of Vulture Peak to the south and the Bradshaw Mountains to the north. The greatest challenge was not interrupting the existing horse trails, such as the one cutting across the path from the 13th green to the 14th tee box or the horse run between the 16th green and 17th tee box, where each day up to 80 horses gallop from their pasture into the coral around 8:00 AM and then return late afternoon. If the timing coincides for when golfers are walking off the green on their way to the next hole, it's always good etiquette to let the faster group play though."
Unlike most target-style desert courses, Nash created a parkland layout into the rolling terrain with no forced carries and incorporates two large lakes. At 7,088 yards, the par 73, beautifully maintained layout climbs up 2,100 feet at its highest point and positioned with well-placed bunkers and five sets of tees allowing the course to be set up for a wide variety of skill levels. Plus, players get the unusual opportunity to finish with challenging back-to-back par 5s. The three other par 5s are definitely no slouch either.
From the Iron (back) tees No. 5 plays 536 yards and the 7th hole is predominantly, uphill into a prevailing breeze at a mere 578 yards. But those are simply warm-ups for the signature 605-yard 13th hole. With a huge dip in elevation enroute to a perched, small green resting on a plateau, it is considered one of toughest par 5s in Arizona. Local legend contends only two golfers have reached this green in two.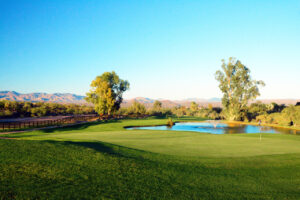 "The 13th hole and the entire course has stood the test of time and, unlike other courses built in 1970s that have required lengthening to keep pace with clubs, balls, and players getting longer, that has not been the case here," says Orban. "Los Caballeros has remained a fair test for golfers of all ages and ability."
The Southwestern-style clubhouse sits adjacent the practice area with a range, short-game space, and putting green. As part of the new owners' promise to invest in enhancing the guest experience, the clubhouse is undergoing major renovations and is scheduled for opening, along with a new restaurant, in October 2023.
Currently celebrating its 75th anniversary, this may be perfect time to giddy yap to Rancho de los Caballeros for some good 'ol western thrills and take advantage of the one constant attribute since the ranch opened – peace and quiet. Of course, it'll feel even better with a signature Prickly Pear Margarita.
By Robert Kaufman