I confess I had a hankering for seafood looking out at the Pacific Ocean from our Carlsbad coast side condo. It was a 5-minute stroll to the beach in the cutesy Carlsbad Village in northern San Diego County.
Until recently, we'd only seen Carlsbad from the eastside of Interstate 5, eating at Big John's Tip Top restaurant/German butcher/deli and visiting friends. Venturing coast side opened up an entirely new view and the opportunity to stroll up Carlsbad Village Drive and meet friends for dinner at the Bluewater Grill.
During our nearly two-week stay, we enjoyed dining out several times with friends and relatives.  Here are some thoughts from those visits.
BLUEWATER GRILL
The eight-restaurant chain has coast side locations from Santa Barbara to San Diego plus Phoenix and Temecula. Each location offers a different seasonal menu depending upon what seafood and produce is available.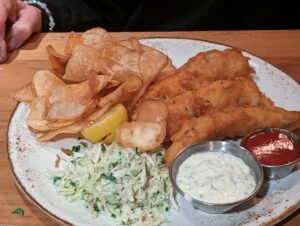 When we dined on a weeknight in Carlsbad, it was notable how loud the restaurant was even though it was far from full. It features indoor and outdoor dining, but it was a cold night with rain threatening so inside seating was the obvious choice. The nautical décor had hard surfaces throughout the dining room leading to the high noise level. The restaurant offers a full bar with some of its own cocktail creations as well as a diverse wine list.
As you would expect, the menu offered three different oyster choices plus several other warm starters. We passed on the tempting Maryland-style crab cake, jumbo prawns and baked crab and artichoke dip, and instead started with calamari fritti with two sauces. The breaded pieces were cooked perfectly and complemented by the dips.
The seafood menu offers classics: lemon pepper mahi mahi, rainbow trout almondine, pan-seared sea scallops and rock lobster tail and a fresh fish list  that is based on availability. It featured sand dabs, Alaskan halibut, skewered scallops and shrimp, Scottish salmon and Pacific swordfish, all cut daily in the restaurant.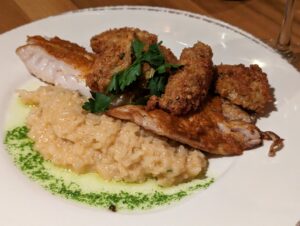 One member of our group ordered the fish and chips (with either potato chips or French fries) and was served a huge portion with plenty going home for lunch the next day.  The chefs hit the mark with each dish.
My bride chose the shrimp and scallops with Gemelli pasta, dressed in garlic, white wine and pesto cream sauce that included mushrooms and asparagus. Again, plenty came home for lunch. That wasn't the case with the fish that the guys ordered.
The ample portion of mahi mahi was served over scalloped potatoes with wilted baby spinach. Clean plate club on this one.
I selected the lightly breaded rockfish served over risotto infused with Parmesan cheese. It went together well.
Bottom line: we'd return. It's fairly priced for the quality of the food and presentation.
One nice note, we had brought several bottles of wine from home and we took one to the restaurant after learning that they don't charge corkage.
MEXICAN FOOD
Given the Hispanic influence throughout Southern California, there are many Mexican restaurants to choose from.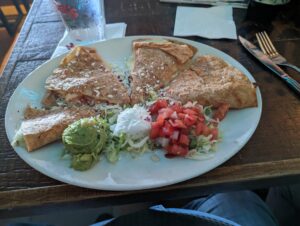 We met our local friends for lunch at Miguel's in Carlsbad, also part of a small chain run by veteran operators. It was our friend's recommendation and one we enjoyed. The restaurant featured a full square bar in the center of the dining room with high stool tables on one side and booths and tables on the other.
The key reason for selecting Miguel's we learned was the warm queso in addition to two salsas with complimentary chips. Our friends dove into the queso while we worked on the salsa and then turned to the warm cheese. It was a spin that set the restaurant apart.
Our friends ate lightly, a tamale for the husband and the taco of the day for his bride.
I selected the shrimp quesadilla and left well satisfied. Perfectly cooked shrimp with cheese, accompanied by salsa, sour cream and guacamole. Wonderful. Much better than the flour-tortilla version I'd tried a week earlier after our arrival in Carlsbad when we ordered to-go from Norte in Carlsbad Village. Incidentally, the to-go service was perfect because the Mexican restaurant was literally on site at our condo complex (they share the underground parking lot) and they also offered margaritas to go (a positive benefit from the Covid lockdown). My wife ordered a chile relleno, her standard measuring point for Mexican restaurant and was pleased with the effort.
Back to Miquel's, my bride ordered the sampler platter that was a huge plate. It included cheese nachos, fried calamari (cooked perfectly), empanadas, ceviche and flautas de carnitas. At least half went home for later and it was delicious. It was plenty to split and take care of lunch.
Our experiences at Miguel's and Norte were not matched by Senor Grubby's, located a block north of the main street in the village. I enjoyed a chicken salad with lime/cilantro dressing, but the same could not be said for the burritos that were big but pricey at $15. The vibe is relaxed with huge rolls of brown paper towels at each table, presumably designed for shrimp that you can eat with your hands. It has a full bar and lots of outside seating. It did not make my return list.
By Tim Hunt