Music and golf have become intertwined. Whether it's the ever-increasing number of golf carts blasting music or any number of practice facilities adding music to the landscape, music in the golf industry is here to stay.
Kelley James has added an entertainment twist with music to the game and has become one of the most sought-after entertainers to perform at golf tournaments and events.
Whether it is singing cover songs, sprinkling in new material or wowing the crowd with his freestyle rap, James drives the green with every performance.
An avid golfer himself, James has made a name for himself throughout the industry and will be displaying his talents Wednesday, Oct. 4 during the Pro-Am for the PGA Tour's Safeway Open at the Silverado Resort and Spa.
For James, the draw to music came early in his life, while growing up in the Los Altos area.
"In the 1990's, there was a lot of rock and hip-hop music," said James. "Groups and performers like Sublime and Tupac influenced my musical style."
His talent came through almost immediately and he discovered playing music had its advantages.
"It was easier to hang out with the girls," said James about his high school days. "I wrote songs about them in high school."
By the time he was in college at the University of Southern California, James had started the free-style rap that has made him so well known in the golf world.
Often the hype of an artist never lives up to expectations, but James exceeds – no, destroys – the advance publicity.
His performances are entertaining and wonderous at the same time. It's hard to believe his freestyle rap is just that. It all started as a stop-gap when one of his stage shows had issues.
"If something went wrong on stage, I would just start rapping," said James. "I couldn't rap about the streets of Brooklyn, but I could rap about USC."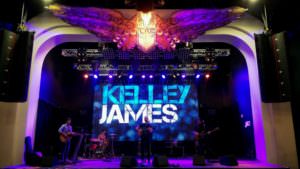 He became so accomplished with his freestyle rap people began to question the authenticity of his performance. Even after he started asking audience members for words to key his rap, there were still doubters.
"People thought I pre-wrote everything," said James, who wrote a highly successful jingle for Kentucky Fried Chicken early on in his career. "It's funny. People will throw out words for me to use and they still think it's pre-written and I plant the people in the crowd."
After James graduated from college he created his own tour of sororities and fraternities, playing 170 shows in a year. He then landed the deal that would lead to his entry into the word of golf.
He was playing a show for Oakley – one of a series of X-Games types of shows – when he was approached by someone in the crowd.
"This guy comes over to me and he's got long, blonde hair," said James. "My thought was, who in the "F" is this guy? He had a tour Titleist hat on and I figured he was just some punk skate kid that had gotten the hat from somewhere."
It turned out to be PGA Tour golfer Charley Hoffman and he in turned asked James to play at his charity event. James agreed, but once at the event, he started to have second thoughts.
As he was waiting to perform, he scanned the well-heeled crowd and felt out of place.
"I told Charley he needed to get me out of there," said James, laughing while he recalled the incident. "I told him I only had a fraternity show and that wouldn't work here. He told me, no-no-no, it will change before you go on. Sure enough, some of the people left and they brought in two buses of girls right before I went on. It was great."
During the night he met another kid he pegged for a skater, but it turned out to be a young Rickie Fowler and a friendship was born. He and Fowler have stayed friends and he has pulled Fowler on stage during his performances at the infamous Birds Nest at the Waste Management Open in Scottsdale to sing Sweet Caroline.
"That is a party with a golf tournament," said James of the Waste Management event.
Following the lead of the tournament in the desert, the organizers of the Safeway Open have chosen to adopt a similar path. James agrees.
"Without a doubt," said James when asked if creating a party/event with a golf tournament was the right thing to do in Napa. "They have their sights set on the right goal. All the (golfers) love Napa. It's the party everyone wants to attend. It doesn't get much better than having the ingredients to cook this tournament up."
James has performed the last two years at the Safeway Open Media Day, showcasing his talents to an appreciative crowd. This year he is going one more step, performing at the 11th hole – a par 3 over water – during the Pro-Am.
He's done events such as this more often and recently a video of his freestyle rapping with Justin Thomas – the recently crowned FedEx champion – went viral. During the Pro-Am if you are around, get a spot by the 11th tee. It will be a great show and virtually no one is off limits.
"The pros will walk behind us to tee off, but the amateurs are right in front of us," said James. "The amateurs will really struggle. I'm a golfer so I know how to bust their chops."
And he is a golfer. A good golfer. When asked about his handicap James had a great answer and one all serious golfers could appreciate.
"That's the dilemma of my life," said James. "Any golfer in my shoes can feel this. One day I might shoot a 99 and then shoot in the 70s."
"Any course I can score on," said James when asked about his favorite course. "Right now, I would have to say the Dunes Course at Monterey Peninsula Country Club is spectacular. I could say Cypress Point, but that's predictable."
And what course has he not played that he would like to?
"It would have to be a name course," explained James. "Shinnecock or Augusta would be on the list."
While he has become one of the top, if not the top sporting event entertainers – he has played at events surrounding the Super Bowl to the Major League Baseball All-Star game – there is the musician side of him that still wants to release new, original material.
Is it a tough balance to want original music, while keeping up what has made him so well known?
"That's a great question," said James. "I'm coming out with a batch of new songs, but I will never build it to where I want. The (KFC) jingle was a win for me – I bought my house in Manhattan Beach with it. There is a balance, but I don't want to push it."
For more information or to find out a list of shows, go to http://www.kelleyjames.com