Following are excerpts from the American Century Celebrity Golf Championship 2015 Media Day at Edgewood that featured Charles Barkley. The former NBA superstar and current TV analyst talked about playing each year at Lake Tahoe as well as the Golden State Warriors chances this year in the NBA finals. The press conference took place before the championship series between the Warriors and the Cleveland Cavaliers started.
Q: I'd love to get your thoughts on this upcoming series, and I guess secondarily to see if you still are skeptical about the Warriors being able to win because they're such a jump shooting team, maybe you could elaborate on that?
BARKLEY: Sure.  I think they have been very impressive. Steph (Curry) obviously has been fantastic. I think they're better defensively than I thought they were. I think their bench has been amazing.  I think that's probably the thing that surprised me the most, how good their bench is.  But they've done a fantastic job. And one cool thing about these finals, you've got two great fan bases. So somebody's going to get great joy, whether it's in the Bay Area or Cleveland. So I'm really excited for those two fan bases. With that being said, I still like Cleveland to win the series in six. I think Tristan Thompson and Timofey Mozgov could have a huge series. I like J.R. Smith and (Iman) Shumpert coming off the bench. And I just think it is LeBron's time right now. So as great a season as Golden State has had I'm taking the Cavaliers in 6.
Q: Charles, getting back to the NBA Finals. If the Warriors do win, why do you think they'll be able to pull it off?
BARKLEY:  I think their depth I mean, they're not even their depth is amazing.  I think that's the one thing that probably caught me off guard. They're actually if you take away Klay (Thompson) and Steph, I think they're better that's no disrespect to anybody they'd be bringing guys on the bench who are all stars. That (Sean) Livingston kid has been fantastic.  Obviously (Andre) Iguodala has been fantastic.  They're not even playing David Lee, basically. I forget the big kid who is playing very well right now.  I mean, their depth totally surprised me.  And I think that's going to   LeBron is going to have to play well, four games, if the Cavs are going to win this thing.  LeBron will have to go crazy for four games and dominate it mentally and physically.  I won't be totally shocked if Golden State wins.
Q: Harrah's has you at 5,000 to 1 to win this tournament do you have a better chance to win the lottery or this tournament?
BARKLEY: I have a better chance of winning the lottery, man. You know, golf to me, do I want to play better golf?  Yes.  Man, I'm 52 years old.  I've exceeded all my expectations in life.  And I played golf think about it, I'm probably going to play golf with two guys who are really cool, like last year I played with Larry the Cable Guy who was awesome. I always play with Kevin Nealon, and it's like the funniest three days of golf I have all year. Hey, listen, I'm not worried about winning that golf tournament. But it's fun just being there.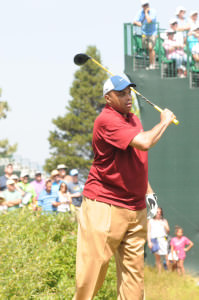 Q: I think you tap danced around the question earlier about you've made point all year that a jump shooting team can't win the NBA championship.  To that specific point, have you re thought that in light of what the Warriors have done this year?
BARKLEY: Whether they prove me wrong or not, that's to be determined. You know what's interesting, I've said the same thing for 30 years.  I want my team to go inside/out.  And for some reason you've got the dude down here in Houston talking about analytics.  And I've always been the same.  I want my team built from inside out. I think what the Warriors has done is amazing.  The only thing is the Warriors bench is better than what I thought it was.  They're better defensively than what I thought they were. But it's my notion that I'm not being big on jump shot teams, it's just my philosophy, I want my teams to get two things, if you're a big team, you get layups and dunks and you get the other team in foul trouble.  That's just my philosophy. If they prove me wrong I'm going to say, hey, great job, I was wrong.  But they have played fantastic.  But my notion that I want my team built inside out, you know, I think that that's just my philosophy.
Q: You're not wearing the same clothes you were 30 years ago maybe it's time to read just the thinking on that?
BARKLEY: You all win it I'll readjust it, but I told you I thought the difference in this tournament, this series was going to be Tristan Thompson and Timofey Mosgov- -if they beat them to death on the boards, which I think they've got a good chance of doing. You've got to have some big guys down low.  So that would actually help my point even more, if they lose to a team that's much bigger than they are, which I think is going to happen. If I'm wrong, I'll shake their hand and say congratulations to the Warriors.
Q: It's like the Warriors are kind of like you and golf because a lot of people say you can't win this tournament because you're nothing but a flashy driver and your short game is whacky?
BARKLEY: Let me tell you something, you know, I gotta tell you something. The doctor did tell me this:  I'm not going to win this tournament this year, but next year I'm going to win this thing, I think.  When I went to get all the tests ran on my hip, the doctor didn't know me from Adam. He says I will tell you this, and you might think I'm full of it, he said you're going to be a much better golfer.  I said, doc, what the hell are you talking about?  He said your hip only rotates at 10 percent.  He said and I know you think I'm joking, but your hip only works at 10 percent.  When I get you a new hip you'll be able to make a full turn.  He says you probably haven't been able to make a full turn in 20 years.  And I said that's about right.  Hopefully next year when I get my new hip I'm going to win this thing.  I'm going to go deep at Lake Tahoe next year.
Q: When is the surgery?
BARKLEY: Two or three days after Lake Tahoe.  I've got to tell you something, the doctor says, you're going to do this thing right after the season.  I say, oh no, I'm not missing Tahoe.  I said you can forget that. I did. They wanted me to start I'm done pretty much now I've got to work two games of the Finals for NBA.TV.  But they wanted to do the surgery next week.  I said, clearly you haven't seen me play golf at Lake Tahoe.  I'm not missing Lake Tahoe.  And that's it.  I'm going to play Lake Tahoe, and I'm going to get it done a couple of days after that.
Q: Quick American Century question for you, last year you finished with a minus 98.  Looking back through my records, it seemed to be about the worst you have had in Stableford scoring.  Do you think maybe you might break 100 this year?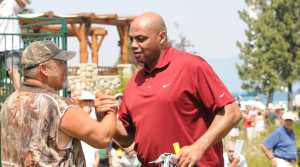 BARKLEY: You know, I actually think   I think I'm going to play better this year.  I mean better than what is the question.  You know what, the most important thing of the weekend is winning money at the blackjack table.  That is the most important thing when I go to Lake Tahoe. If I get out of there and don't lose a lot of money on the blackjack table, it's been a great trip for me.  I mean, I get to walk 18 holes a day with two other celebrities, which is pretty cool.  But the most important thing at the end of the week I just want to make sure I have won money or didn't lose money.  That's the key to my entire weekend at Lake Tahoe.
By Dennis Miller