Ah, football season.
There is no better time of year for the sports wagering crowd than football season.
College football games on Saturday seemingly run from dawn to midnight, giving gamblers a wide variety of games to play. Professional football on Sunday is the same, with the action hot and heavy.
In the last few years, as days with games continue to expand, it's now possible to wager on games just about every day of the week. It's also possible to wager on just about every game from the confines of your house.
But during football season, watching the games with your buddies at a sports book is the best way to enjoy the ambiance of the games – and make some cash as well.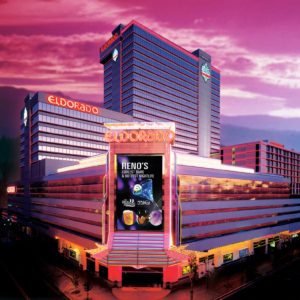 And that means buddy trips.
Look no further than the Eldorado and Silver Legacy in Reno as ideal locations for you and your buddies to enjoy a weekend of gambling fun. A short 3-4-hour drive from the Bay Area, Reno is the perfect location for the buddy trip, offering everything a group would want in a long weekend extravaganza.
Circus Circus is the third of the three properties that now make up The Row, Reno's ultimate destination. There are 25 restaurants, 22 bars and lounges, 11 nightspots, as well as thousands of rooms and suites.
For those outside of the region, the Reno-Tahoe International Airport offers flights from locations throughout the United States.
From the quality of the sports book, the comfort of the lodging, to all the peripherals that come with a casino resort – restaurants, nightlife, dining – the Eldorado and Silver Legacy are as good as it gets.
Race and Sports book
There is a huge video wall and 30 TV's for the sports bettor with comfortable seating.
The Race and Sports Book also offers player tracking with a wide variety of bets on all major racing and sporting events with some of the largest Reno gambling limits available anywhere in town, which means there's no better place to catch all the action.

In addition to the traditional rows of seats in a book, there are also ample tables and chairs to accommodate a group of friends.
The book is jumping during the football season and is a great place to watch countless games on any weekend day, with the experience certainly enhanced by having a slight – or larger – wager on the games.
Poker
Poker goes hand in hand with the sports wagering customer and the Silver Legacy Poker Room is the perfect place to head to when you want a break from the Race and Sports Book.
The Poker Room offers Seven Card Stud, Limit Texas Hold'em and No Limit Texas Hold'em and is non-smoking 24-hours a day.
As a side note, Poker Room Manager, Margie Heintz was the first Woman in history to deal the World Series of Poker and was inducted into the Women in Poker Hall of Fame in 2011.
Dining
There is a bit of a transition going on as the Sterling Steakhouse has closed, but will be replaced by a Ruth's Chris Steakhouse that is scheduled to open by the end of the year.
But steak lovers need not to worry as the Eldorado has Roxy, an award-winning bistro where chefs hand select top cuts of meats, poultry and fish to create exquisite entrées prepared in a specialty wood-fired oven.
During the day, there is no better place to pick up a sandwich than from Canter's. Known in Los Angeles for its pastrami sandwiches – voted by the Los Angeles Times and LA Weekly as the best in the southland– Canter's offers fresh baked breads, famous house-made pickles and award-winning pastrami.
Located within a pitching wedge of the sports book, Canter's offers the perfect place to grab a sandwich and take it back to your seat while you are cashing tickets on football games.
La Strada offers some of the finest Italian cuisine in the city of a nice, sit-down meal is what you are looking for.
There are also coffee shops and snack bars offering a quick fix.
Of course, there is the traditional casino buffet available. It's well stocked with a variety of dining options. There is also a food court at Circus Circus for the fast food lovers.
Nightlife
When the games wind down, it's time to tear it up with the nightlife and there are plenty of options without leaving the resort.
Brews Brothers is a perfect low-key place to get some food, enjoy some great beers – they offer eight custom micro-brews – and listen to some live music. If you are looking for more of a nightclub environment, check out Novi.
On our last trip Novi featured country music, complete with line dancing tutorials. It's an intimate, yet lively club that made for a great time with our group. The music was not limited to just country and it was entertaining to watch the masses line dance to other genres of music.
Rum Bullions was also a fun place to hang out and when we were there, the karaoke offered a new twist as a live band offered the backing music, giving each person the chance to be a lead singer for a band.
Lodging
Not that you will be spending much time in your room, but for those down times you want to be relaxed and be able to rejuvenate. It's home run at the properties.
Be it a standard room or a suite, the rooms are first-rate offering plenty of room along with comfort. We booked a suite on our last trip for one of our rooms and it was the perfect spot to pregame and develop our wagering strategies before hitting the sports book.
Golf
The weekend football action starts on Friday night so as a bonus to your trip, work with representatives from the property to arrange a golf outing with your group on Friday. Set it up with the limo service to take your group from the resort to the course and back.
We did just that on our last visit, going from the property to the Wolf Run golf course for a wonderful round of golf. Wolf Run is the home course to the University Nevada's men's and women's golf teams. It can challenge you
And when we were done, it was time to climb back into the limo for the ride back to the casino.
There are certainly options when it comes to golf in Reno and the properties are more than willing to tailor a package for your group. They are knowledgeable and helpful in setting up a day on the links.
For more information visit www.therowreno.com, www.silverlegacyreno.com or www.eldoradoreno.com.
By Dennis Miller